Excellentbars new Project "Barrel Room" Dueling Piano Bar
December 18, 2010
---
Hello Everyone,
I have been very busy in this horrible economy over the last few years working twice as hard for -10% Ugh! and still I am growing my Venues and expanding based on my successful formula and hard work!
I am opening yet another venue, one of the things I have done is look into the market place I am in and discover what is needed for the market.
Here I am looking to provide a venue to a different segment of the market demographic than I already have in one of my venues in the same market place.
As the market recovers people are still looking for a value for their money and am looking to take the Deuling piano bar concept to a new level. dueling piano bar 2.0
Barrel Room Website
Barrel Room promotional video
http://www.youtube.com/watch?v=bLziKvGzzng
I am exhausted and I have lots of videos finished I need to just load them, I will need you to email me to give you access to the videos as other local bars love to watch what im doing while I do it.
http://www.youtube.com/watch?v=U44Q4uR9CkQ
Barrel Room Part 2
Firstly I would like to thank the Mods for not moving my thread into the A/V Graveyard section...and I will continue to update this threat to help other members as much as I can
Thanks Dave, Micheal, Barry
Let the saga continue
http://www.youtube.com/watch?v=BujSSDOg_Yk
Barrel Room Part 3
Mindless
I almost Fell and I should have kept filming....I am not sure what the ultimate design ideal was in the venue, it was Pan Asain and an Electronic Music venue I have partnered with them and they are great I am always excited to learn every day and I feel I am honing my detail oriented skills...
http://www.youtube.com/watch?v=TgB1WSqNzyc
Barrel Room Part 4
Here you guys go... More to come as the project is moving faster now things are getting fun..
http://www.youtube.com/watch?v=Xgssf3L0iaU
Barrel Room Part 5
Thanks for all the great responces keep them coming...
It is great to see that people are getting excited about the site..
Great Job Mr Black, Barry and David
And the saga continues
http://www.youtube.com/watch?v=qWcz-OoRyyQ
Barrel Room Part 6
Building a bar never gets easier but it is "FUN" I love the challenge and the creation part as much as I love a successful venue.
Let the saga continue
http://www.youtube.com/watch?v=SaoeIXcy5ss
Barrel Room Part 7
The days keep getting shorter...
http://www.youtube.com/watch?v=nOtZOlWqLOA
The Floor looks even better in person as you cannot see the depth in the camera, even when it is Dirty it looks great.
I just got back from San Jose again where I finished a project as a consultant that I have yet to post online as of yet. they are doing great and opening another spot....I went out to look at the new spot and they want to try to open another spot this year UUGGHH!
I have so many opportunities coming at me know I need to focus and make the right decisions....I see an ulcer in my future! As I have gotten older I am better able to deal with so many situations and I need to be able to say No to some of these projects that are being offered to me!
Barrel Room Part 8
The Saga marches on and the pace has picked up in the last few days..remember the videos are behind and not current.
http://www.youtube.com/watch?v=KNJwnxyUrNI
Barrel Room Part 9
Hello everyone
Wow what an interesting day today.... I feel great!
here you go more fun
http://www.youtube.com/watch?v=XroTXrrH0HI
Barrel Room Part 10
The Weather here is sucky right now UUGGhhh...
The never ending story continues...
http://www.youtube.com/watch?v=32-TnMSlYZk
Barrel Room Part 11
Thanks everyone for the comments I have been working so hard and such long hours I have not been able to get more videos edited and uploaded, I have so much video I have shot I will start to get more up.
Last night was Friends and Family WOW what a great party!
Play on.....
http://www.youtube.com/watch?v=Vb4eJch7ZtE
Barrel Room is Open
Wow
We just had the opening weekend and I always like to do a slow opening because it is always a nightmare and the only real problem we had was the POS system doing the Funky Chicken Dance and that was it.... Great weekend all of the bars where Slammed!
I have tons of video to send out so hold on and I will get to it shortly!
Barrel Room Facebook Pics
Barrel Room Portland Facebook photos
http://www.facebook.com/?ref=home#!/...00001032954674
Barrel Room Part 12
Ok so here are some more great videos, We opened last Friday to the public and as you know I always do a slow opening....
http://www.youtube.com/watch?v=ElGsGKh9PCY
Barrel Room Part 13
Here you go?
http://www.youtube.com/watch?v=oo5owInresI
Barrel Room Part 14
Ok so now the hard part of owning a bar starts.... the Day to Day, everyweek I have a managers and marketing meeting not that I have so many properties it takes hours! This is so important no matter who big or small your venue is. Communication and Planning have VALUE!
Here is more Video of the opening and the day after
http://www.youtube.com/watch?v=EZciOF-AY3Q
Great Video from the show at Barrel Room.
http://www.youtube.com/watch?v=WHatu...ayer_embedded#!
---
Chris
Author of "The Little black Bar Book"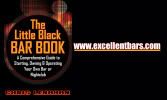 "A Comprehensive Guide to Opening, Owning and Operating Your Own Bar or Nightclub."