Dirty Continued
December 18, 2010
---
Sorry for the delay....
Ok Saturday (Today) is a busy but steady day.....This should be titled the Good the Bad and the Ugly!
The Good
So we start off with the Fire Protection guys showing up to clean the hood and get everything current for the fire marshal...we now are current on all the fire life safety items in the venue....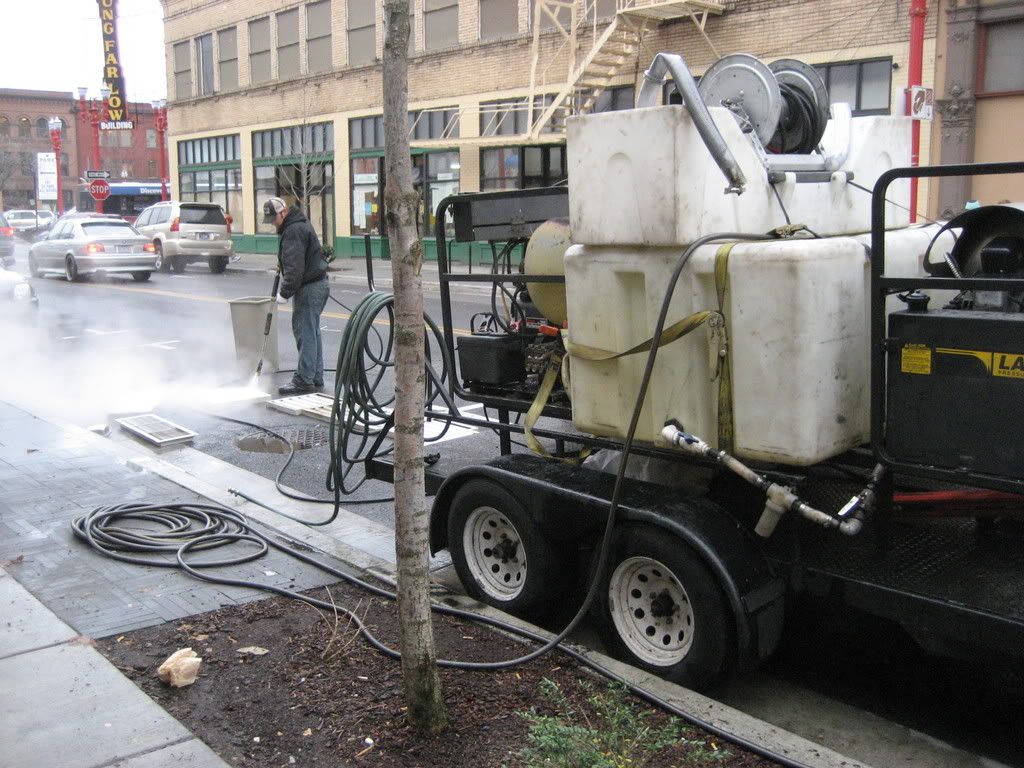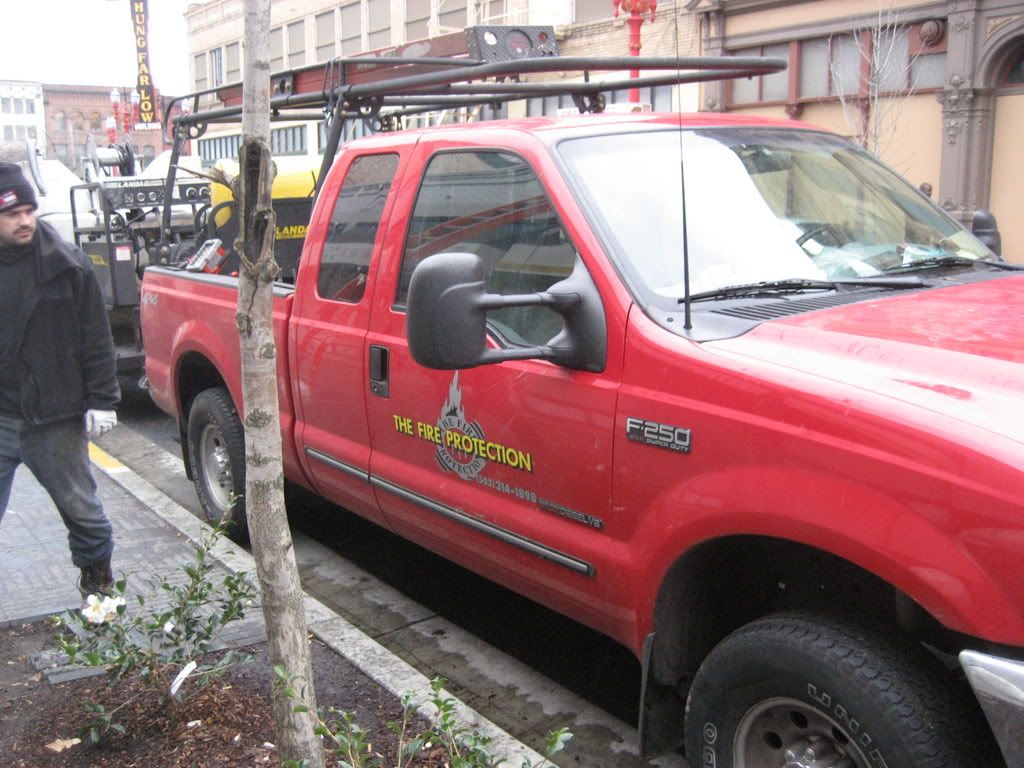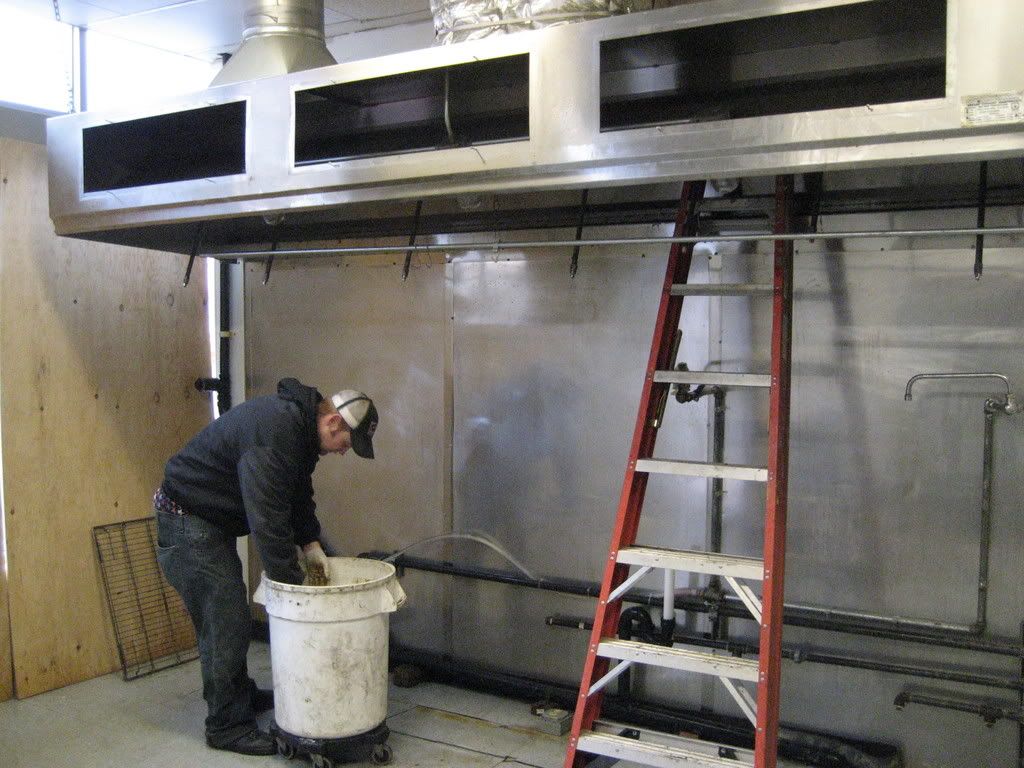 Mean while the Dirty Crew are killin the direct marketing on the internet.....I am very happy and the responce has been huge...I am very pleased...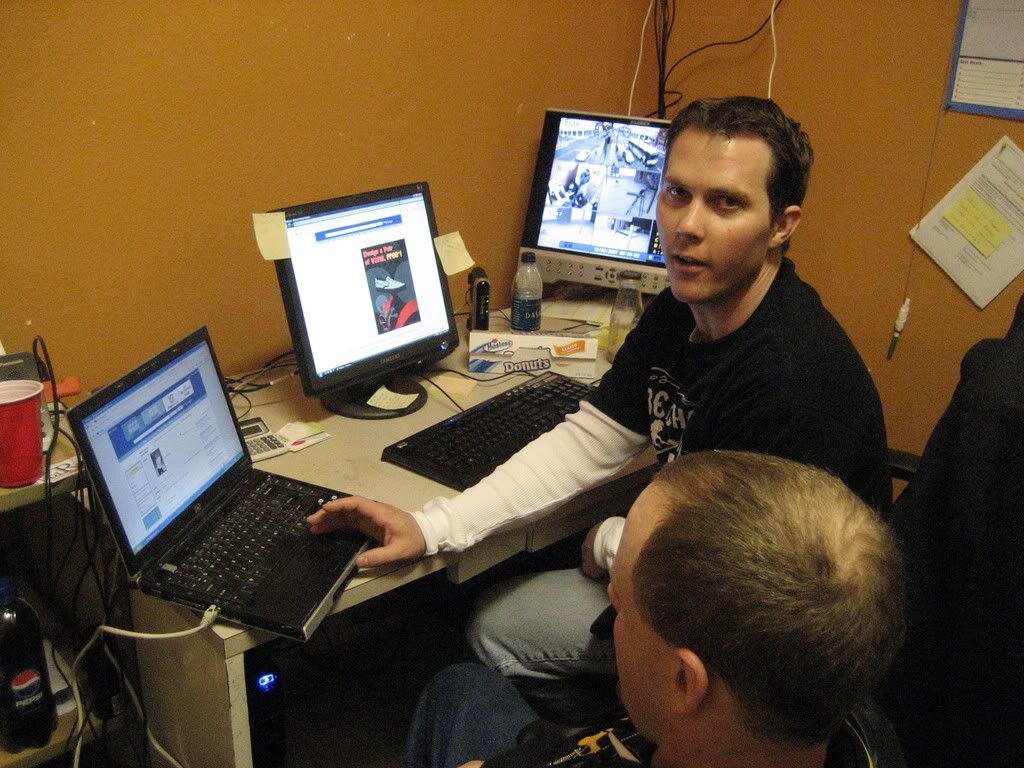 The Bad
Next we are off to see a little chinese guy about making our booths for us...I usually buy them from Vegas but this guy is a freind of my partners or something so we will take a look and give him a chance....
So we drive out to his little shop


He has about a million samples of the same 12 colors....for us to go through..I already know what I want so it is easy...Shinny Black.....Nice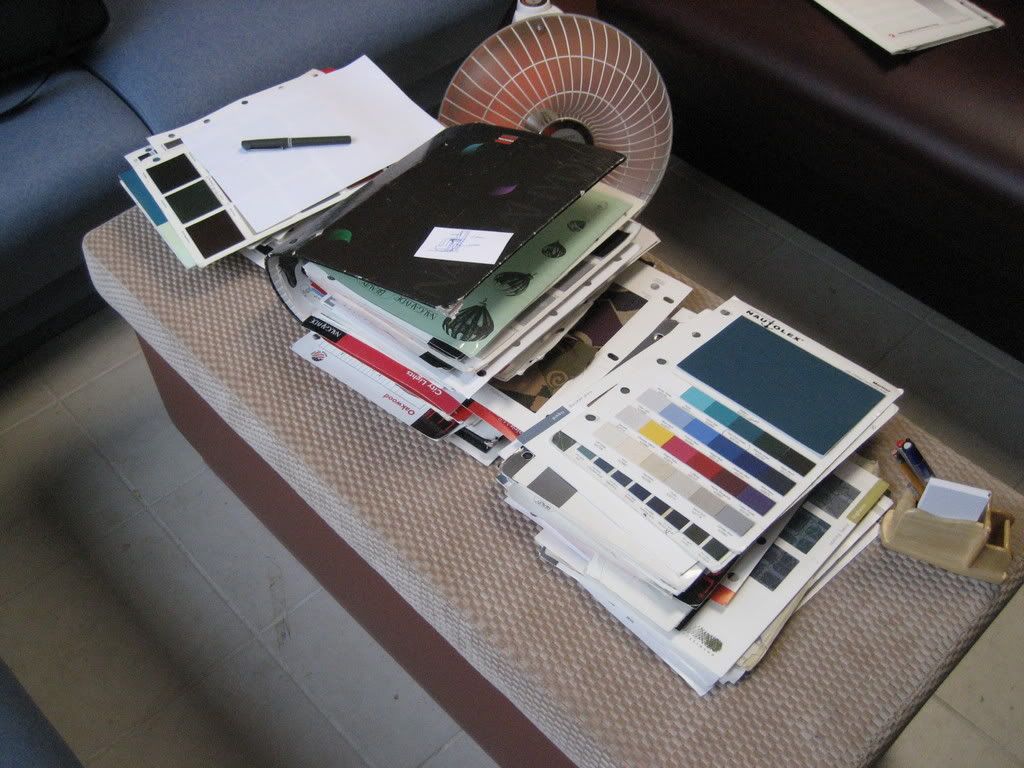 and He is great..He speaks broken english and is smiling the entire time...I find out why when he hands me the Quote!
HOLY BAT DROPPINGS! about $100 to $140 over what we can get them for!!!! WOW
Ok first off it is freezing in his shop and I have Snow Peas issues again and he is trying to charge me This? Wow
Even the Chinese muscle I brought couldnt make it right?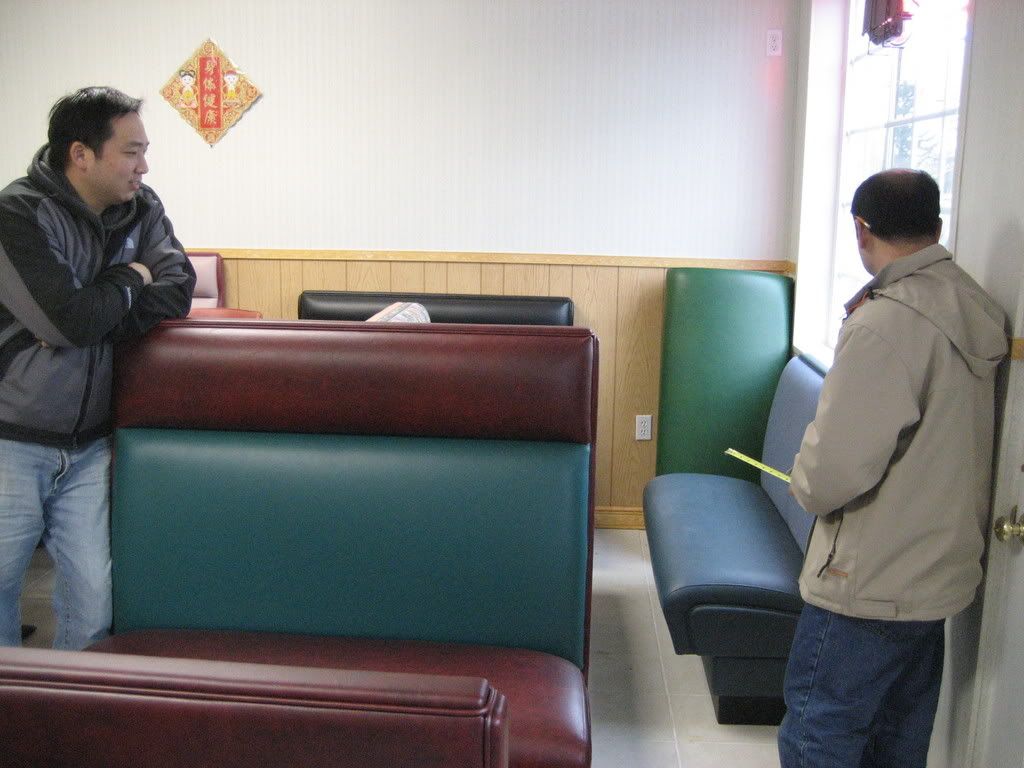 The Ugly
Ok my next meeting is whith some great guys who should have bought my book :rolleyes: They opened a space up down the road in a very poor location IMHO! and the recently closed their doors.....So being the bastard that I am I get their numbers and give them a call to be the first on the list to pick over the carcase! while it is still warm....The guys are great they stop by and then off we go to look at the equipment..The entire sound/Lighting and laser system....it is used but still in OK shape and they where not open very long so I drive a deal to the end and we get the system from them for a Good deal..That is all I will say! I will have pics tomorrow of the entire system...after we pick it up!
I will also be doing what any smart owner would do I am picking their brain for every detail about the last 6 months and their experiance with vendors and staff!...
Tomorrow is the start of my City week...I will handle all my issues with the city over the next 5 to 10 days for the construction phase!
My list for tomorrow is jammed from 8am until 8 pm
OK Wow another long (Soap In My Mouth) day.....Pooped!
Ok so up at 7am and clean-up and out the door...We walk to the venue everyday and it is about a 15 minute walk...I need the walk anyway...
So into the venue and the slammed day is off and running....get with the contractor and get our game plan...then off to the Architect to get our Plans ready for the city...Today we are all about finalizing the occupancy for the city and we have one hurdle....so here is the days Ugly.....
FIRE SPRINKLERS!!!!
Ok this sucks and to the tune of how much about $1.65 to $2.50 per square foot...we are about 4000 square feet.... Ouch not a good way to start the day off....but this is only if we need to do it....we have many factors that would make it not needed..such as we are not changing the use! this is True and Huge as #1 the venue is not getting changed we are only doing a limited remodle....#2 the venue has already had it's yearly fire inspection and passed just fine! #3 as long as the venue has a 4 inch water line the cost for the sprinkler syetem is not that bad and almost worth having since we are interested in buying the building anyway!
Ok this was the worst part of the day....After talking to the Fire Guy he wants to know if we have a 4 inch H2O pipe in the building from the City....So down into the crawl space below the venue we go.....this sucks as the crawl space is covered in spider webs and holes that look like gofers or rats live down here... :confused: I was not prepared for this today but Time is Money and I will be the first to take one for the team as I am a Leader and never expect my crew to do something I would not do myself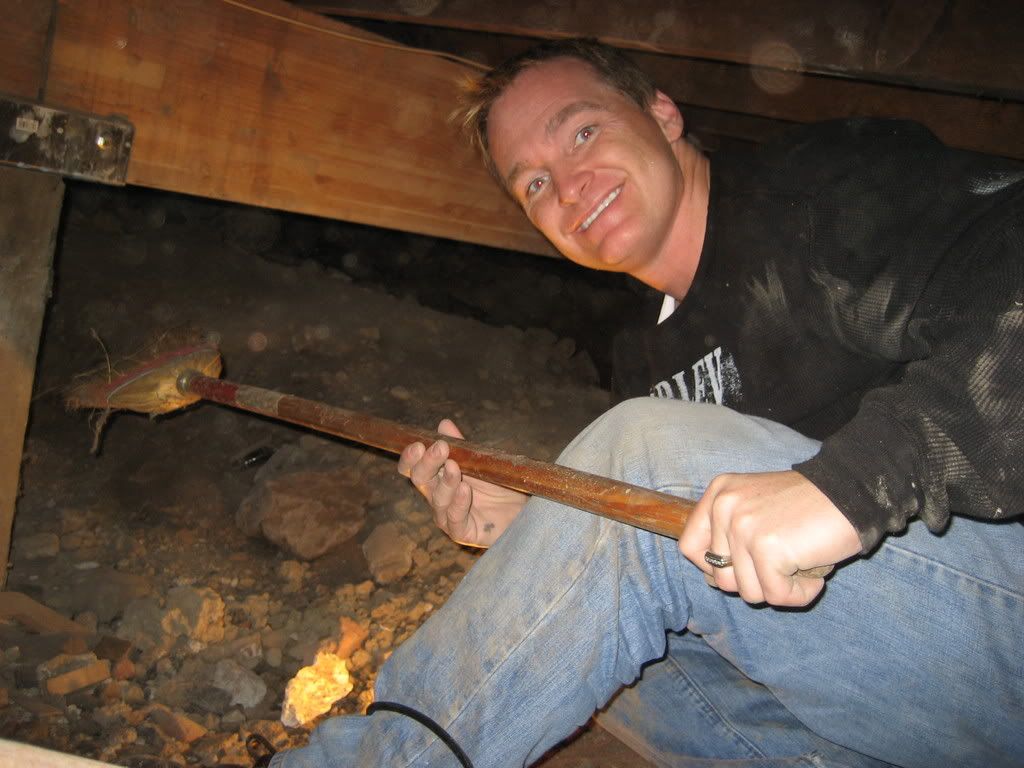 ....and this is one of those things that sucks...it is about 75 feet to the back of the venue....you need to crawl most of the way..in the dark covered in dirt..with glass and nails everywhere....Not fun! But I did find the pipe I needed and that makes it worth it!


I also got some great pics of everything lots of plumbing and electrical down there...from past venues im sure....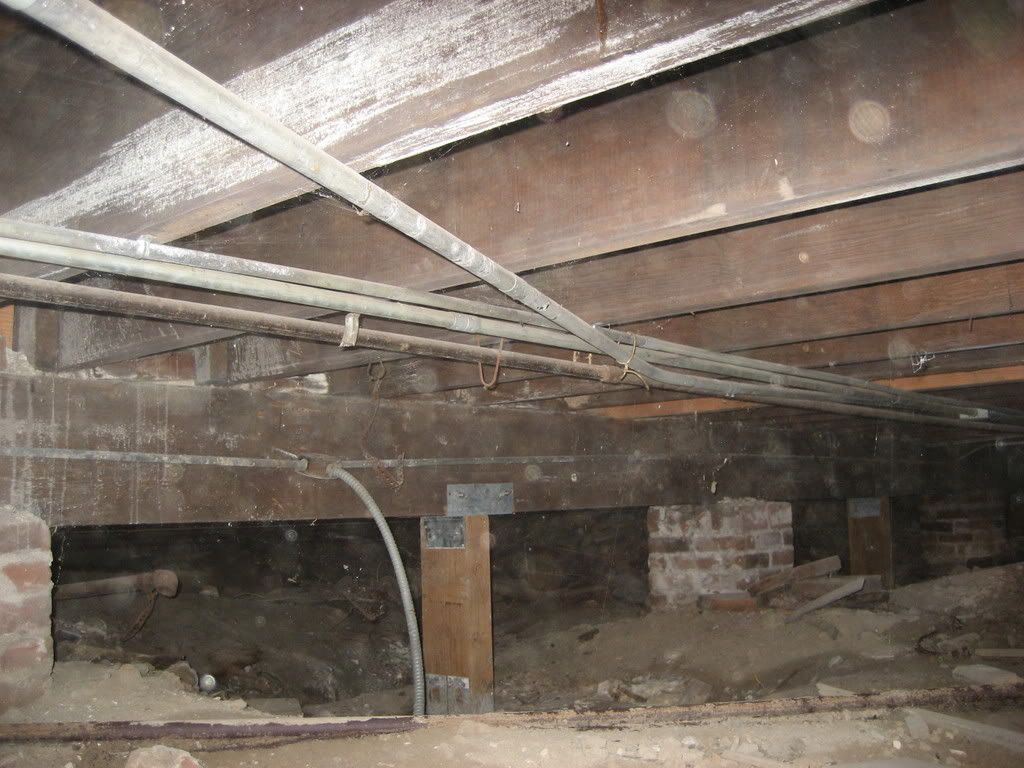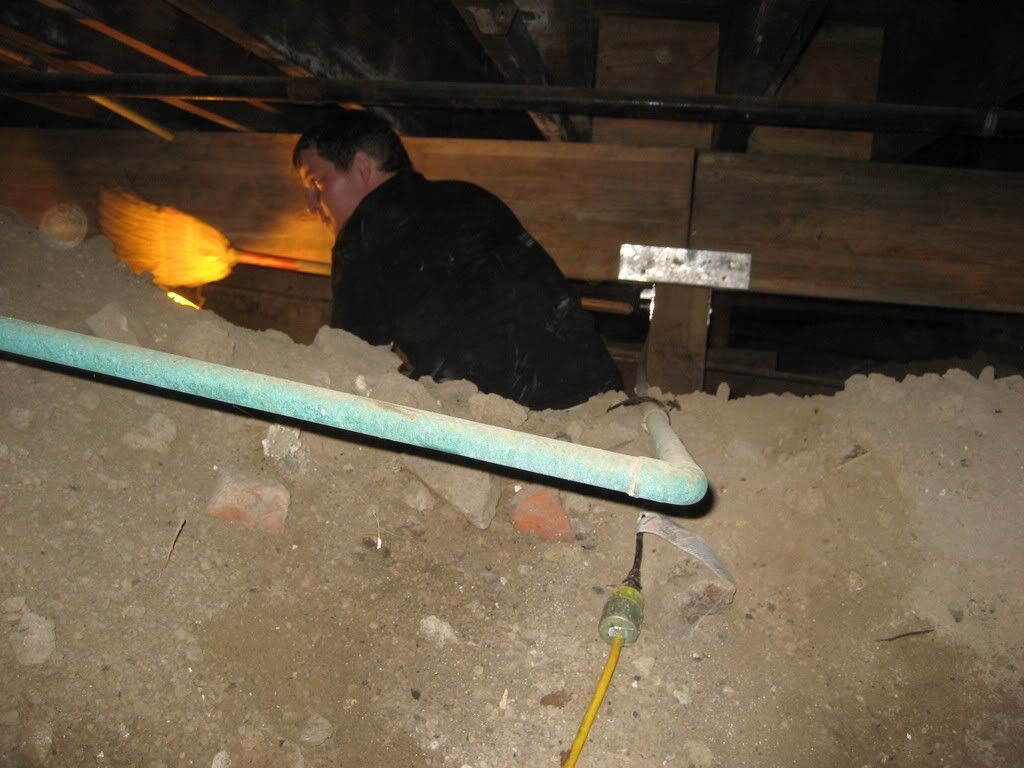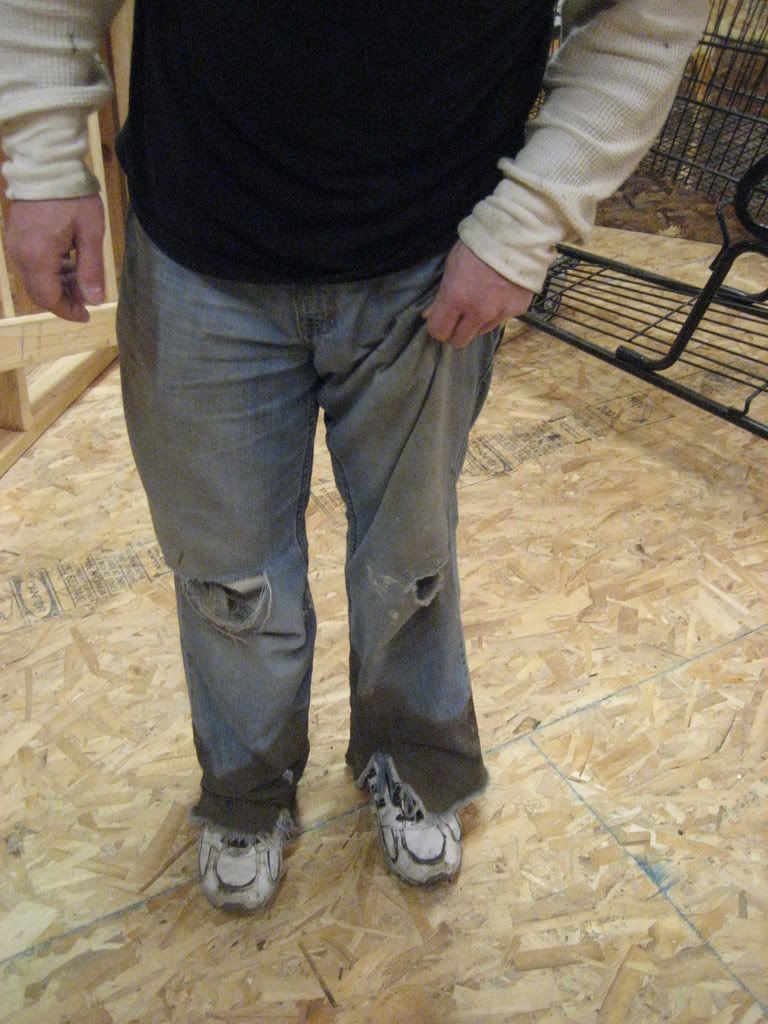 Ok that said I race to the City to see the lovely Connie and miss her by about 30 minutes
So I ring her and she is so wonderful to call back and let me know that tomorrow is good....How about that a city offical calling you back in a timely fashion!
I know disbelief! I love this town!
So then back to the venue and I have meeting set up with a graphic designer and I push it off on Dirty Crew member Mark.....He has got this handled off to the next issue...
Dirty Danny is handling the Wall paper and I am working on the Bars Die's with the Dirty Construction crew....This came out great and I laid everything out on the Floor and I was off on my original measurements by 4 inches
Who's the man!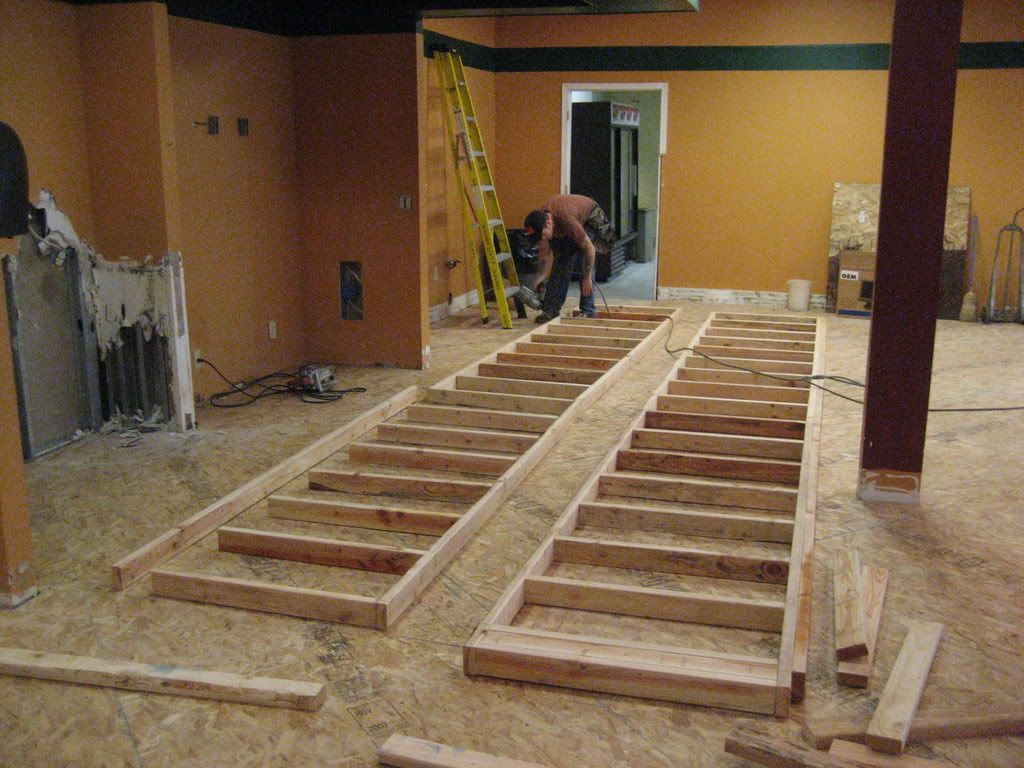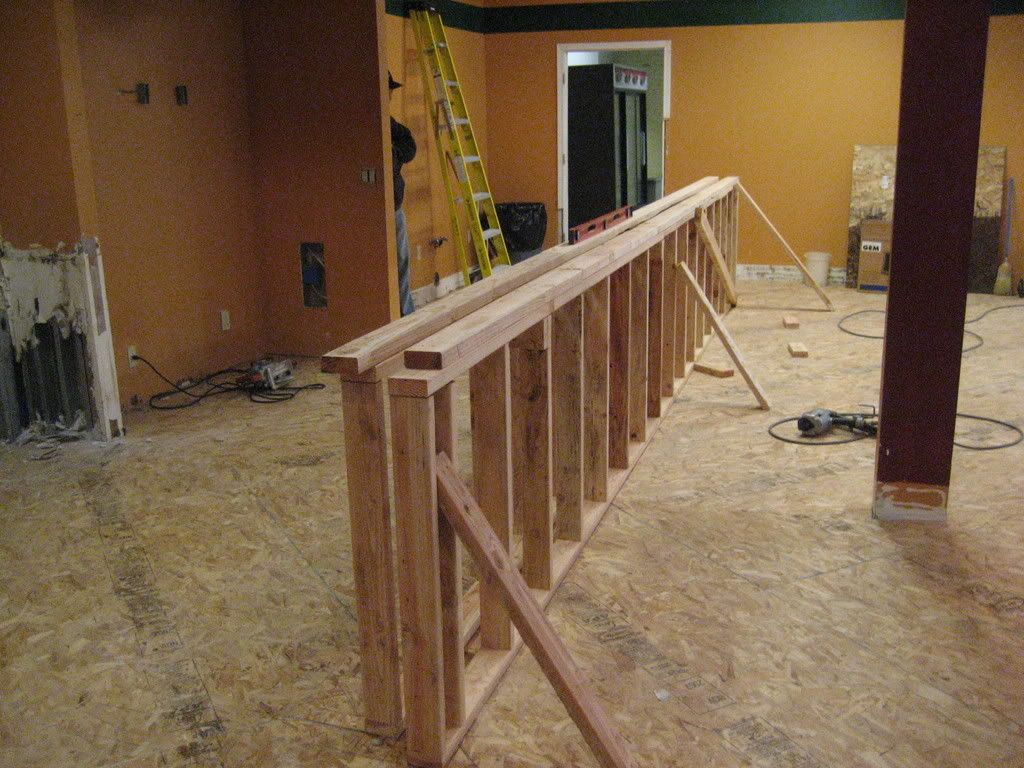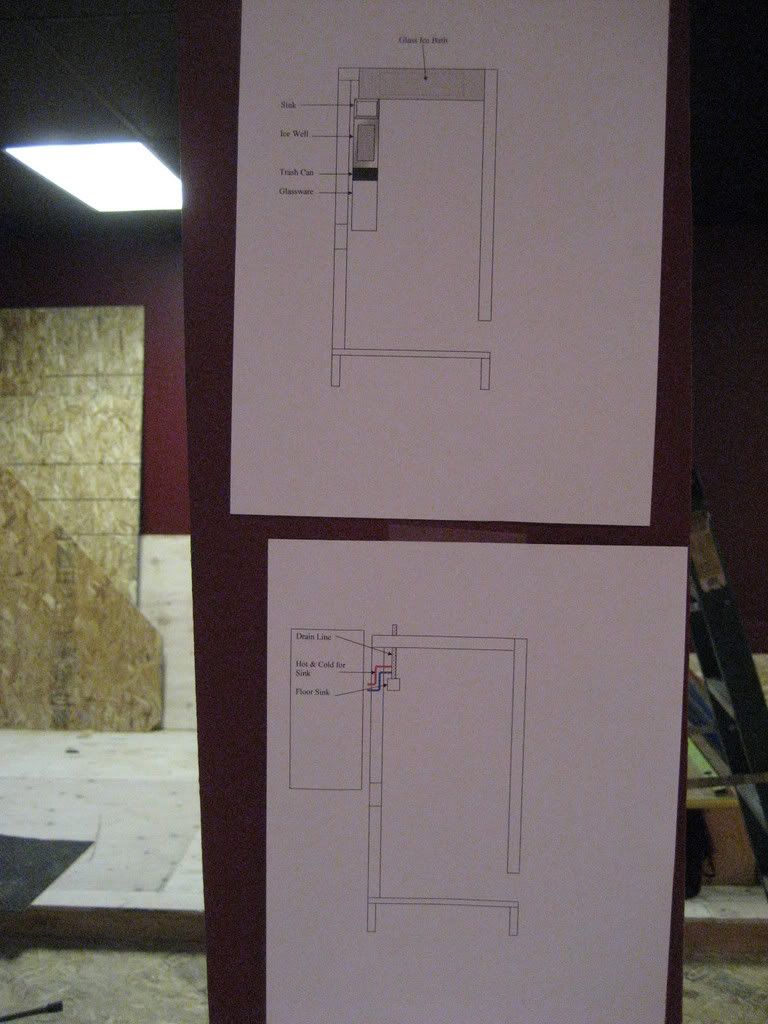 Ok next we are trying to arrange the pick up of the sound and lighting system that we purchased from the other venue.....It is a Crap load of stuff and arranging the pick up and getting the Dirty crew together was no problem...I have dinner set up tomorrow with the owners from the other venue great guys....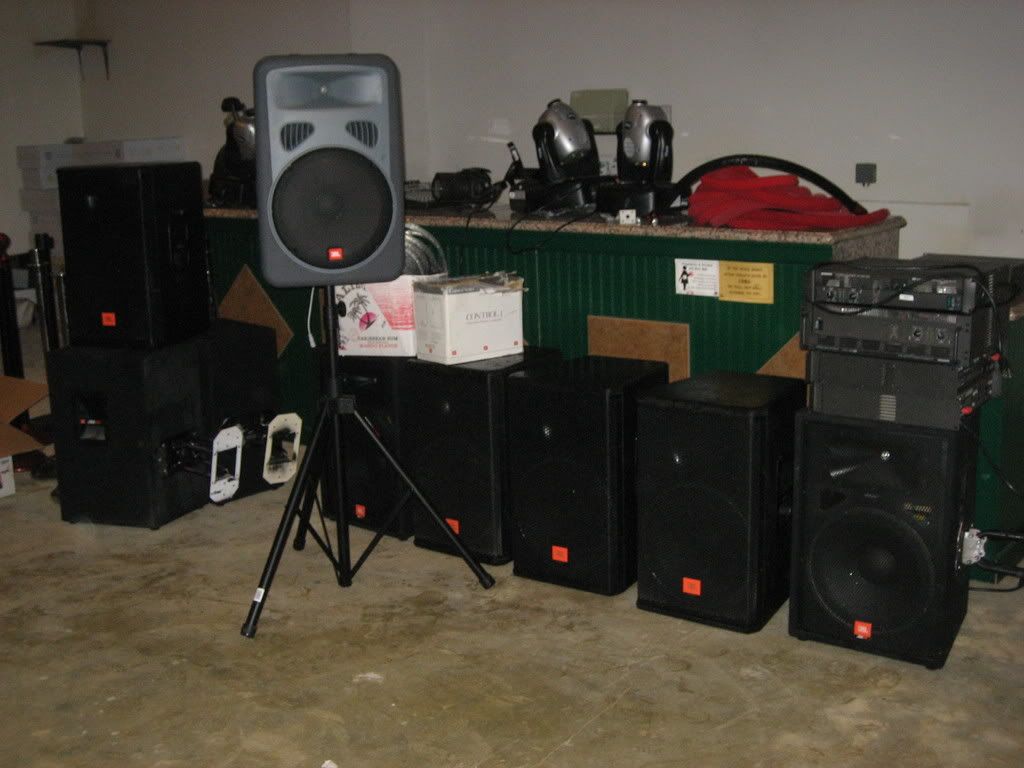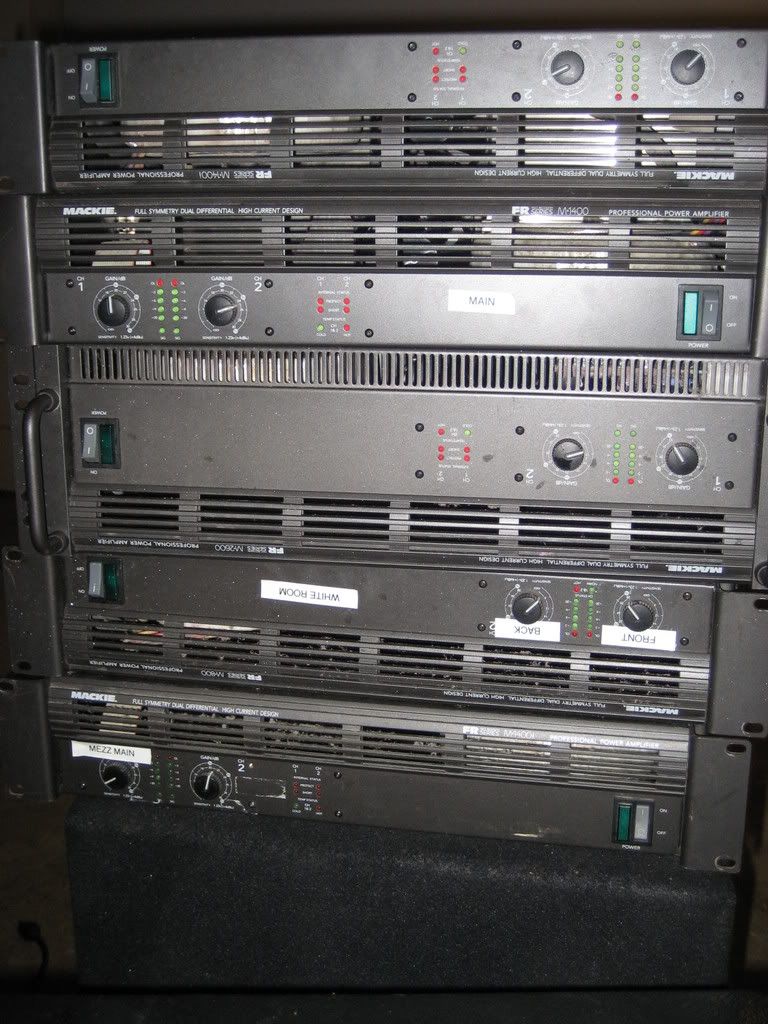 Ok Things are going great and I have a visit from Officer Clayton tomorrow so we gut the office and install the new countertops and some paint MONEY GREEN BLING BLING!
Dirty Money! They finish Half and will finish the other half of the counter in the morning....at around 830pm we start to put everything back in and rewire everything.....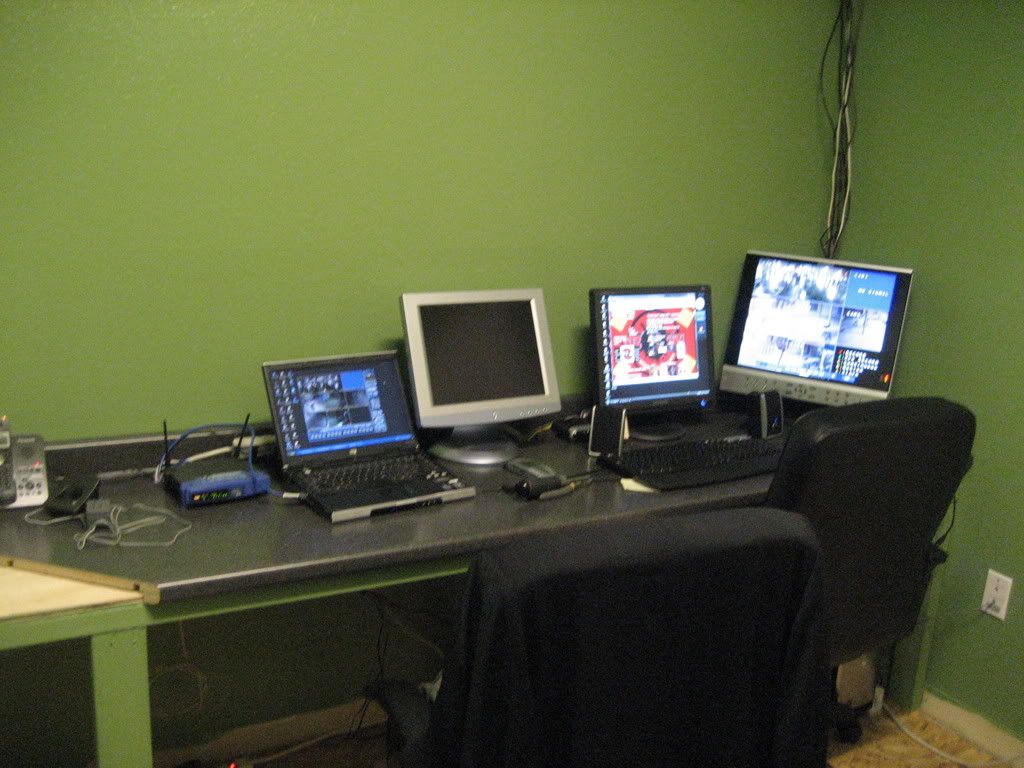 Oh yeah and I found a small puddle in the basement :confused: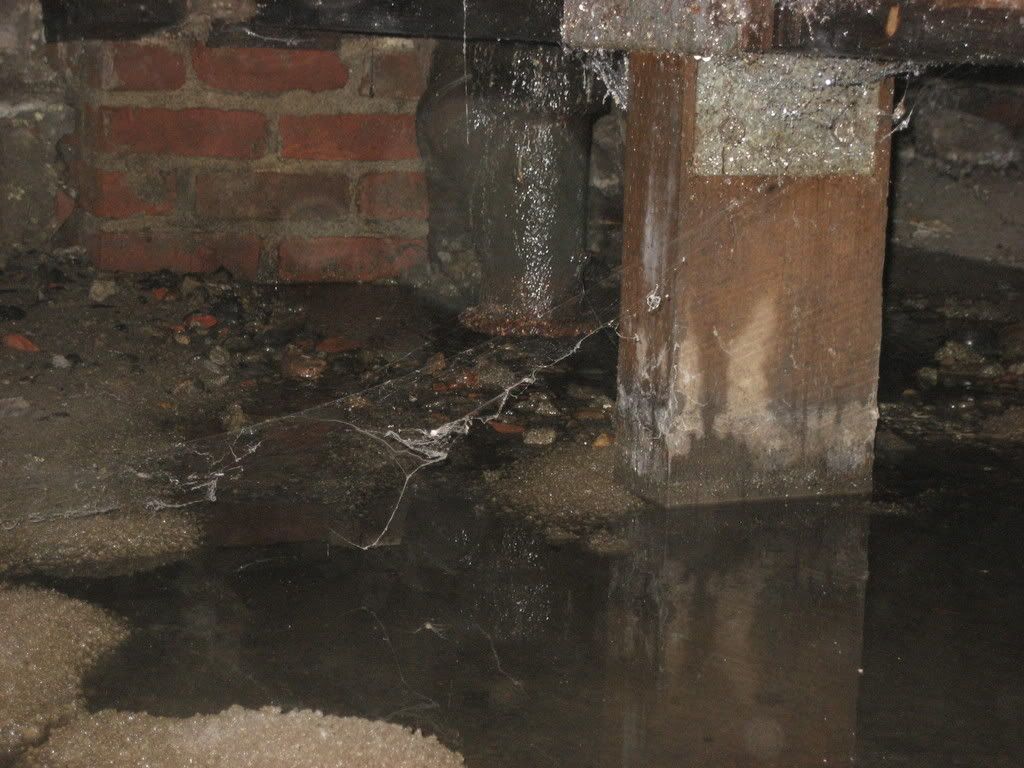 welcome to my new crappy day...What is today anyway..they all have run together....Oh yeah Tuesday...If it wasnt for my cell phone I would never know what day it was!
Ok so lets start with another long day....where do I start...
637 am I get a phone call and it rings then before I can wake out of my slumber counting cute little fuzzy bunnys and sheep jumping fence's...I miss the call...So I cal the number back it might be one of the dirty crew or contractor I think....I call the number and it is a Fire Sprinkler company calling me back to let me know he can NOT do the job he is to busy! WHAT THE HELL IS THIS GUY THINKING
!!!!!!! needless to say i cannot get back to sleep..and get a healthy 5 hours

So Im up and get ready for the day hit the net and get everything lined up...for another day...then off to the venue to grap some stuff and chat with the contractor then off to the bank Dirty Danny need to open a personal account for himself...Ok Banking done then race back to the venue..to meet the Local Police Rep for us......Mark....Great guy and we spent about an hour and going over everything including our local scene and issues related to the area....We cover the cameras and he is very happy to have the community step up and help to clean up the area...The police dept...will have the use of our camera system and they now have the means set up and load the software needed for the system...So mark takes off and we are running to the city to chat with connie about the fire sprinklers and the occupancy rating....she is great and we sit down and she is so damn helpful!!!!! She helps me to work with the system to overcome some obsticals to the occupancy rating.....she then called the fire guy my Arena...He was so great also I think this is all a dream and I will wake up from the evil phone call I got this morning from the crazy sprinkler guy!!! So she gives me a few options then we take ther photos and we run to the venue for more meetings and a pow wow!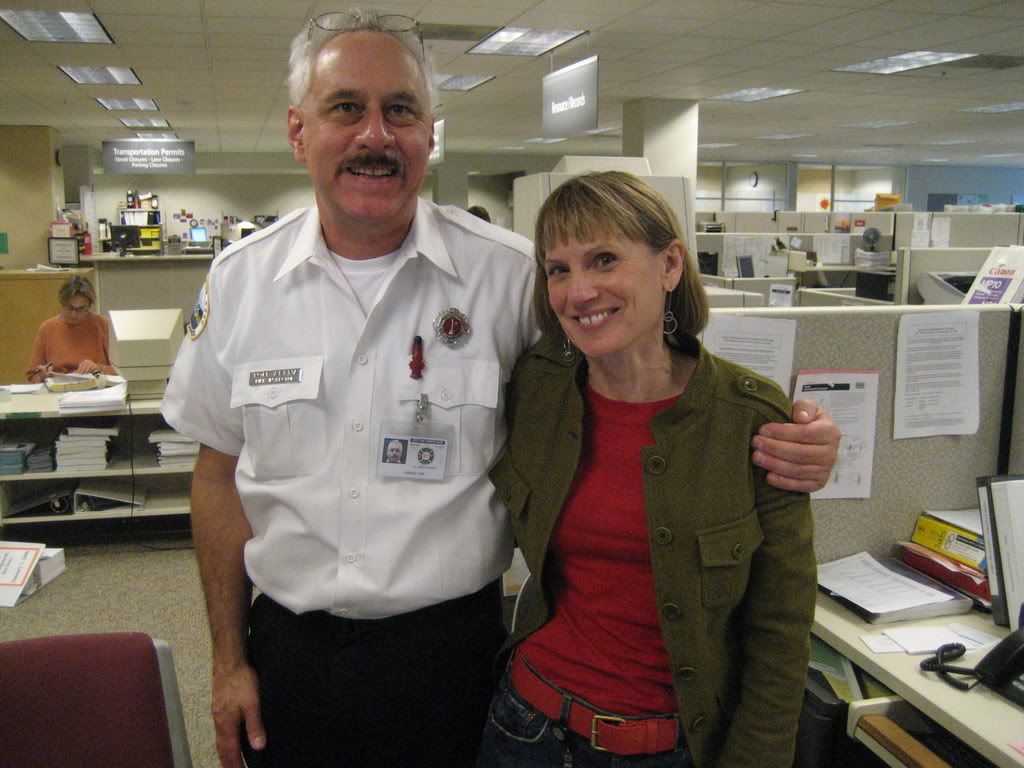 Ok now back at the venue and the Liquor Lady calls Shannon....She said that our meeting is for today at 3pm ????? I am scatter brained and I have it written down....I thought it was for last friday...OLD AGE!
So I wait for Shannon while dealing with the fire sprinkler guy who is now at the venue looking at the pipes we found from yesterday....Ok the Bad news...
The pipe we found we think is a 3 inch gas pipe "the largest gas pipe ever made? so he is coming back tomorrow and to do a full search.....If we dont have a 2 inch pipe...We are screwed....that means the city will need to come and add a line from the street....!!!!! $$$$$ but this is life...get hit and get back up! My partner is like do it...we are going to rock anyway....So a quick corporate meeting and...looks like we are getting fire sprinklers...the contractor is on the phone to the city and the fire sprinkler guy is on the same page..the architect will be here tomorrow morning and we are rockin again...hick up!
us looking for a large water line.....Here water line come out come out where ever you are!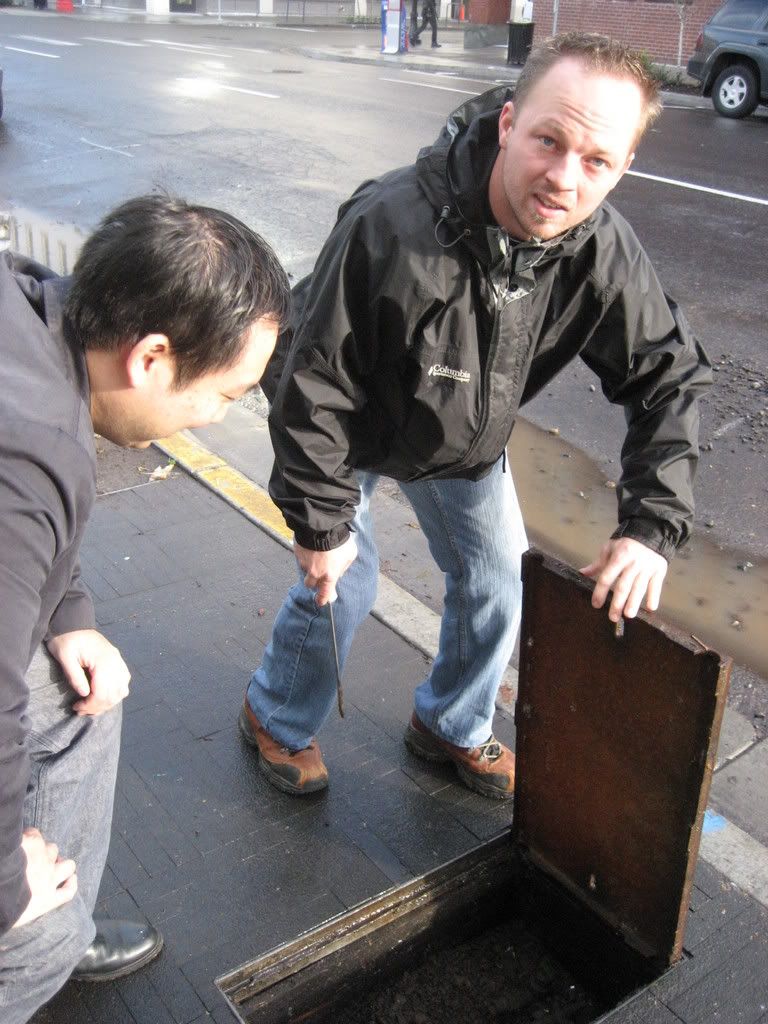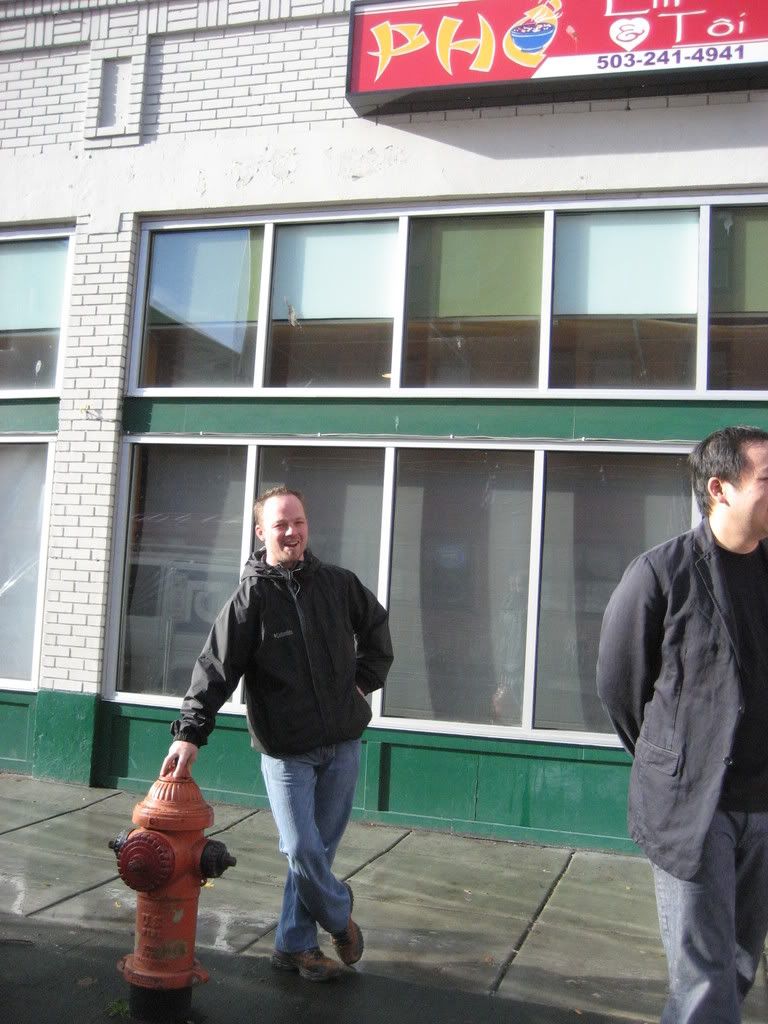 This will due..where is a hose!

Also today the ADT guys where here it was very funny like the 2 stooges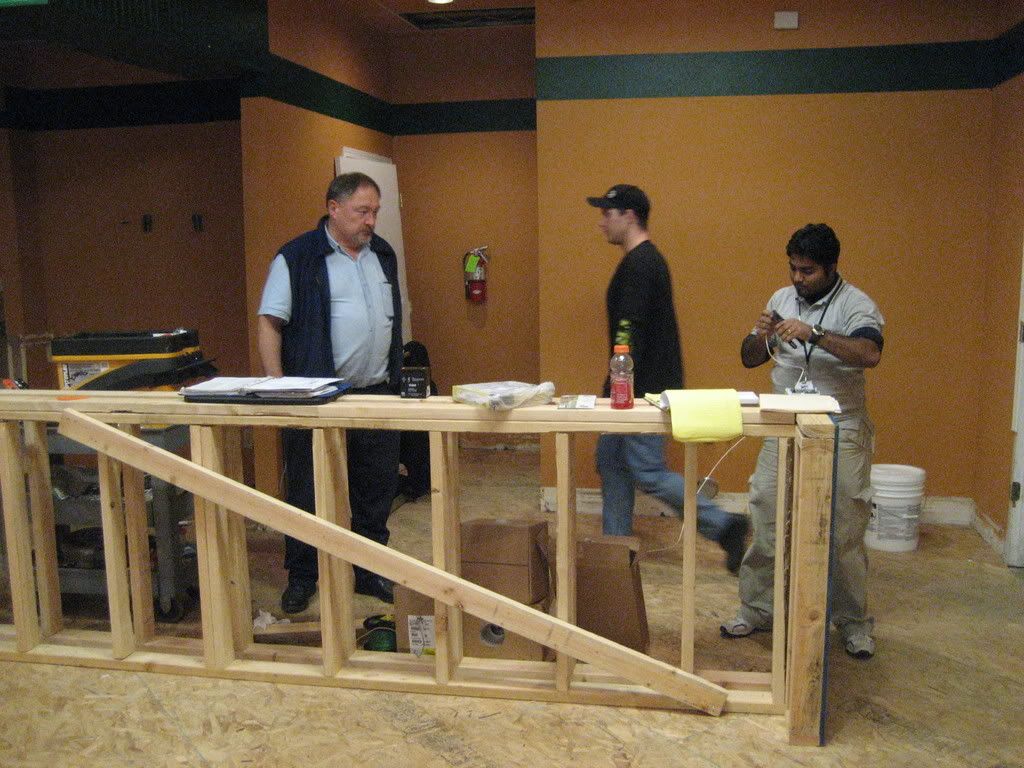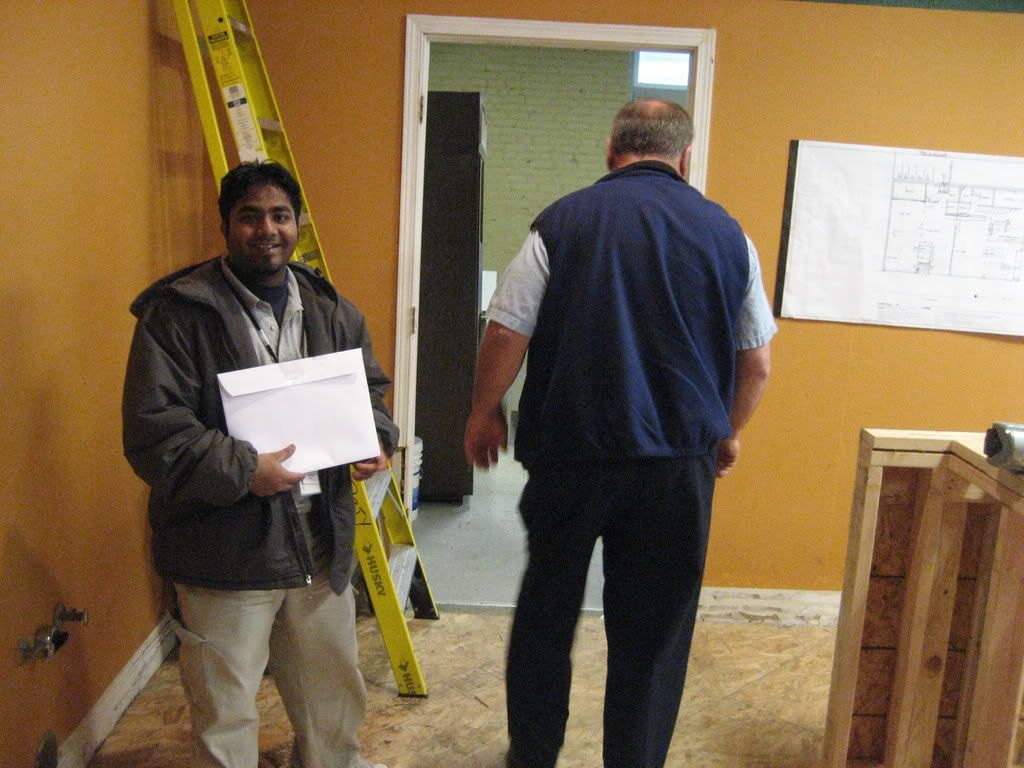 3pm the Liquor lady shows up...this is the first time I have meet her and She is CUTE!
Very nice..I didnt get a picture but I will..you will agree!
She will probably kill me when and if she reads this...
So we have a very productive meeting and she helps me to understand how she and the Liquor dept operate! I fill her in on my experiance and some of our methods of operation...She is excited about the camera system and I give her a step by step tour on how to install and get it running....We chat and she is also relaying great info on the key issues that she faces and that they look for in bar operations in our area....Another Great meeting!!!!
Ok now that we know the fire sprinklers are going in we need to get out all the ceiling tiles and clean everything up for the contractors guys...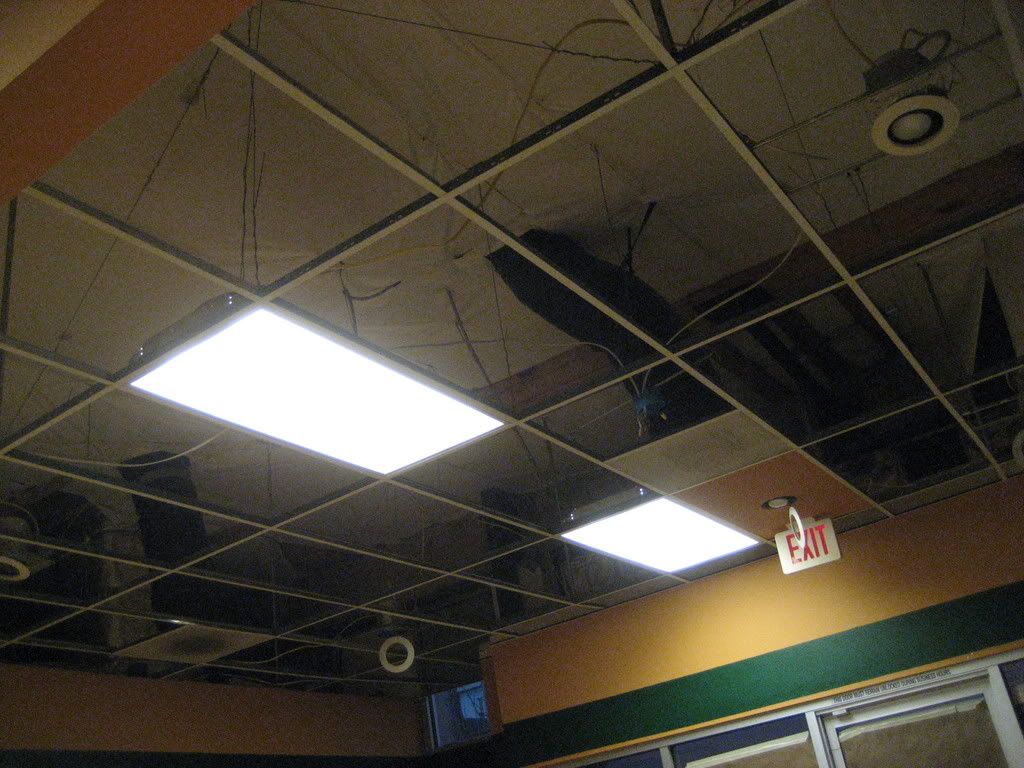 I have until friday in my timeline to get everything into the city and this cals for a revision to the drawings to meet with the requirements for Connie at the city.....since we are doing the fire sprinklers the sprinkler guy Steve will be handling the Drawings for the city and I will handle the H2O department....
The H2O guy calls us back and sends us the paperwork to get everything going...this is the right thing to do and we will just have to suck up the Hit $$$$$ Ouch...Pay the city and pay the sprinkler guy!!!!
The wallpaper guy was in today to give a bid he is a good guy and charges by the roll..not bad but we have about 40+ rolls that need to get installed! So we need to get the walls skim coated and the contractor calls his drywall guy to come out and give us a bid...If it is to high we will do it ourselves..Dirty Crew Rocks!
The Ecolab guy is in and giving us a bid..I have 1 other bid from a local company and they are a little high...but Ecolab has a new pellet system that is easier to run and manage..and they want $90 to $100 for the lease of the dishwasher....the other guy wants $150....I am still waiting for one more guy to get his bid in...
So first thing in the morning Cal the Architect is in the house rockin and nailing the drawings for us based on the recommendathons from the city (Lovely Connie) and Fire Dept (Tom) so the changes are made and we are off and running to get these made and back to us by tomorrow morning for a day spend putting in the permits!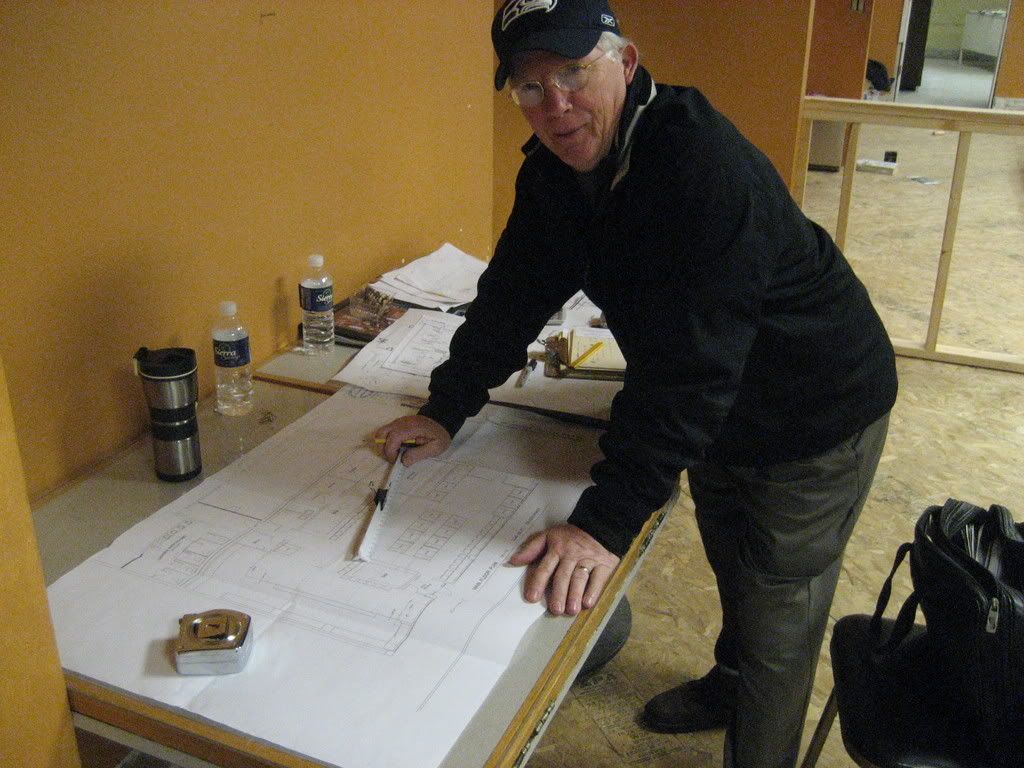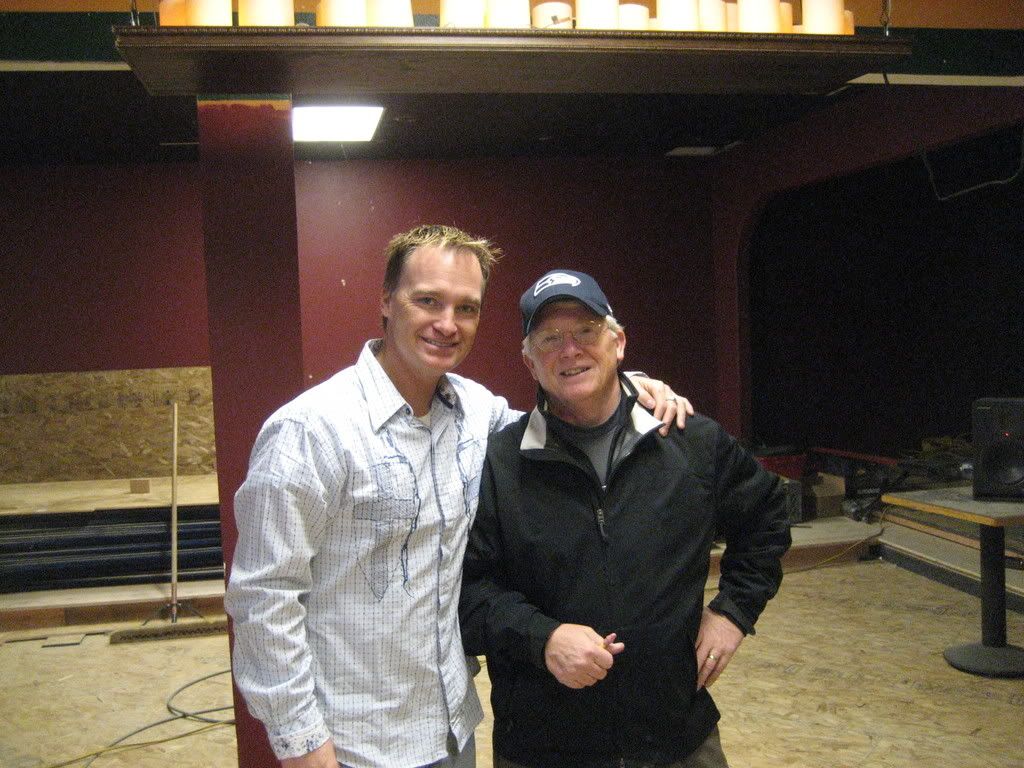 The Dirty Crew has been working hard removing the old ceiling tiles for the fire sprinklers...This will make it cheaper and esier for the fire sprinkler guys to do the deal....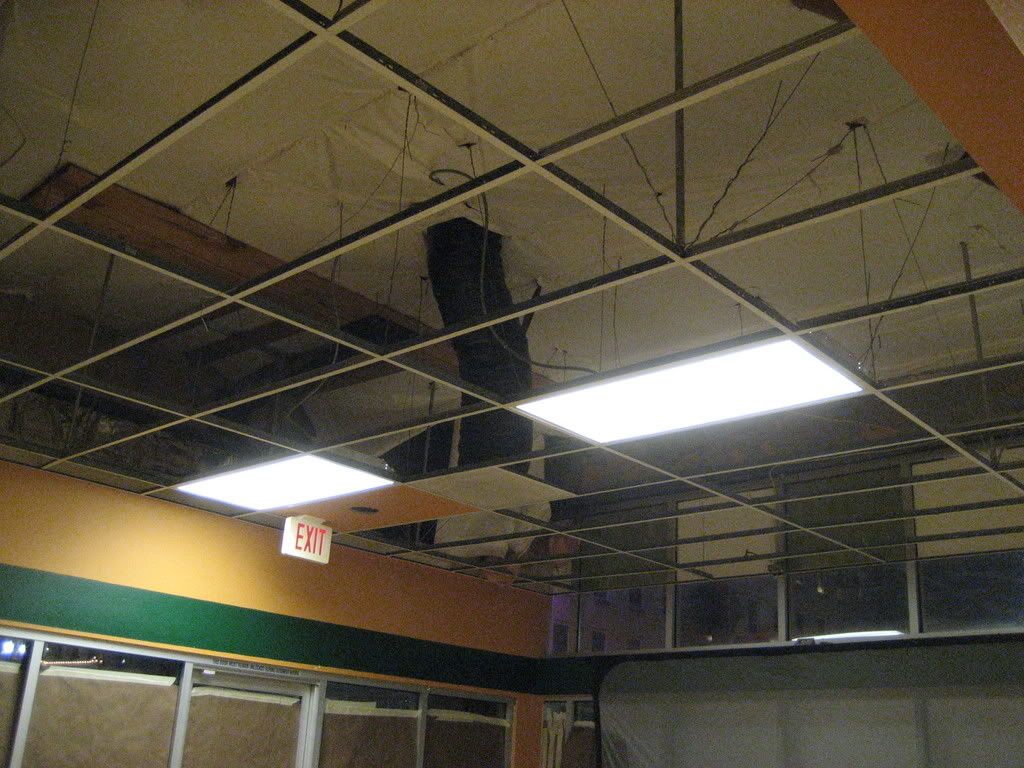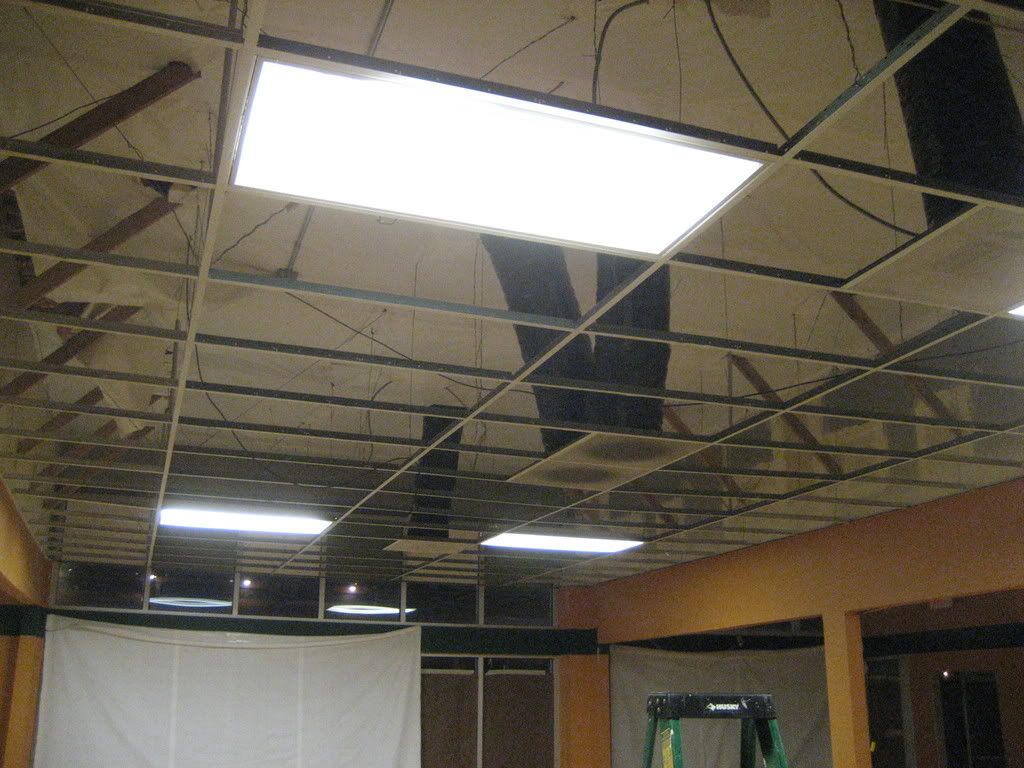 The Dirty crew gets to work removing this decorative peice over the old bar in the venue....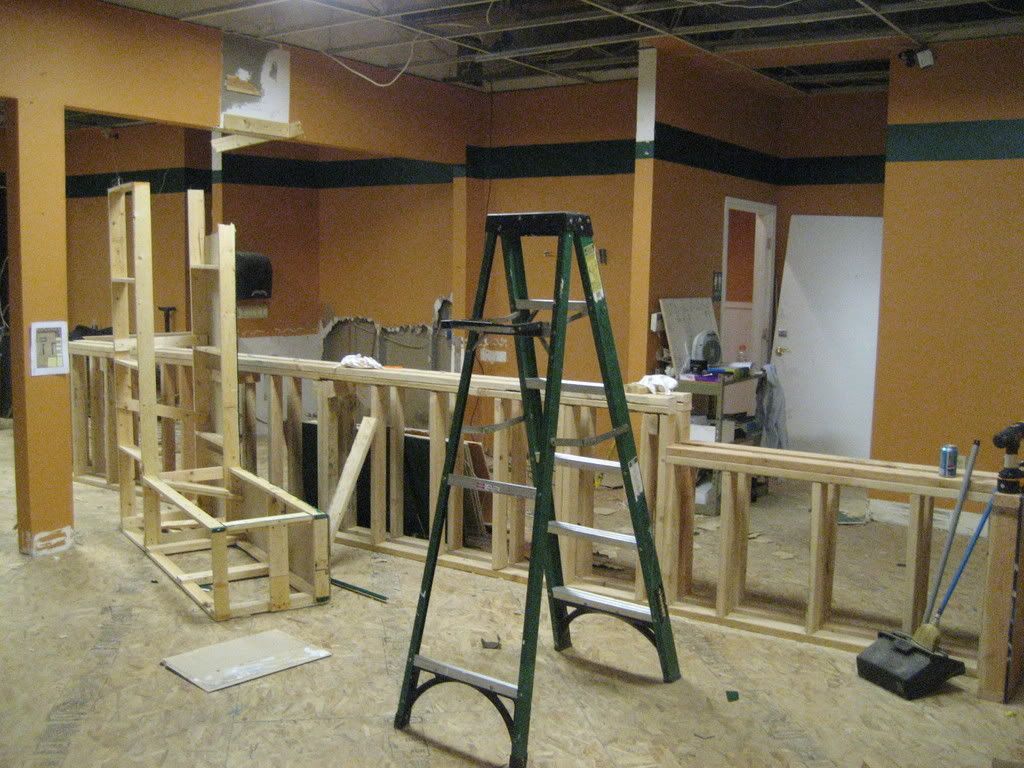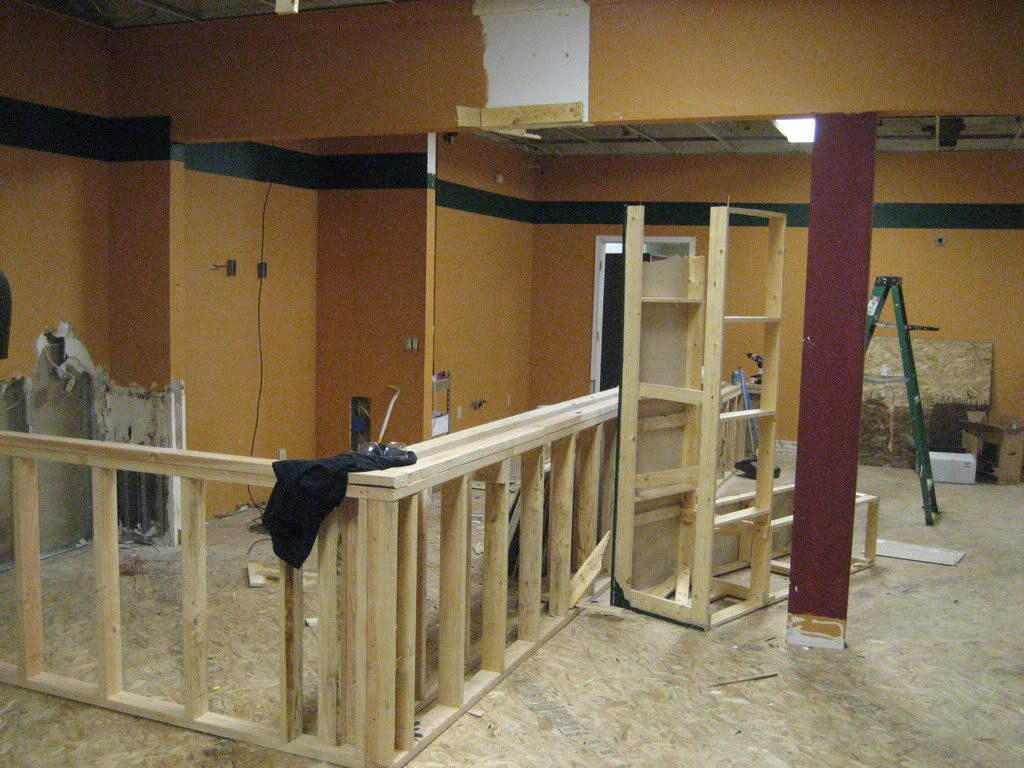 Ok I am really beat today and the lack of sleep is getting to me as I have been averaging about 5 to 6 hours per night....I will get back to the condo and get some rest tonight..I dont want to get a cold....everyone around us has one and 1 of the Dirty crew has a cold now! Wimp! The New guy
Here is some video of the Dirty Demo crew in action!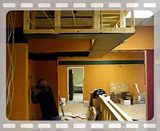 http://s183.photobucket.com/albums/x188/visual4464/?action=view&current=dannymovie.flv
Ok thursday....
Up early and off to the bar to get with the Dirty crew to see where we are at and then head to the city to get our permit.....Nice!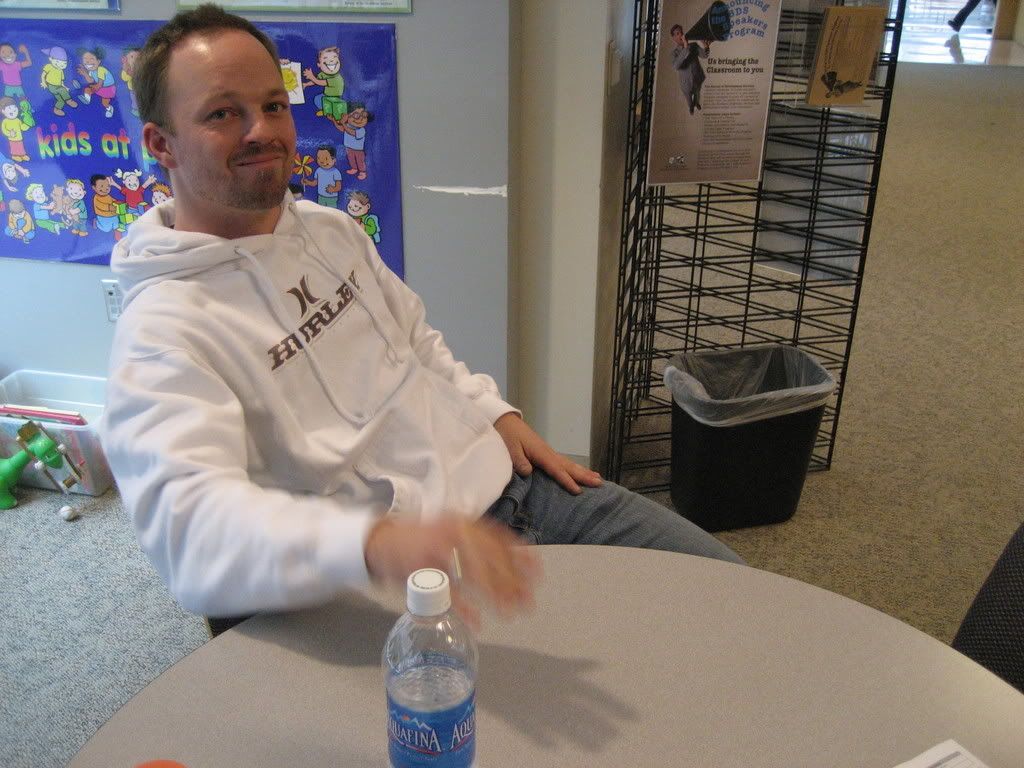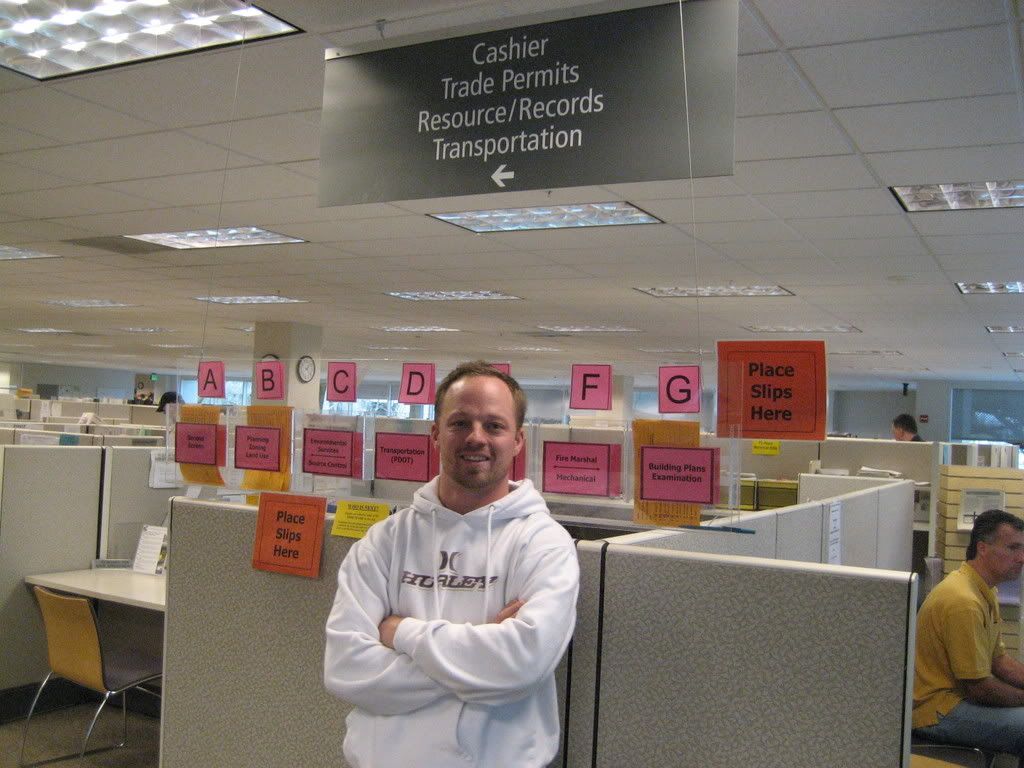 So we show up to the City building department at 11 am to see connie and we are in a long line so the first building lady comes up and helps us....Im glad because we need to start all the way at the beginning and go from the first box to the end....So we hop in lne and off we go....one after another we are kickin butts and taking names....This is great....now we get to the end and we are waiting for connie and she is busy so we go see another guy...BAD IDEA!!!!!!!!!!!
Ok Jerry is his name and we sit down jerry reviews all the notes and looks at me and say's "YOU need to Sismic!"
What are you talking about? :confused: Read the notes I have been in here for the last 2 times over the last month to make sure that this is ok! I would never have done the project if I knew we needed to Sismic the building it would cost a fortune....Jerry is not helping at all and with typical stoic city employee attitude is neither carring or understanding....Even with the notes from Connie...Of course he is not helpful at all and We tell him thank you we will go back to connie as she knows our situation....What a typical city and state experiance! this was! these people are here to help the city and it's citizens not to hurt or hinder them..they have the civic duty to help you to better understand the laws and regulations and work within the guidlines of these rules and regulations...Not to shut you down without alternatives that I have paid for them with my tax dollars to learn.....and help me the public to work together as a civic partnership!
I leave and am very very upset! this is not good! Me and my contractor are both looking at each other like we just got hit by a train!
I am on the phone with my architect and I need to chat with him anyway...Ok so the plan is tomorrow go back and see connie......
Back at the dirty Ranch...the crew is clearing the cieling for the fire sprinklers..........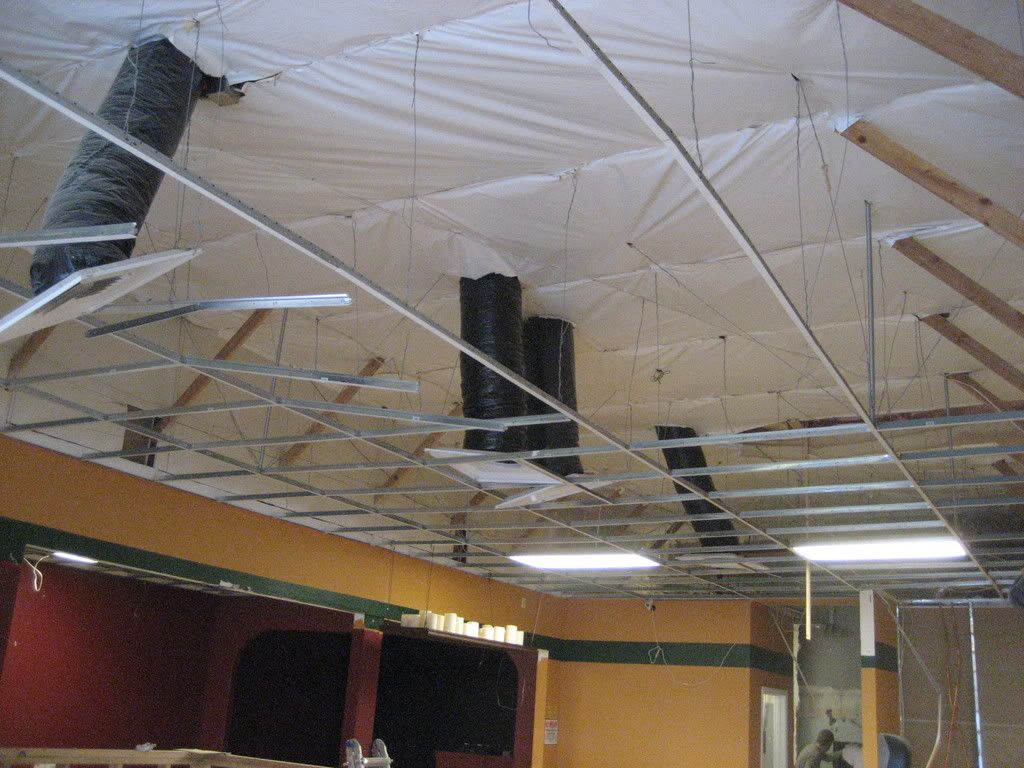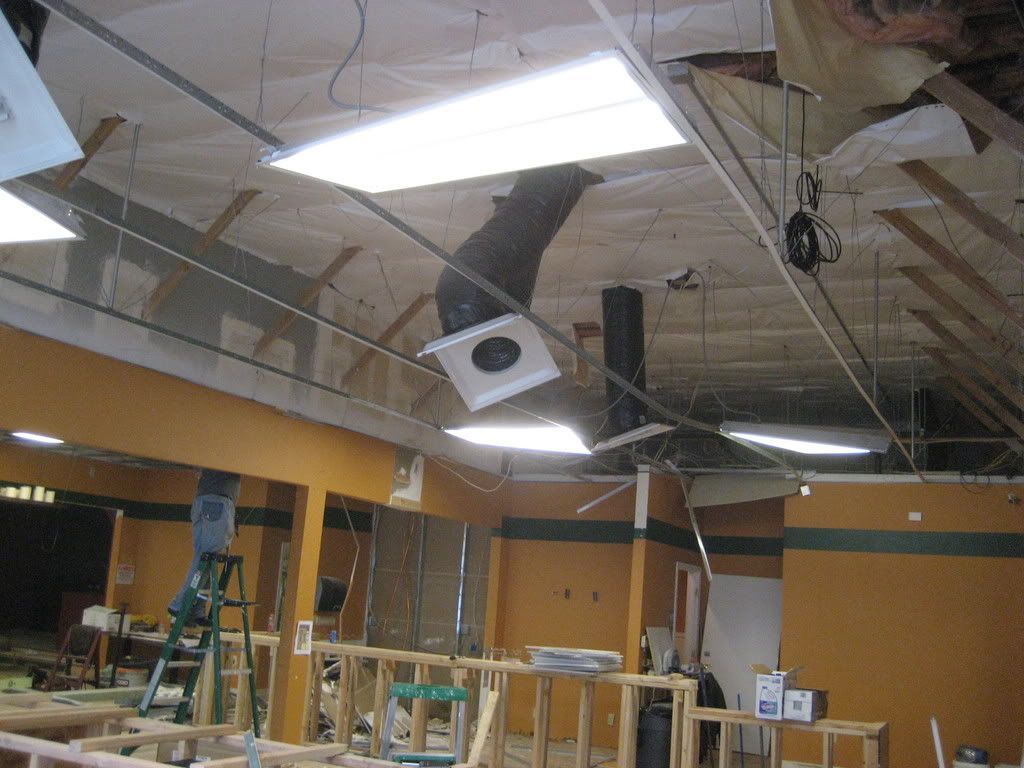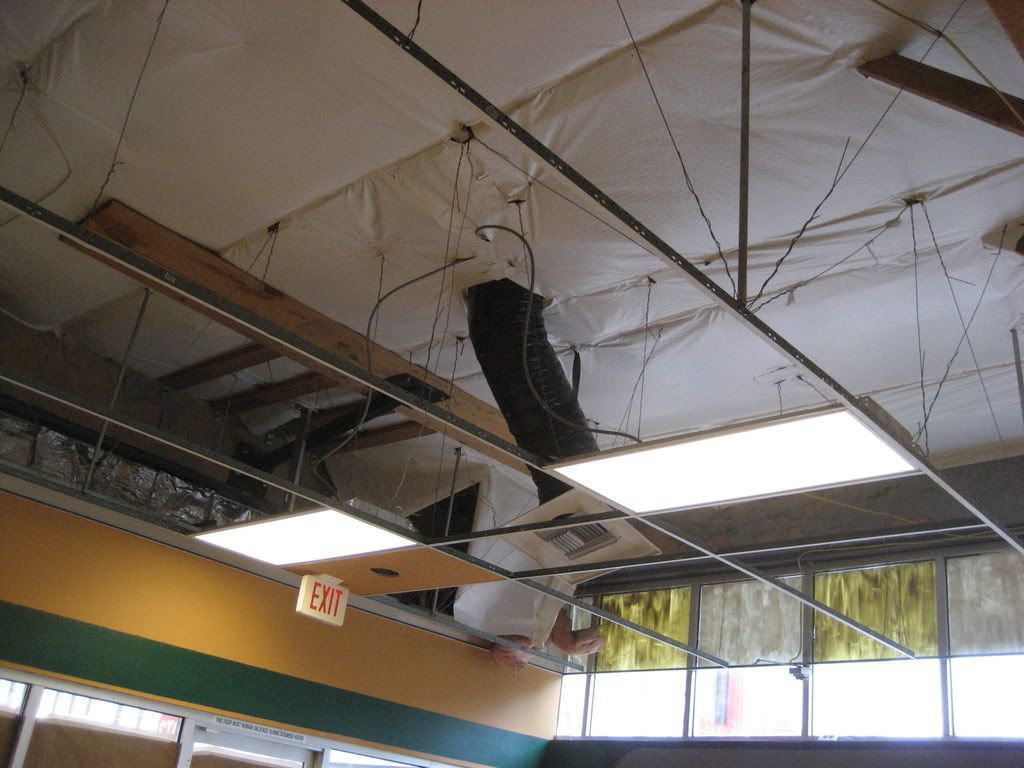 I am motivated to figure this out tomorrow and fihure out where we are at....Needless to say I get very little sleep...
I waited to make this report until today as I would have been writing it in grave disapointment and a very clouded vision of what occured.....
Today I was at the building department at 11am again to see Connie and as soon as she saw me...she was shaking her head....It is mostly my architect who is to blame for a little oversite as the drawings did not correctly reflact the total scope of work and the area of work......today we have figured out everything and the need for sismic upgrades only applies if more than 1/3 of the total area of the space is changing the occupancy to a higher hazard occupancy...
we are only changing 1908 sqrft and the total are is 7700 square ft of the building well under the total area of 1/3 which would actually be 2560 sft....
So the changes are being made to the drawings and we are moving forward for a monday and or tuesday meeting with connie...I feel much better and we are fine again...
I also need the health department to sign off that we are an existing restaraunt and that we are doing a limited remodel...
Darcy from Vegas is in town She rocks and I will get pics tonight!
Cheers
OK today was a very beautiful day with lots of progress and twists and turns to our "As the Dirty Turns Saga"...We early day 10am
and off to the bar to get work going....
The Dirty Crew is painting and finisheing preping the cieling today for the painters next week......I forgot to take pitcures but it looks great and I will snap some shots tomorrow when everything is done...Oh Crap that reminds me I need to go to Home Depot (Club Depot) and get some samples of the spiral ducting for the HVAC vents stubouts...(Gary dont forget to remind me!)...Ok so the Dirty crew is also painting the kitchen and getting the floor ready for new whitish VCT tiles....They are adding the first primer coat and then the Latex coat for the health department.....this will look great on monday and the floor should be done by Wednesday...
Ok so Darcy is in town from Vegas...and she is here picking my brain for her new client in LA who is building a club.....I can't wait to meet this guy....he has a good concept and I heard his venue has huge ceilings....Nice!...So today we have been sight seeing with the Darc Monster and then back to the venue for her to watch me work......I have been throwing some changes around and she loves tham I gather the Dirty Crew and it is a huge positive response....
I call my partner and we have a meeting in the morning to go over the changes.....
On the way beck from the venue we stop to grab some food at a local pizza place and a bunch of Santas come in to eat...It is great and I snap some funny photos....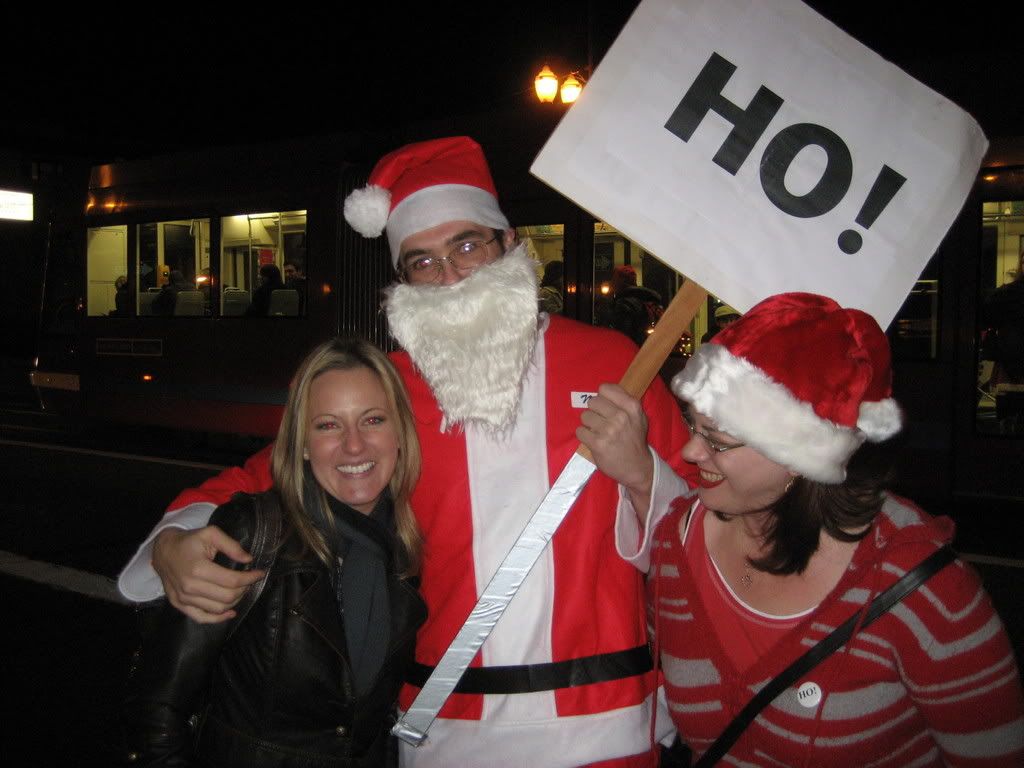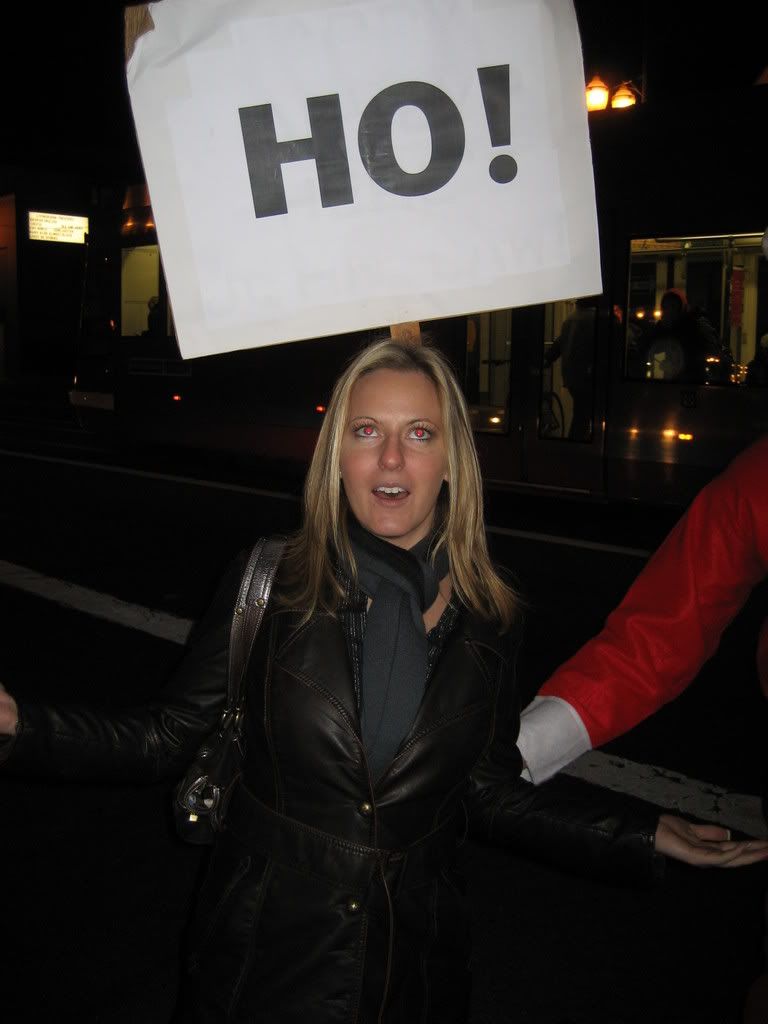 Dirty Danny wishing he had some of Santas Ho's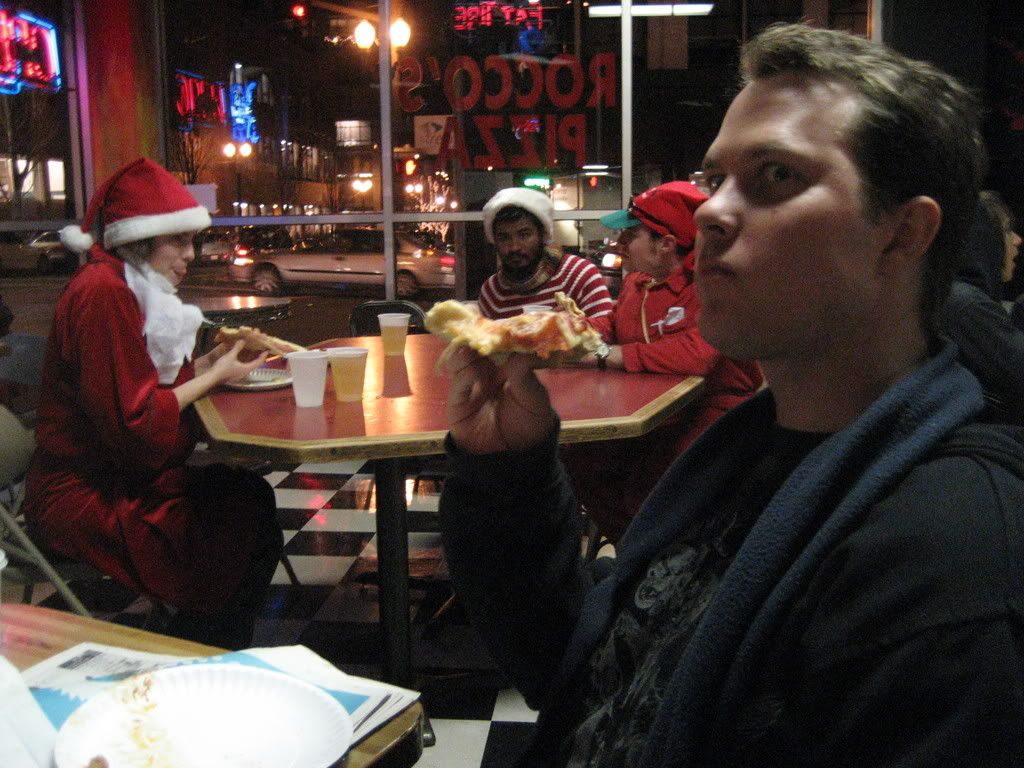 Then Darcy eats actually eats part of her plastic fork...My chest hurts from laughing so hard..No wonder she cant get a man! she is a Biter!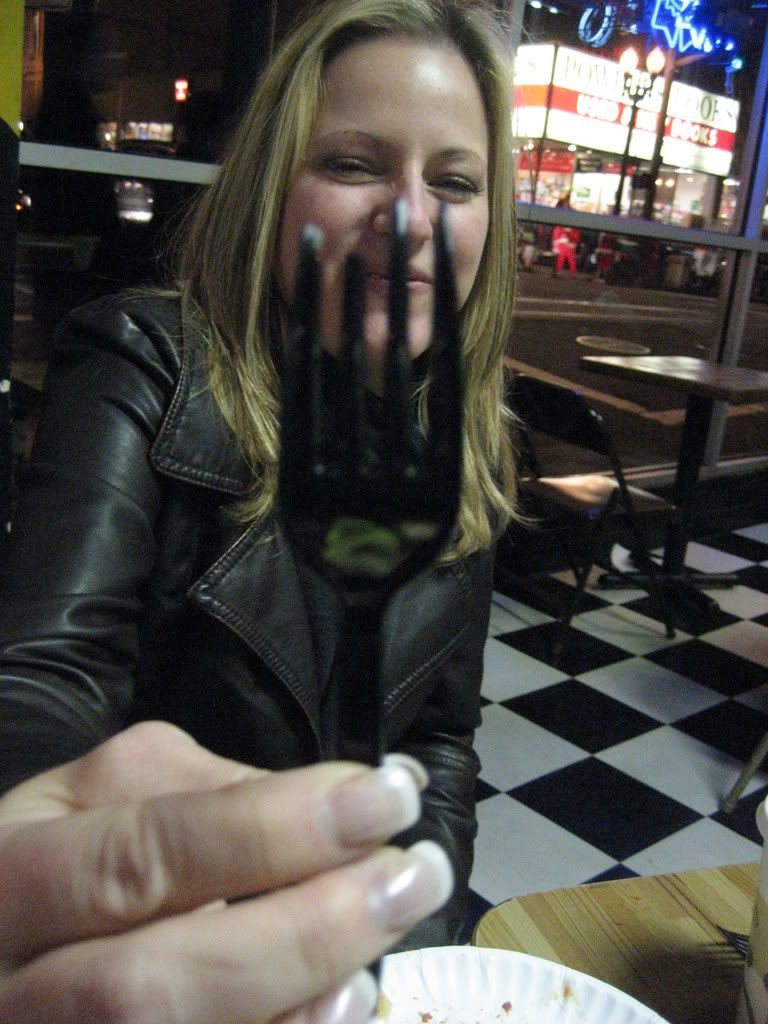 I am very very sleepy today....taking cold medicine and operating machinery not a good idea.....Ok so a good day,,the sun is out and the birds are chirping

Off to the venue at 8am to let in the dirty contractor crew (Eric) and then chad shows up around 10am......I am waiting for the Auto-Chlor guy for the dishwasher and he shows up and is doing his sales pitch to land us......nice guy good pitch and I explain that I am waiting for the Eco Lab guys who have a new system of pellets for their machines....I have a meeting tomorrow with another company for the leasing of the dishwasher..
Auto Chlor=$158 per month 1300 washes the .05 cents per wash after that
Eco Lab=$100 per month and you pay for the chemicals I am waiting for the quote from him on the cost of 1000 washes
Then we are off to Club Depot to get supplies and paint samples for the walls..I also need to get a 10 foot ladder for the bar...The Paint guy and Dirty Danny have a little love spat over which type of paint is needed for the kitchen......Paint guy 1 Dirty Danny 0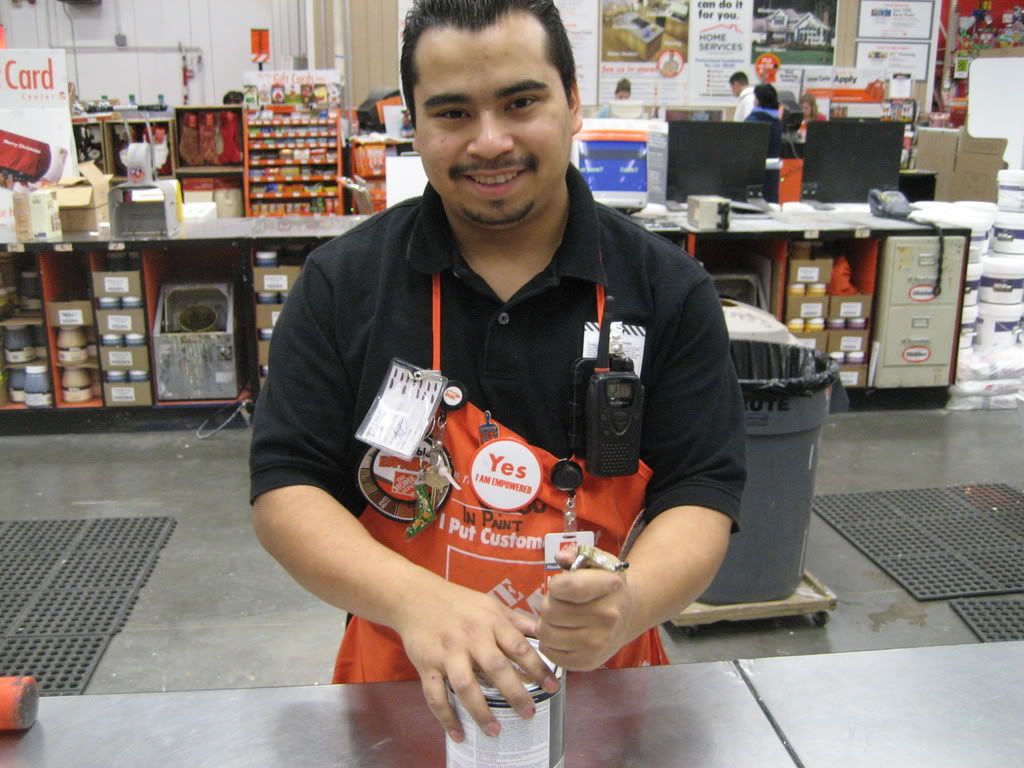 Then back to the venue to get the samples up on the walls..I am still not happy with the colors and will need to go back tomorrow again....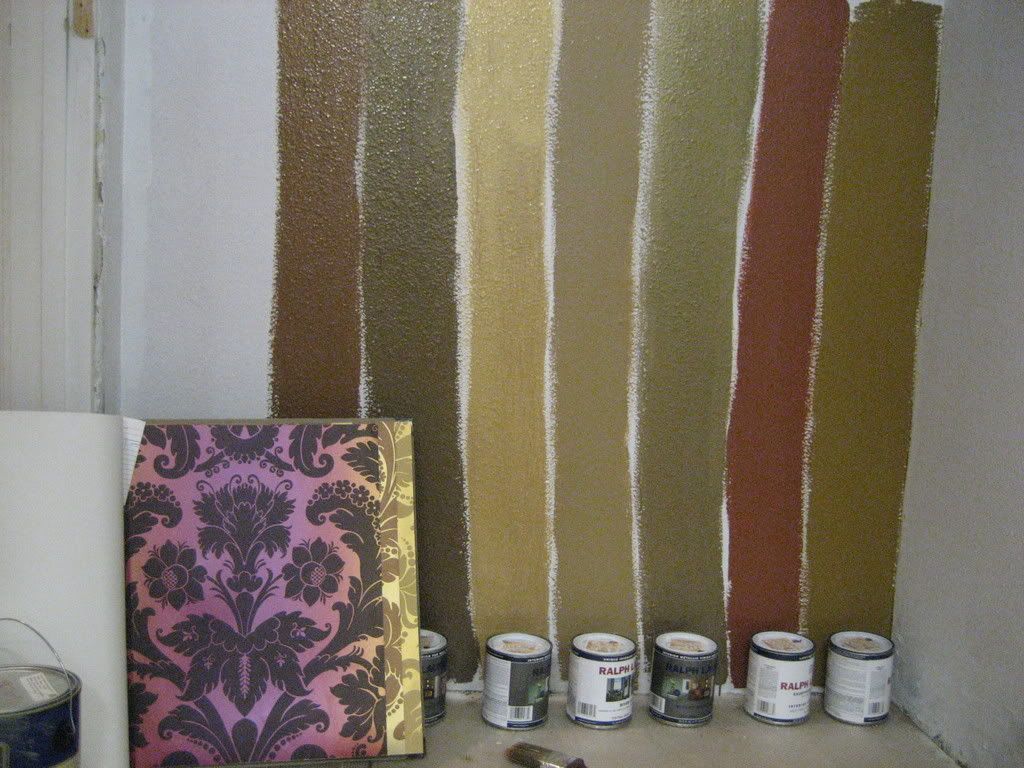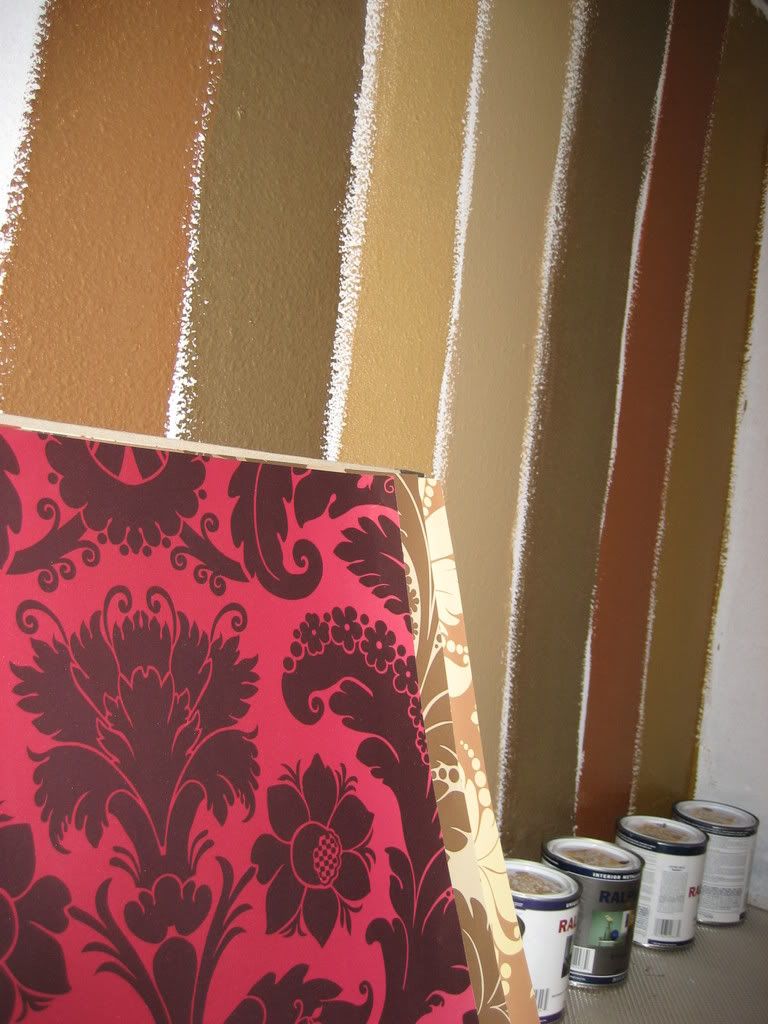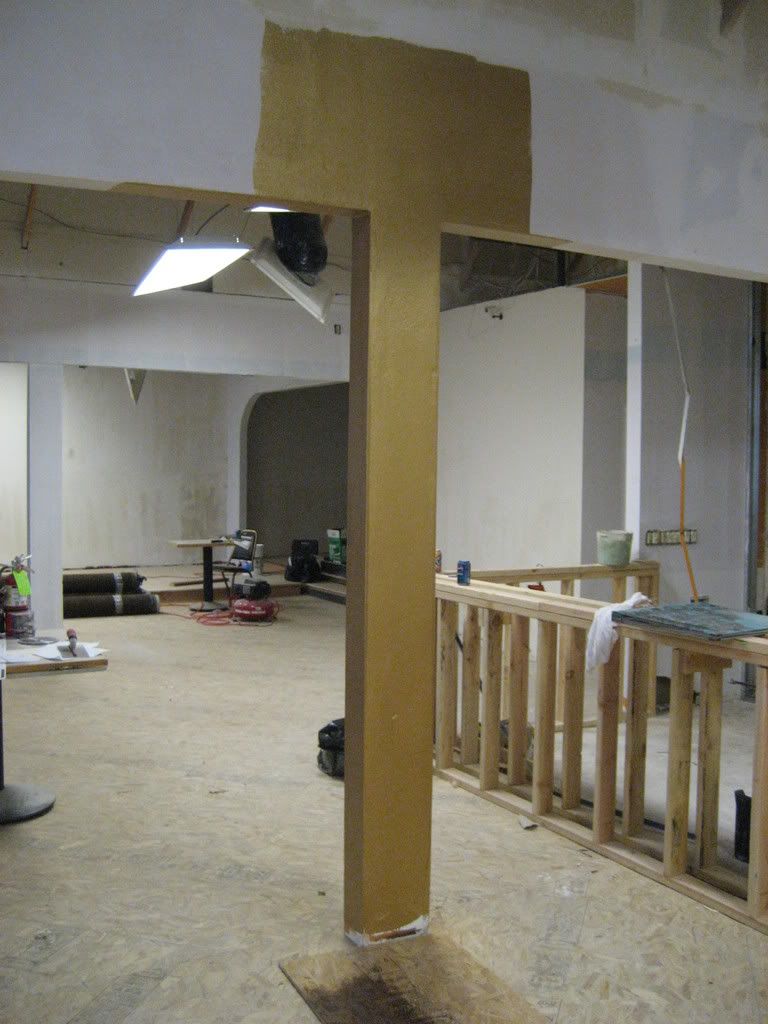 It Dirty today we have the drywallers skim coating the walls for the wall paper which kicks ass!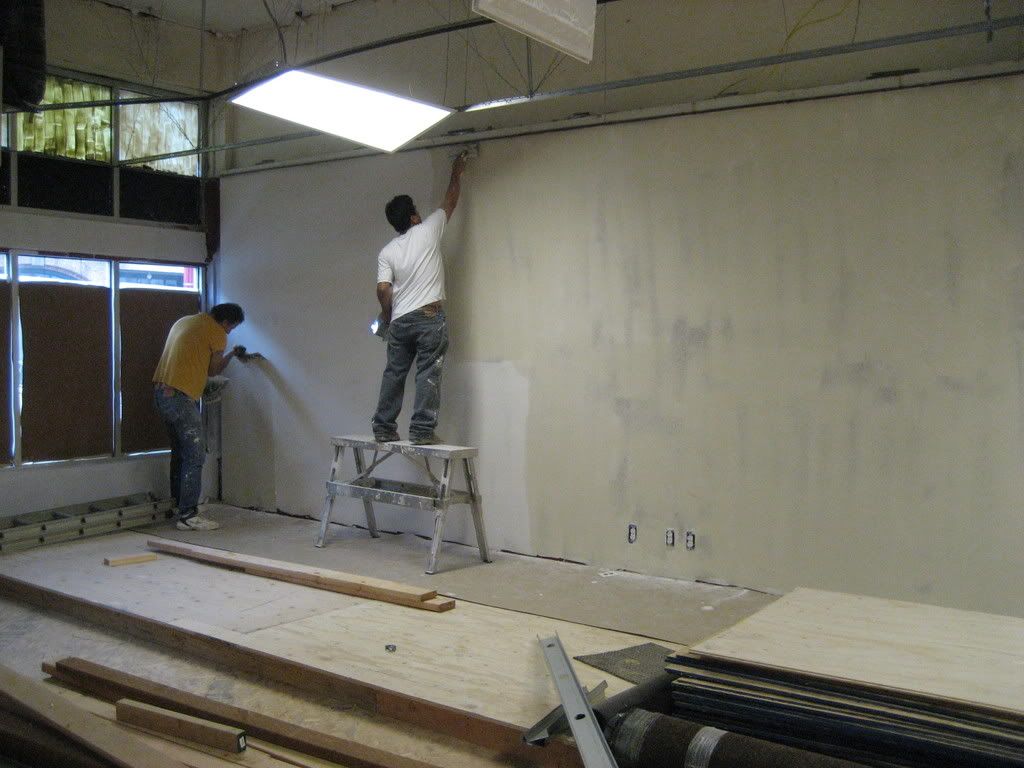 Dirty Danny and the Dirty Crew are preping the ceilings and window areas getting ready for the painters who will be here on Thursday and Friday to paint the ceiling black......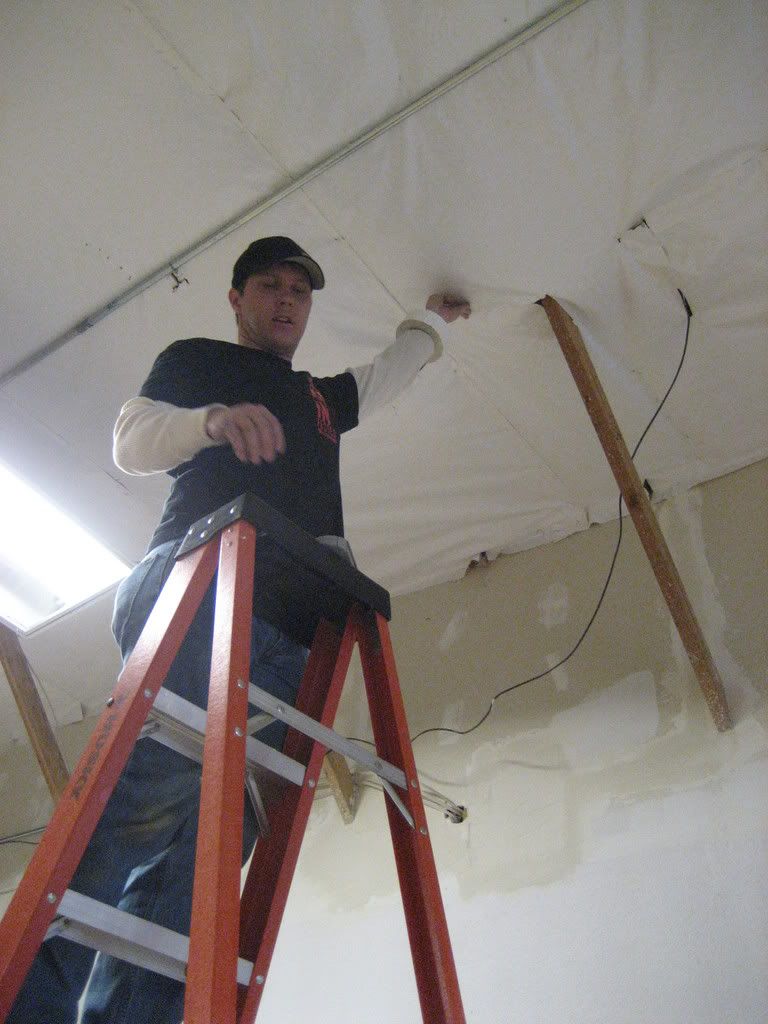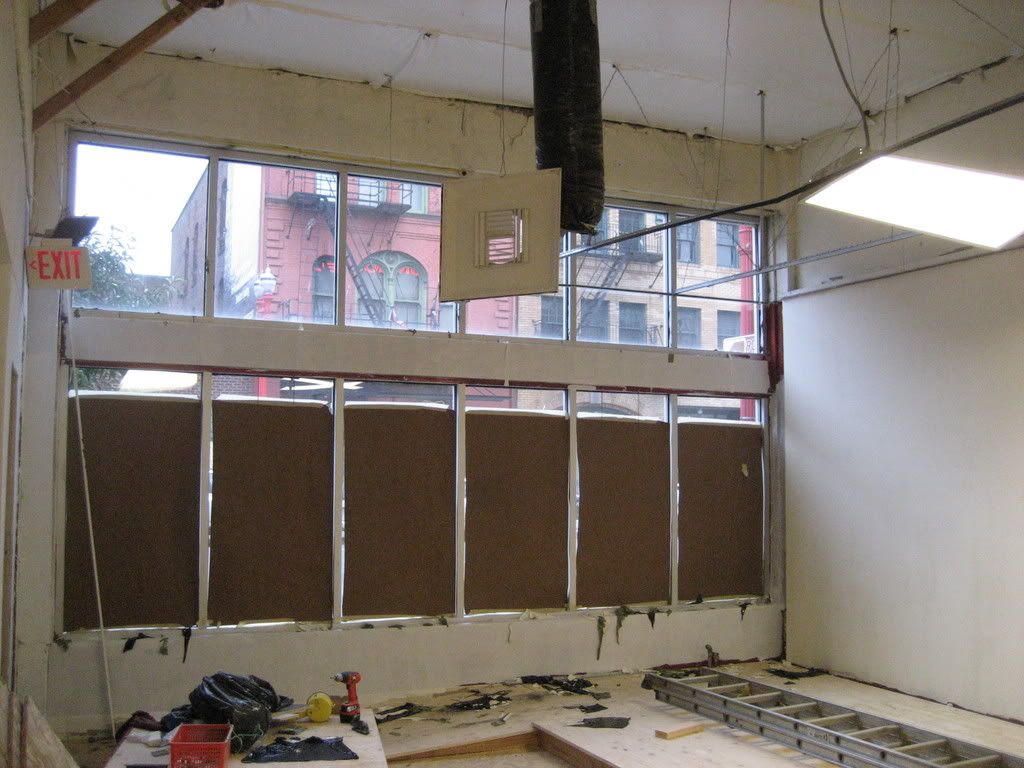 The Dirty crew is patching all of the holes in the drywall in the ceiling....here is our ghetto fabulous scaffolding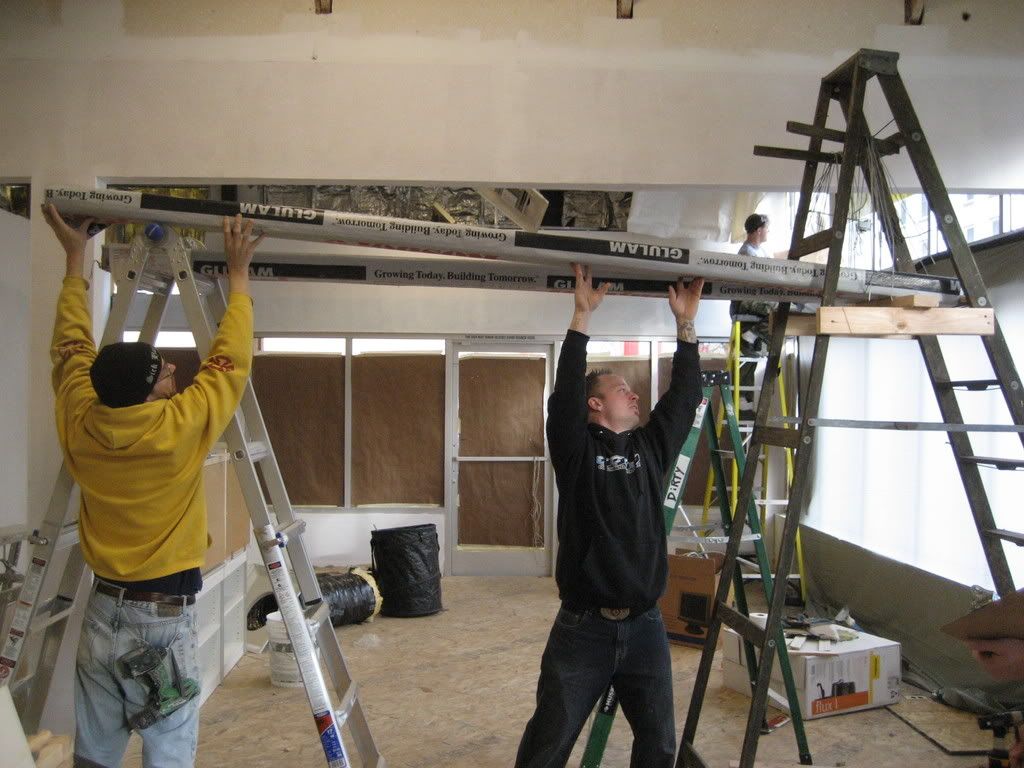 The Pepsi guy is in the house...I have pepsi national pricing from all of the other venues I have and he is a good guy I am going to get him for a few things I need to wait and chat with the Coke people tomorrow and see what they got before I rip into him.....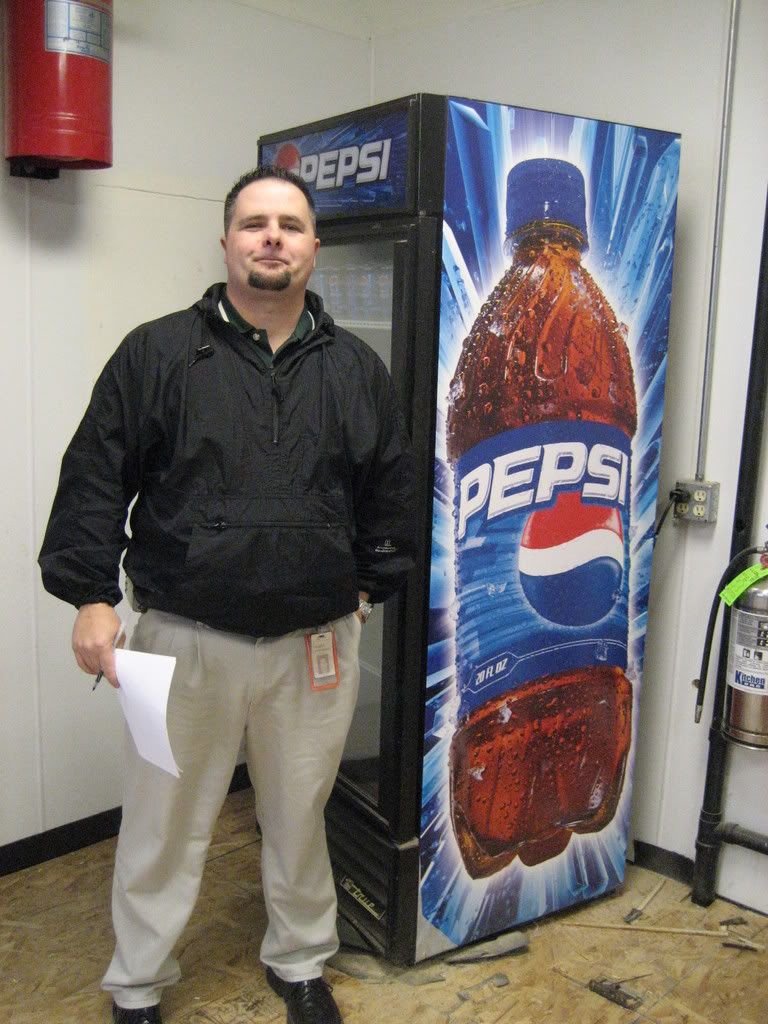 PS I do prefer Pepsi but dont tell him
Ok in the promotional front we have started with the Myspace.com friend bomber...first we have set up a good base of friends that we have selected from the pages of local Bars, Clubs, Promoters and strip clubs...then we attack the market and go for the numbers.....we are over 1100 friends in under 2 weeks and have a great buzz rockin...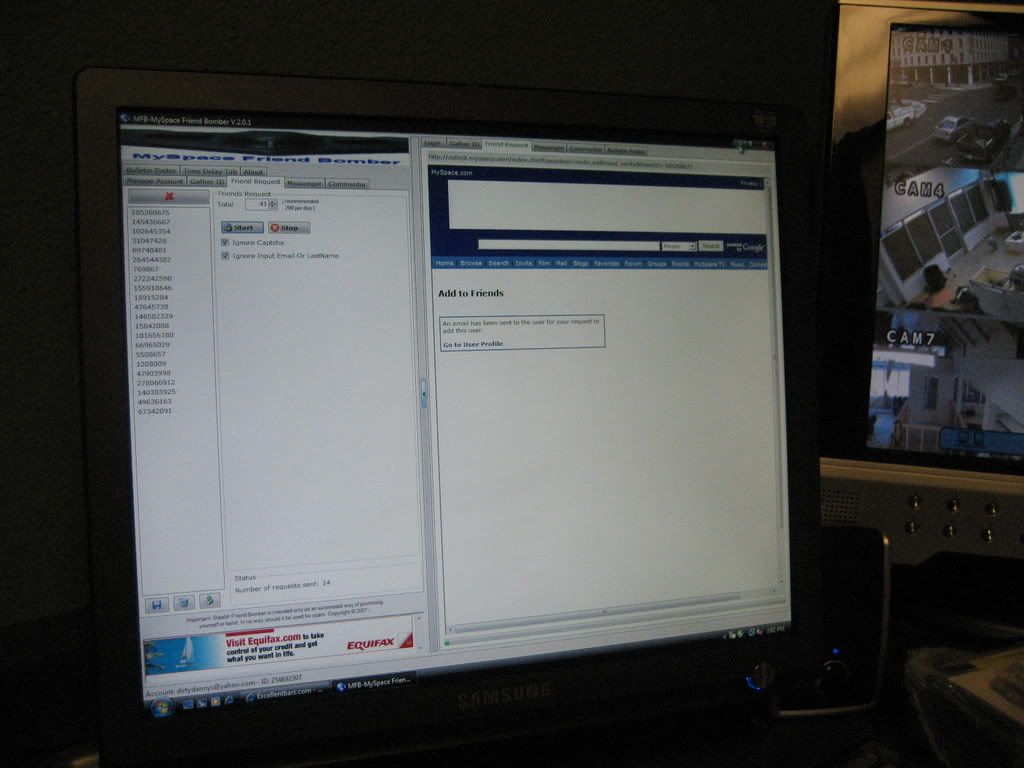 I cant give away all my secrets....this is just a taste
Ok another day and I am feeling better as we get up and out to the venue it is a brisk walk about 15 minutes....
The Dirty Contractor crew is already working on the walls as we prep the ceilings for painting.....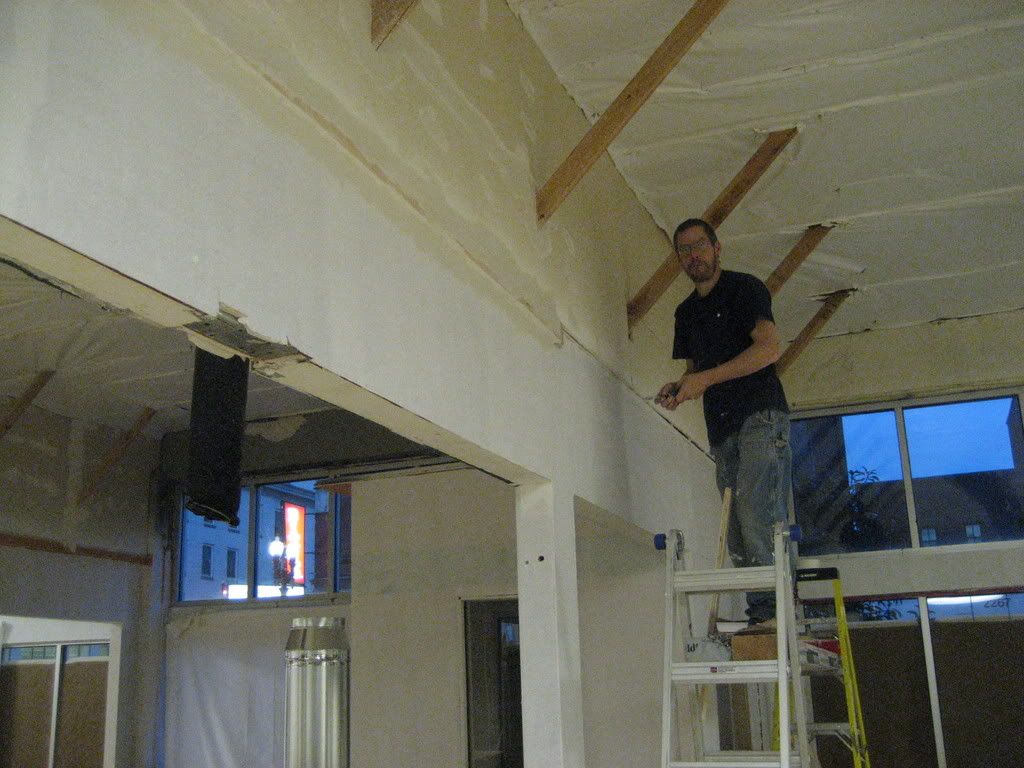 Dirty Danny and the Dirty crew have been tightening up the ceilings for the painters over the last 4 days and things are looking great with the wide open ceilings...this adds alot of depth to the venue that was very cramped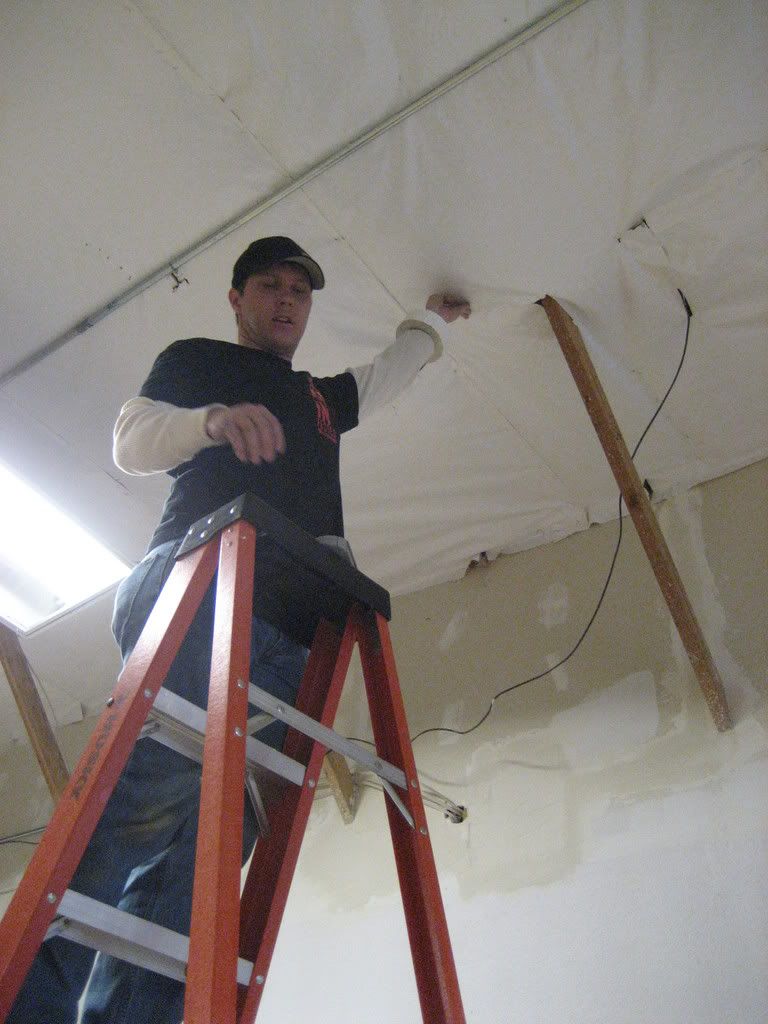 ...before now the ceilings are ready for paint on friday with the final touches getting finished tomorrow...Dirty Crew getting everything moved out for the painters.....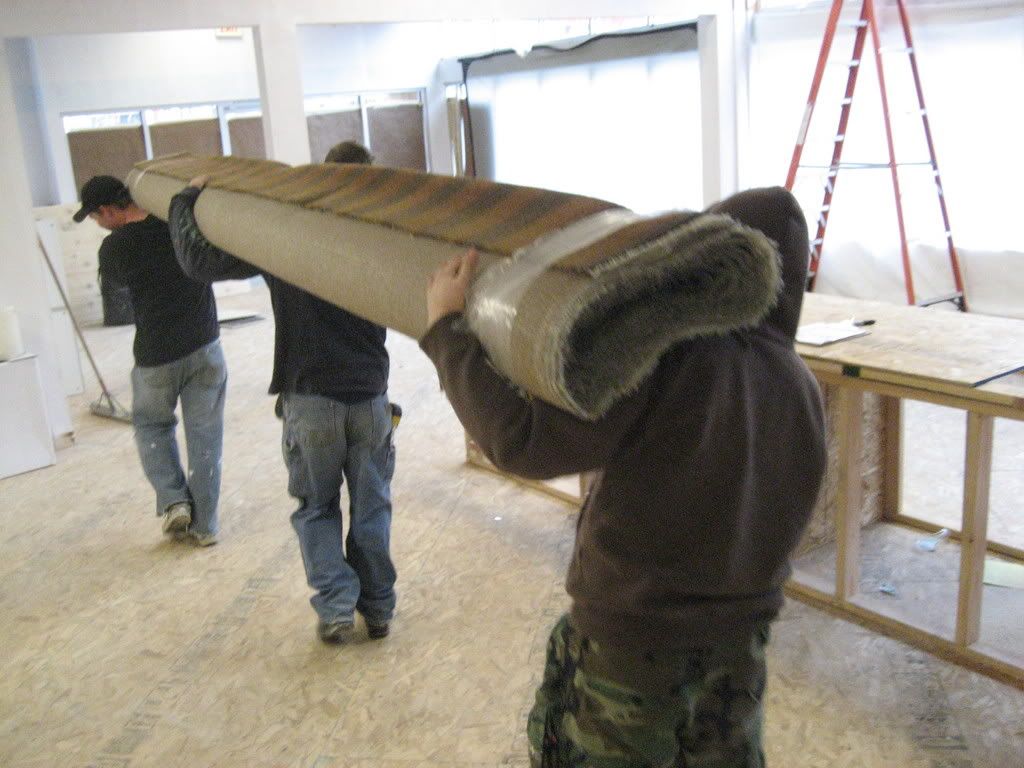 The Dirty Crew is adding the last coat of paint to the kitchen and walkin area and the kitchen looks great...I ordered the VCT tile for the kitchen and walkin area and it should be here on Friday....The kitchen is going to look brand new when we are done it just needed some love..

I have meeting setup all day long and I start off with a great character named "Cash" he was a great buy and knows alot about whats going on in the scene he is trying to land me for the credit card processing and I will give everyone a fair shot to bid on this...
what is different about credit card processing companies vs Banks direct..
1-Banks such as Wells Fargo will credit your account the next day for credit card transactions...

2-Processing companies often take 3 days or more depending on the credit card...
3-Fees are very similar from 1% to 2% for Visa, Mastercard and 3% for AMEX
4-Some companies supplie the credit card machines some make you purchase them...
5- Some credit processing companies will give you a cash kickback so if you are an owner watch out for your managers setting this up!
I recommend that you do what your comfortable with and what works for you.......
Next US Foods is back and they drop off a lot of great stuff....I HATE FOOD! but we need it and my partner is good at food.....On Friday at 1pm We have a food tasting with Sysco at their location.....Reminder dont eat!!!
This meeting was of great interest to me and it was for the local pedal cab guys who shuttle people about the entertainment district from bar to bar...The Owner John came in and is trying to sell me advertising in this little guide that they have.....I have a better idea....I got this from living in Asia..I want to buy the drivers jackets with my logo on the back..I will pay for this as it is direct marketing and well worth my dollar...as I do not do adds in local mags or rags....He is hip to it and will figure something out....for Friday and Saturday only....also I will take care of his guys and offer a line slide for anyone they drop off...I also will give them a ID that will keep track of how many guests they drop off and I will give them rewards for those guests such as free lunch, dinner and gift vouchers also Free soda and water while they are driving around all night.......
My meeting with Coke got moved too tomorrow and I cant wait to see what they have to offer....
Things are going great and I have had an offer from the last building that we where looking at? I am interested...I will let them make an offer
OK my memory is a little fuzzy as the days are running together...I need to get a few major items handled this morning and one is to get ADT to install fire alarms and strobes.......
So we march to the bar as we do everyday and into the office to start a long day of meetings and cleaning.......first I have a meeting with the Mike for the beer keg system.....since our walkin is so close to the bar we will not need to add a glycol line which is a huge savings..also the area under the bar is a open and easy to access making this easy to install and maintain...I really only need 4 taps but running 8 lines is a great idea and they will always be there in the furture if I need them or I can double tab....
top beers on tap in this area are Coors Lt and PBR! I love it...I have already spoken to the coors guys and they are cool beer guys as usual....I will install 8 lines with 8 taps and 8 FOB's and 2 regulators......I will see what kind of deal we get.......
Next I have a cooler guy coming in to give me a price to replace the condenser unit and fan box in the walkin...I already have 2 quotes and this guy is from another club owner down the street..he is supposed to be cheap....They come and inspect the cooler unit and the roof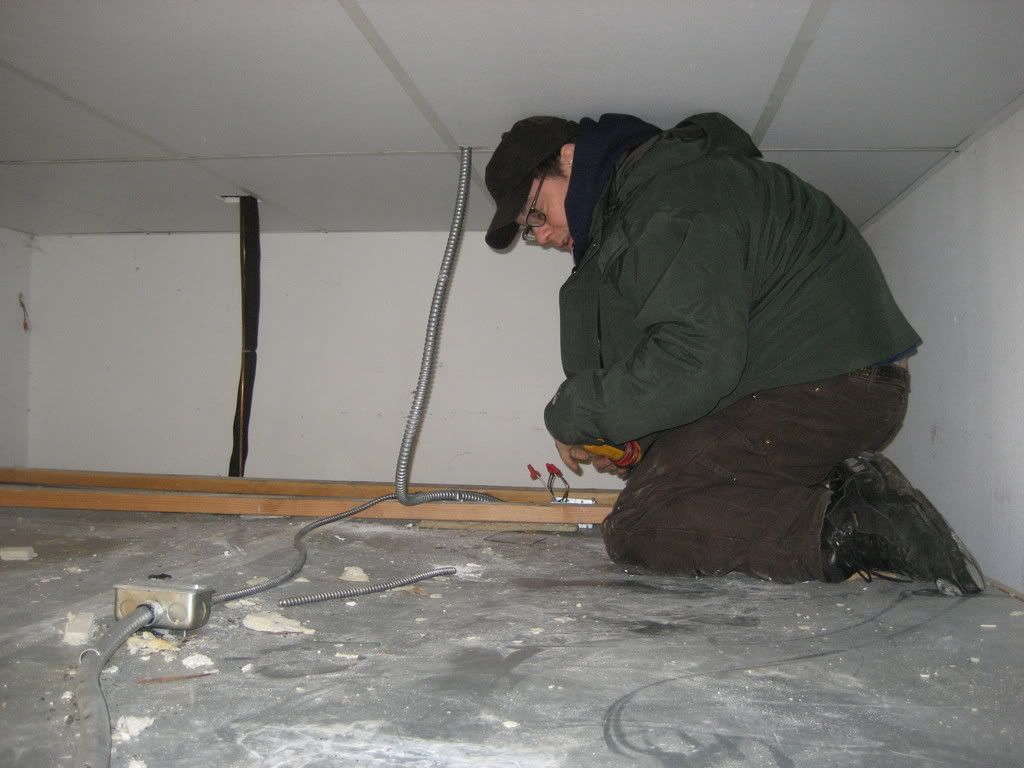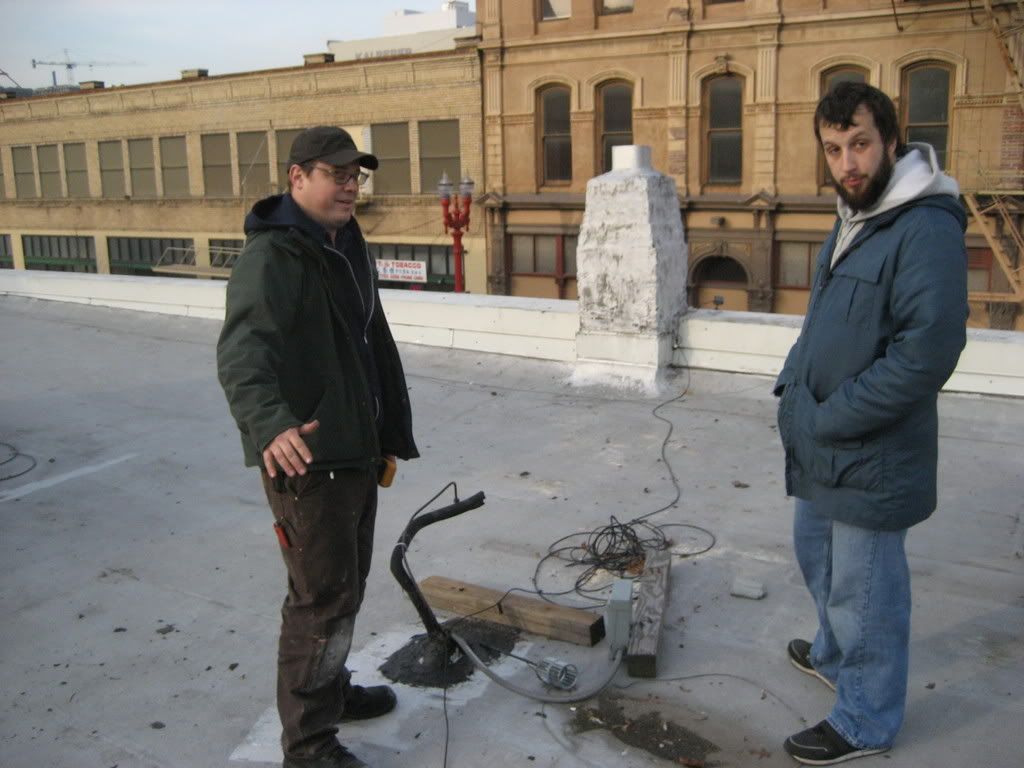 then they stop in to give me the news......$2700 for parts!!!
and another $800 to $1000 to install
Holy SHeeeeaat....I already have a quote for $2700 for everything......this is one of those you hook e up and I will recommend you to someone else to butt rape!!!!!! to make up for working for peanuts for me!....
Gary is on the phone to the local business associations to introduce us....


this is needed for any new business and when applying for a liquor License you will need to touch base with everyone and explain what your doing....expecially to make sure with our name..."Dirty" We dont want anyone thinking we are going to be a Strip club...this is never good in any neighborhood!!! and you dont want someone to misunderstand you or your concept without the correct information and it is best if that information comes from you!
The Local Liquor dept stopped by like santas helpers this morning and we didnt even see them.....Sneaky Ninja's I tell ya!....and left a nice present for us...We already have a limited Liquor License that was with the venue we are only adding a greater use to the license.....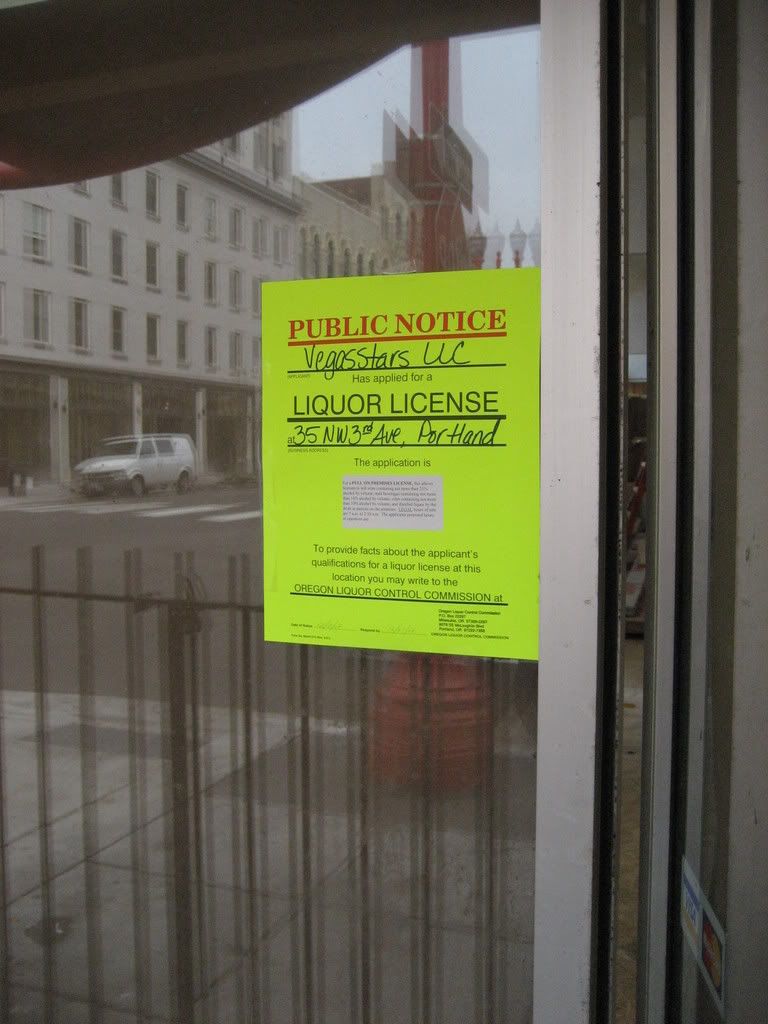 To bad that Shannon didnt drop it herself I would have had a chance to get that picture......."If you are reading this Shannon I will get it..You have fan's"
Mean while the Dirty crew is getting everything ready for the painters...Dirty Danny is getting the A/V area ready for the painters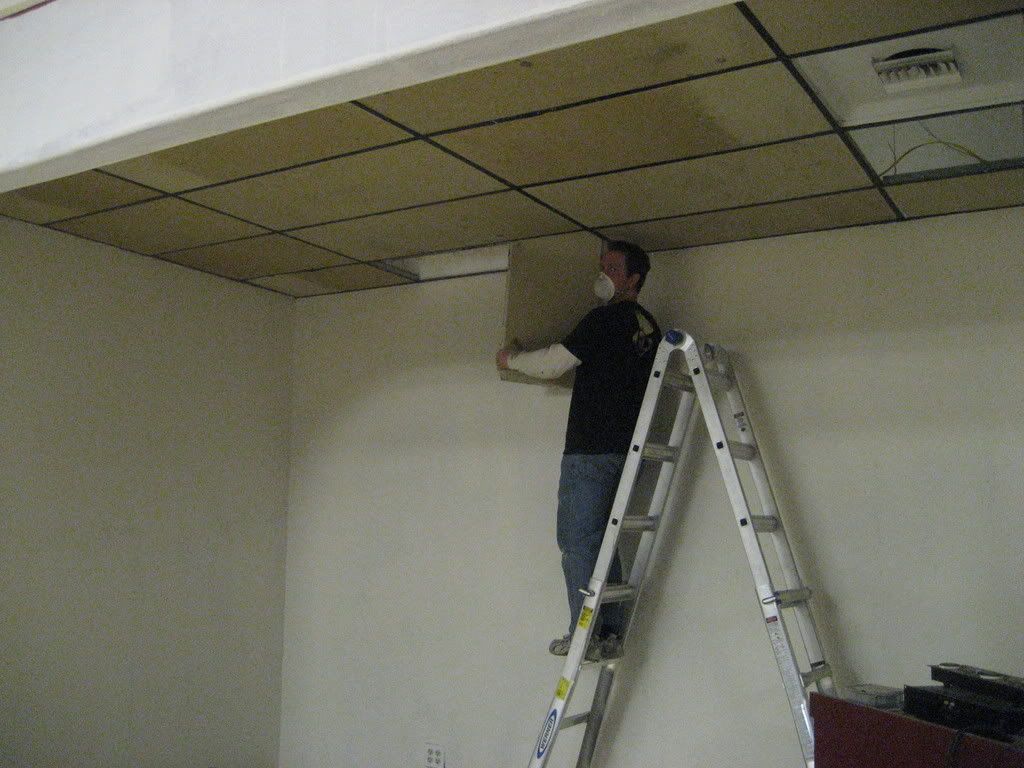 Dirty Danny on his knees again......this seams to be a very familiar position for him :confused: Kid's these days!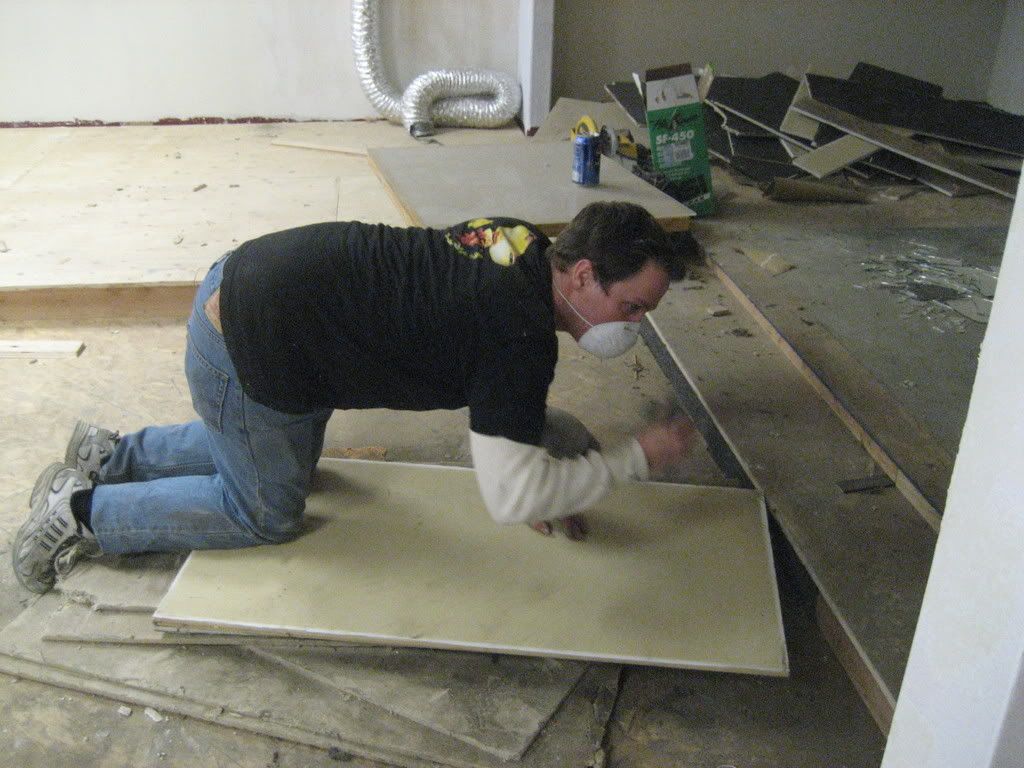 Here is Chad our Dirty Contractor....He has graced us with his presence......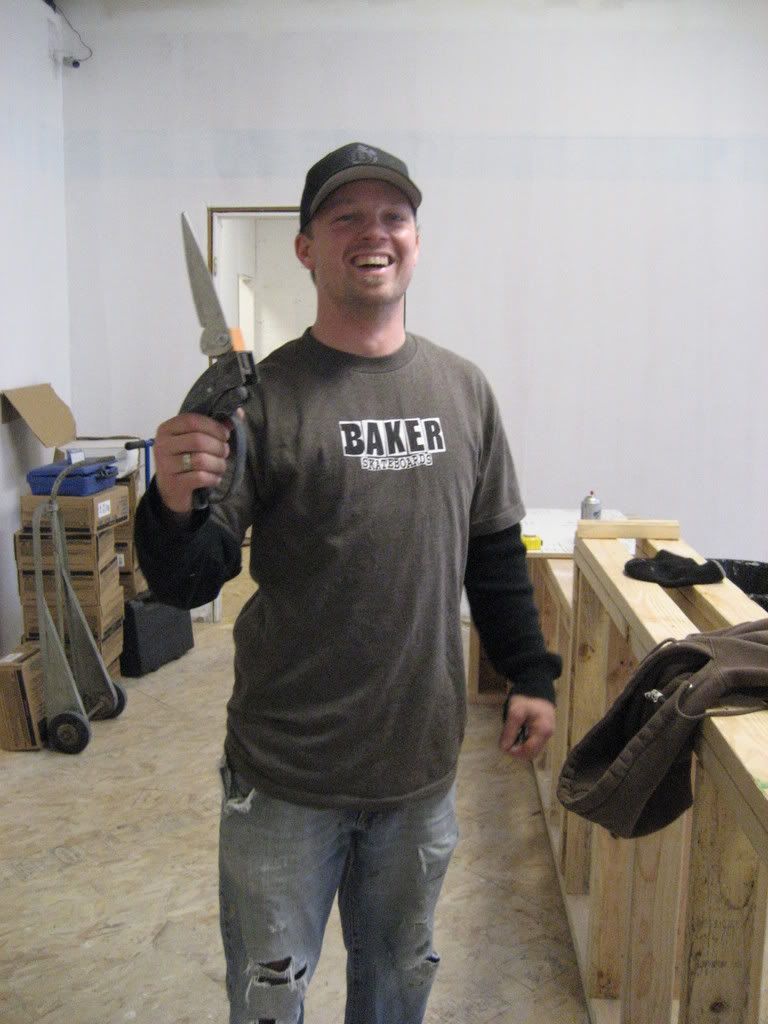 We are going to let the air out of his tires so that he cant leave....
Tomorrow the painters are painting and preping and Chad and Spazz will be doing the flooring.....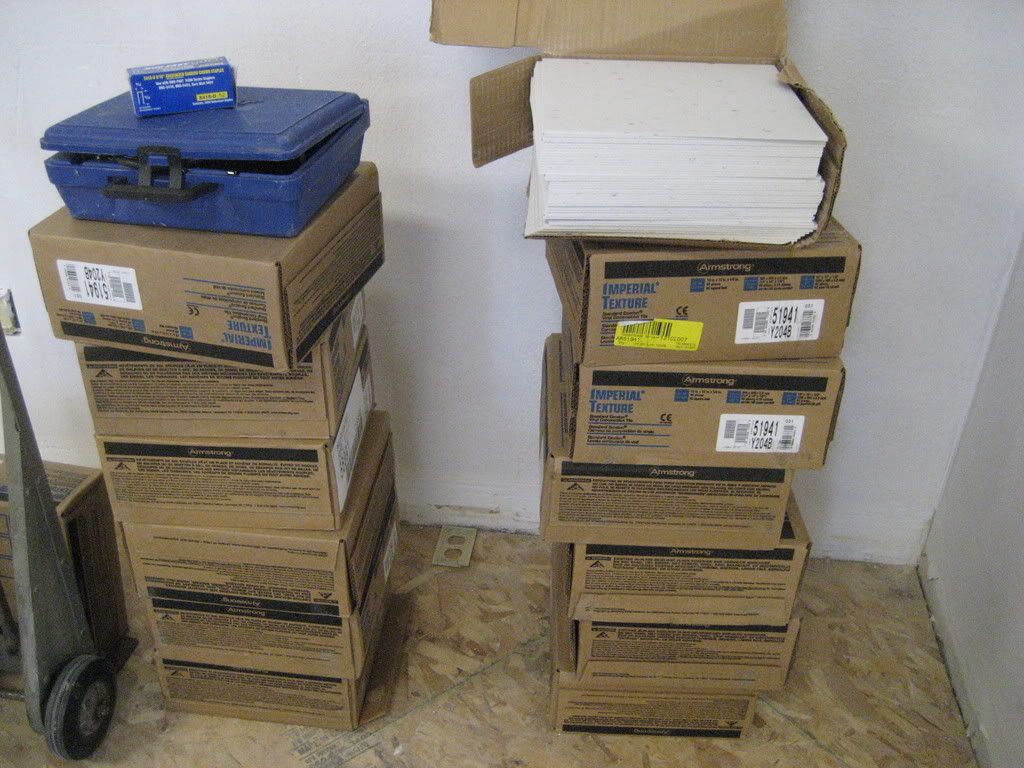 Non Slip VCT tile....our floor needs love and we need to get the flooring in so we can get the equipment in place to install....
this is proof that I am actually working and not just pointing fingers....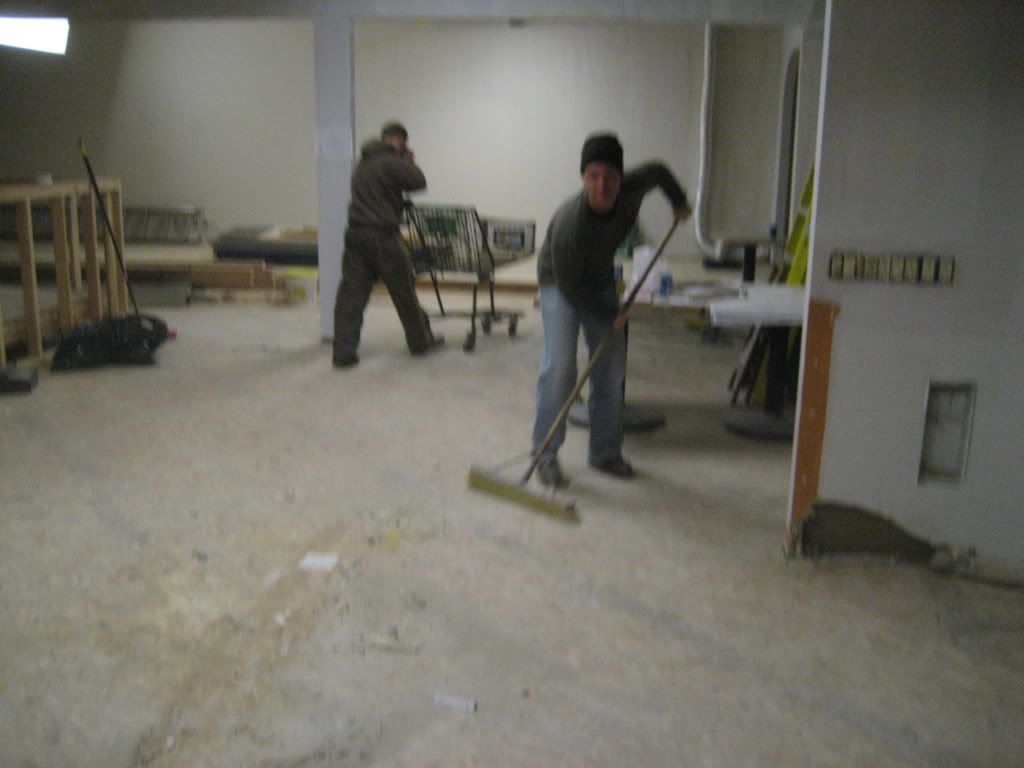 Ok We are sitting here waiting for these painters.....What is the deal...foot note..smelling paint and glue as a child will cause seriously ****ed up adult issues.....
Ok where was I....Oh yeah painters....they should be here by noon....Dirty Chad is getting the floor ready for the VCT tile in the kitchen area....I cant wait....the kitchen is a big issue for me....Health Dept.......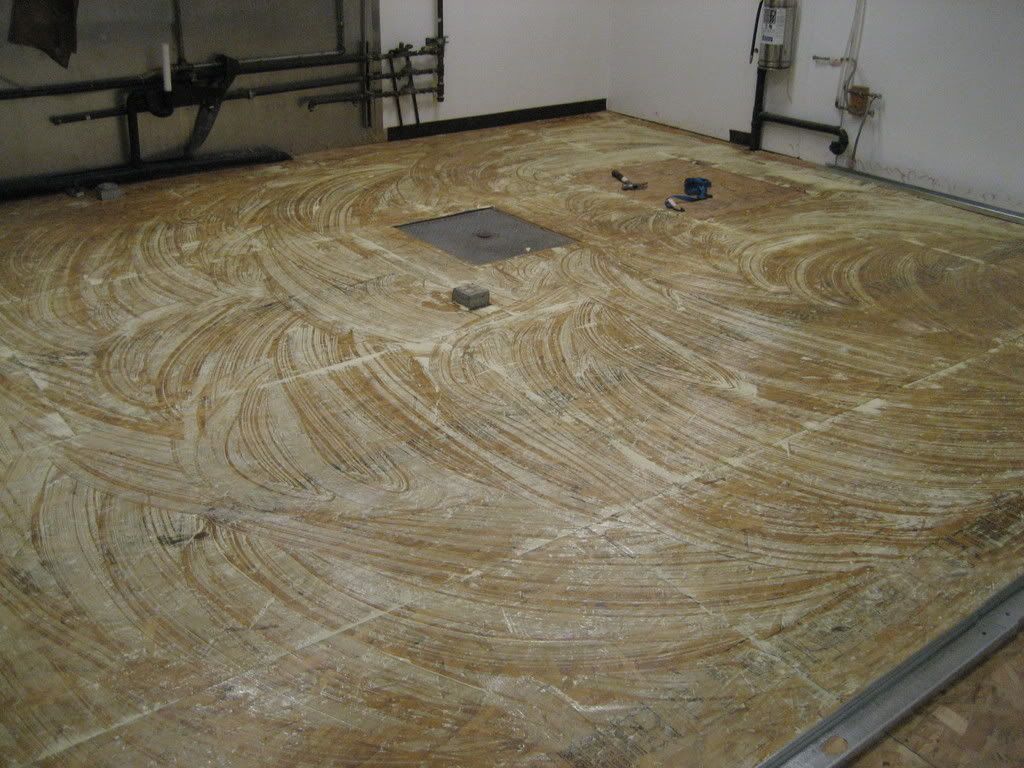 Ok now the POS guy for digital Dinning shows up for a onsite demo.....The system is nice and he is using a 17" monitor...a few bugs during the presentation...The system is nice and easy to use but holy crap! they are really really expensive...More than Aloha!!!! :confused: and it is PC based drones with a tower as a server...you can find this same system on E-Bay for $8,000...I will post a link....They also have a special a 4 camera system with DVR and internet link for $4499 WHAT! I just installed and bought our 8 camera system for $2500!!!!!!! Bend me over and finish fast! dont bother with the dirty talk!...

Ok now off to Sysco.......in this area US Foods seams to have been kicked in the balls a few times and left for dead......they dont even have an office here....Sysco rules!!!!! in this market.....
Into the Sysco building and up to the hard sell room...we have the undivided attention of 3 and then 4 Sysco people.....How do you not use them? I wanted to buy a car when I was there.....First off Jerry is the go to closer.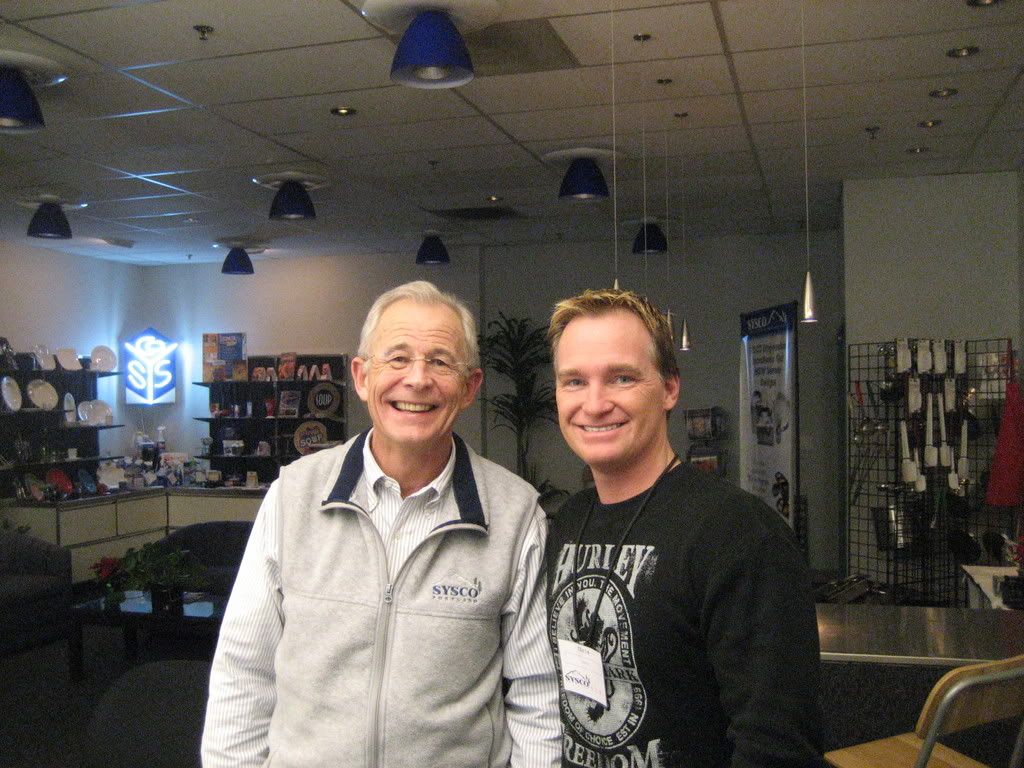 They have big room ready for us......Dirty Dirty!!!!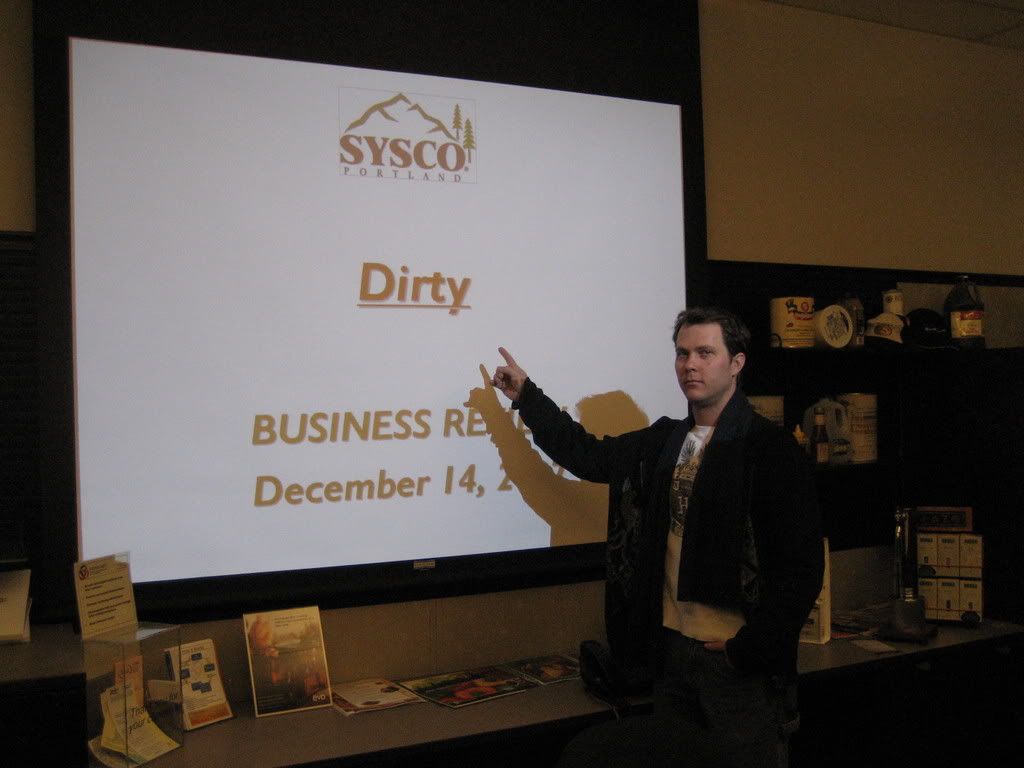 They have our menu...and they cant stop laughing every time we talk about it....it is funny a hell......We have the "Dirty Sanchez Sunday" how can you not love it with Dirty Sanchez Sauce!!!!!!! :p
They get us moving to the Food....its time to eat.......I am hungry and I know it is going to be fried food city......The food selection is actually better than I thought......and chef Jeff is our guide to taste bud land....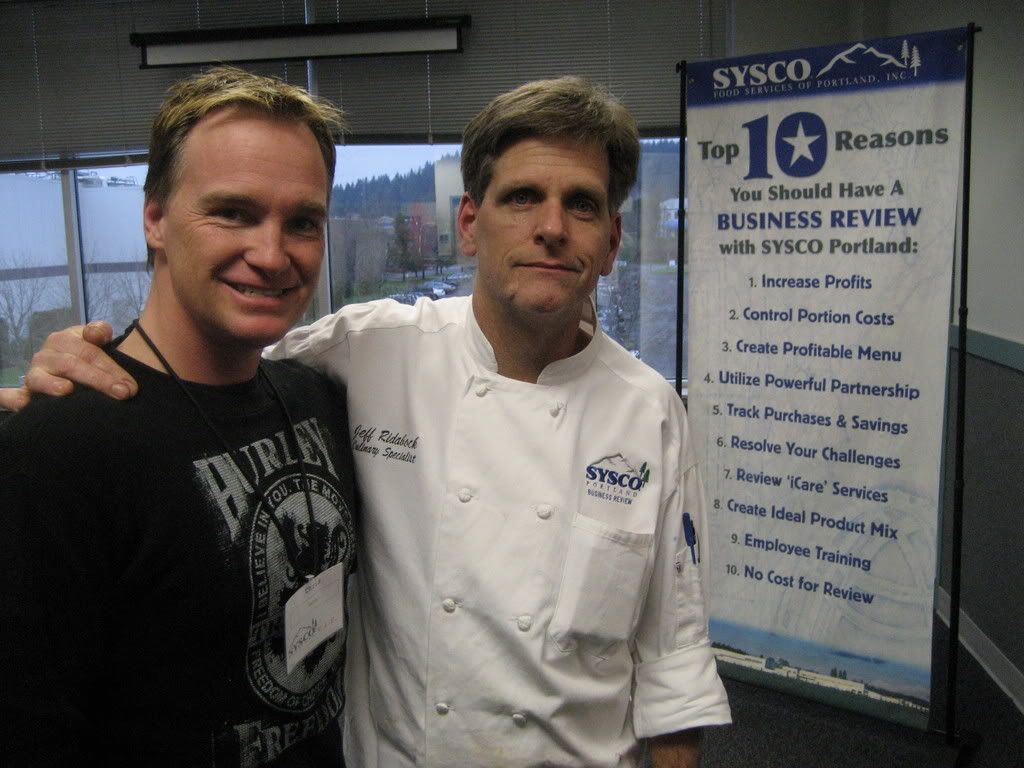 The Big (Soap In My Mouth) Dirty Burger....100% Ground Chuck....we had a huge debate over grilled or charbroiled....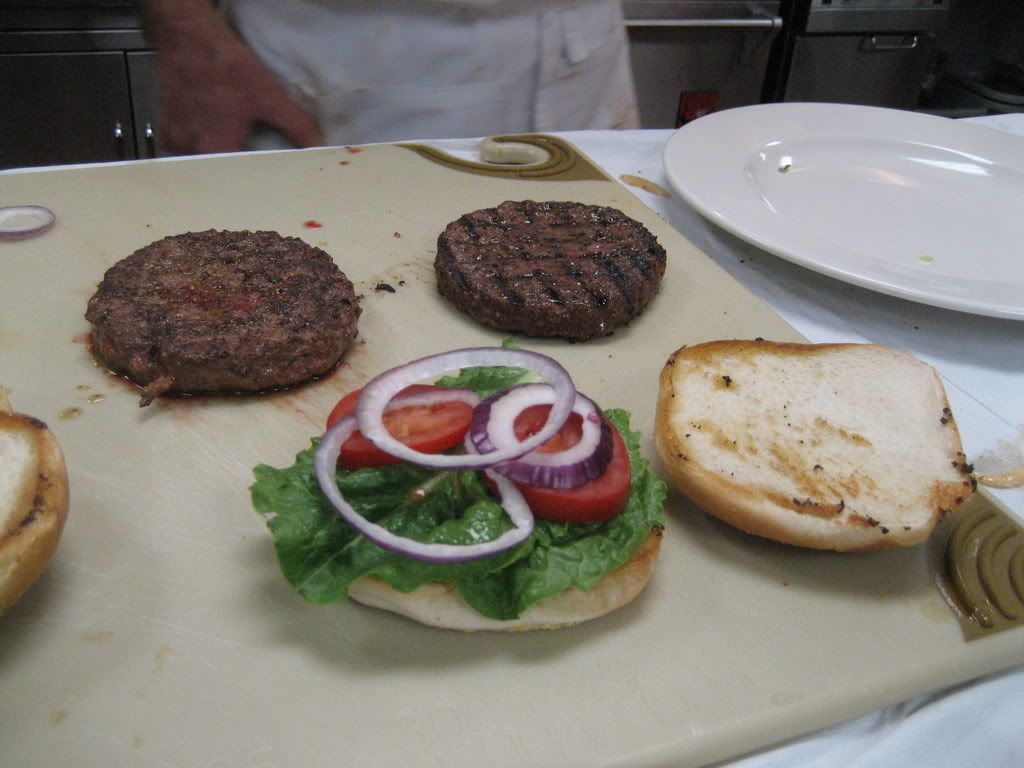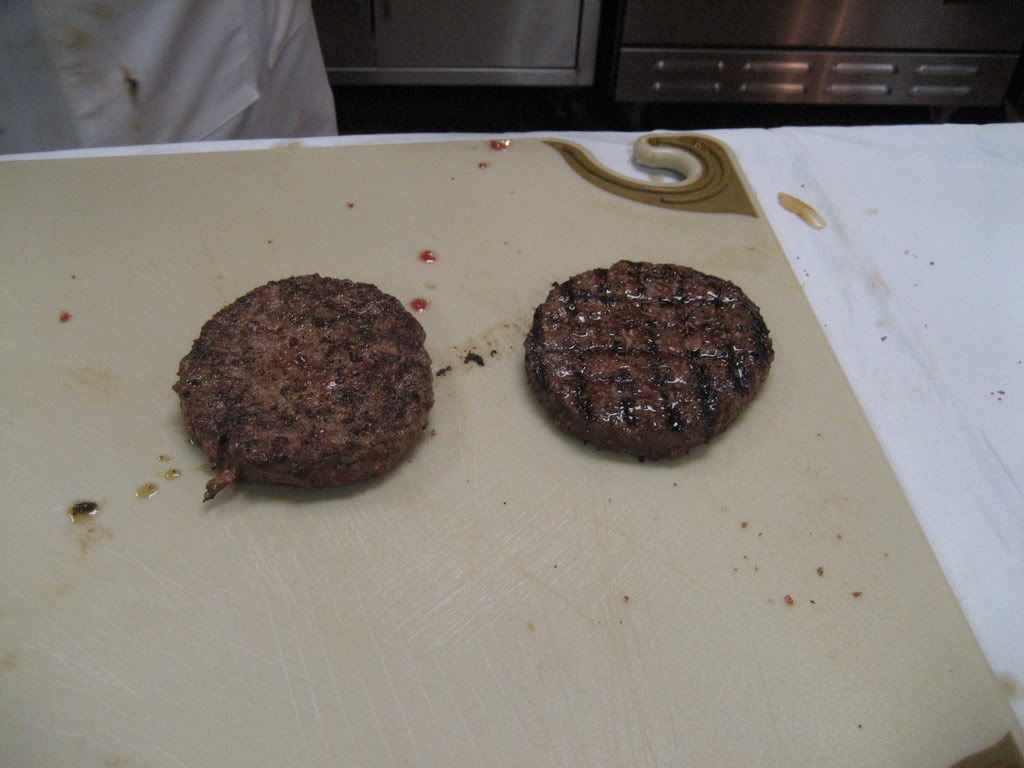 The Dirty I hate the French Dip.....this was good they had 2 styles and the one with a little more fat was better and easier to make and handle....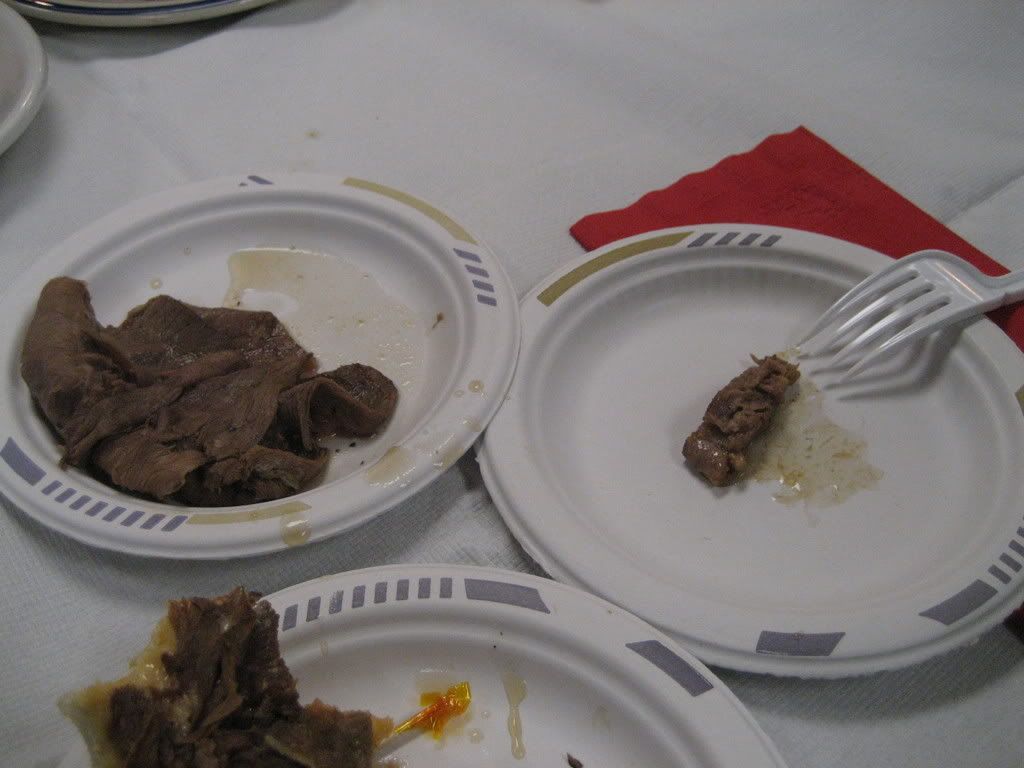 Steak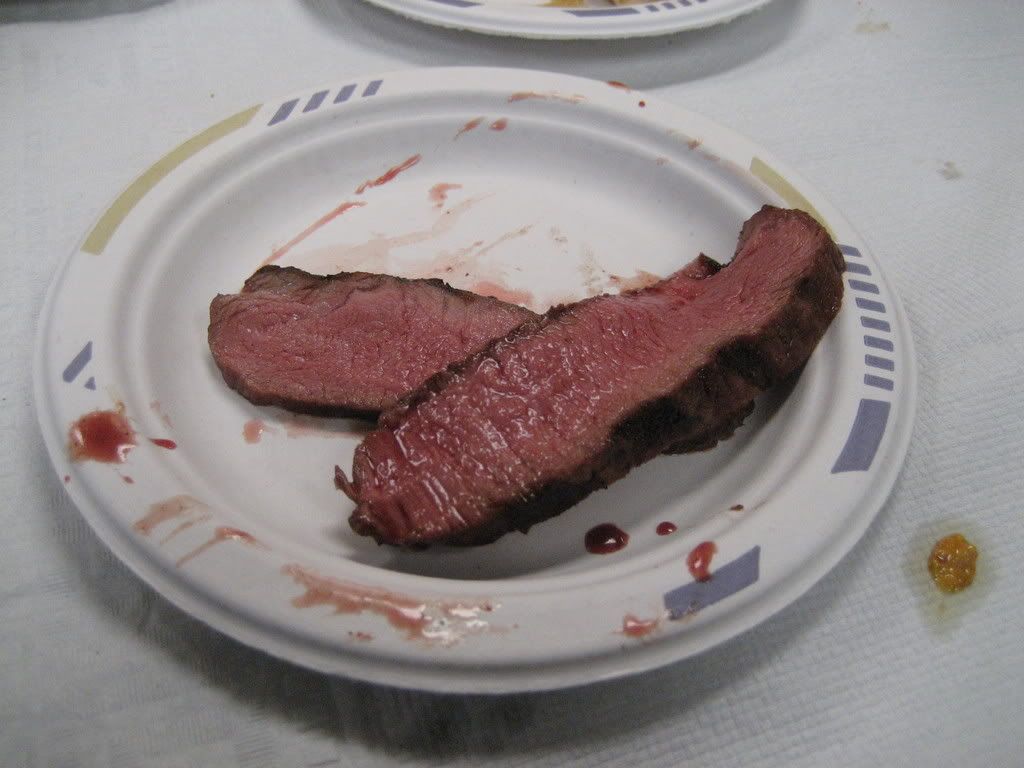 Sliders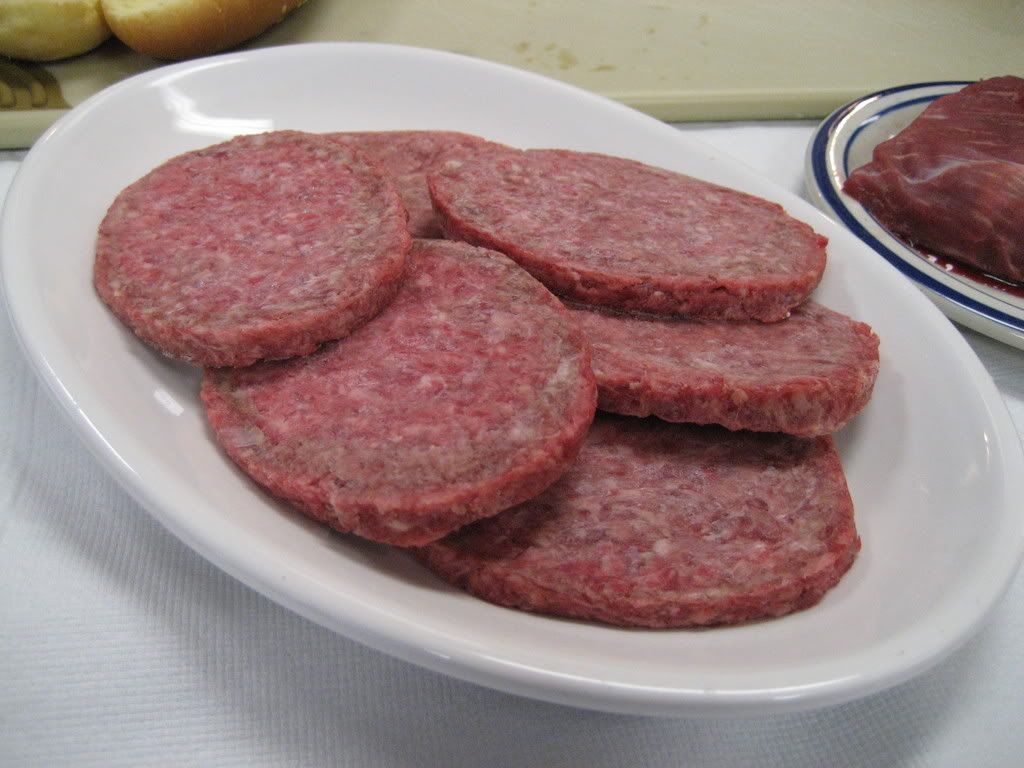 FryZ


The Dirty Crew Piggin out.....The crew want Beer!!!!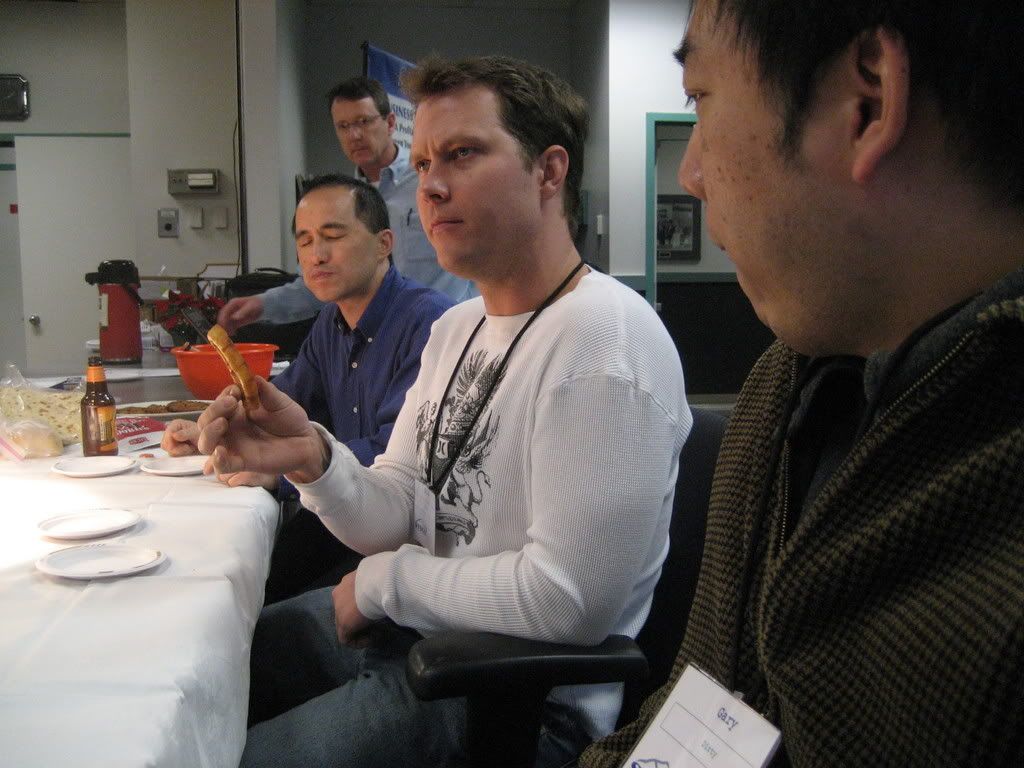 Chicken Breasts....Not the kind I like much to small.....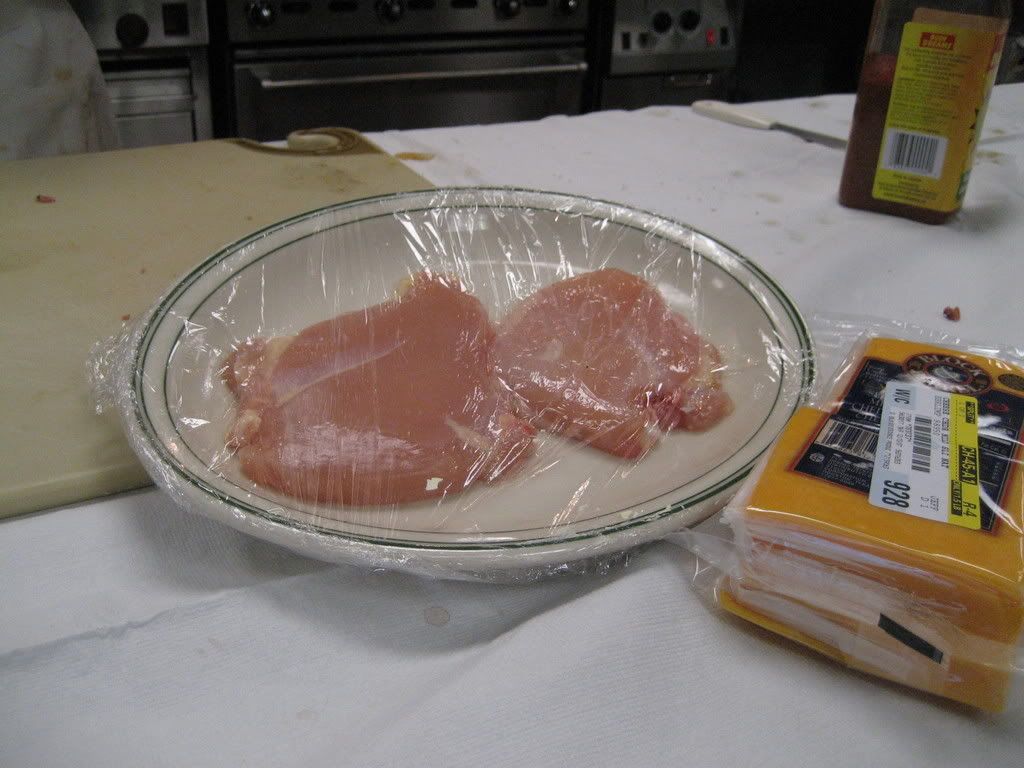 Chicken for salads....this was good and I liked it cold which is unusual for me...


Taco Chicken


Chef Jeff cookin up a storm


Beer Battered Onion Rings...These were great and I loved the sauce...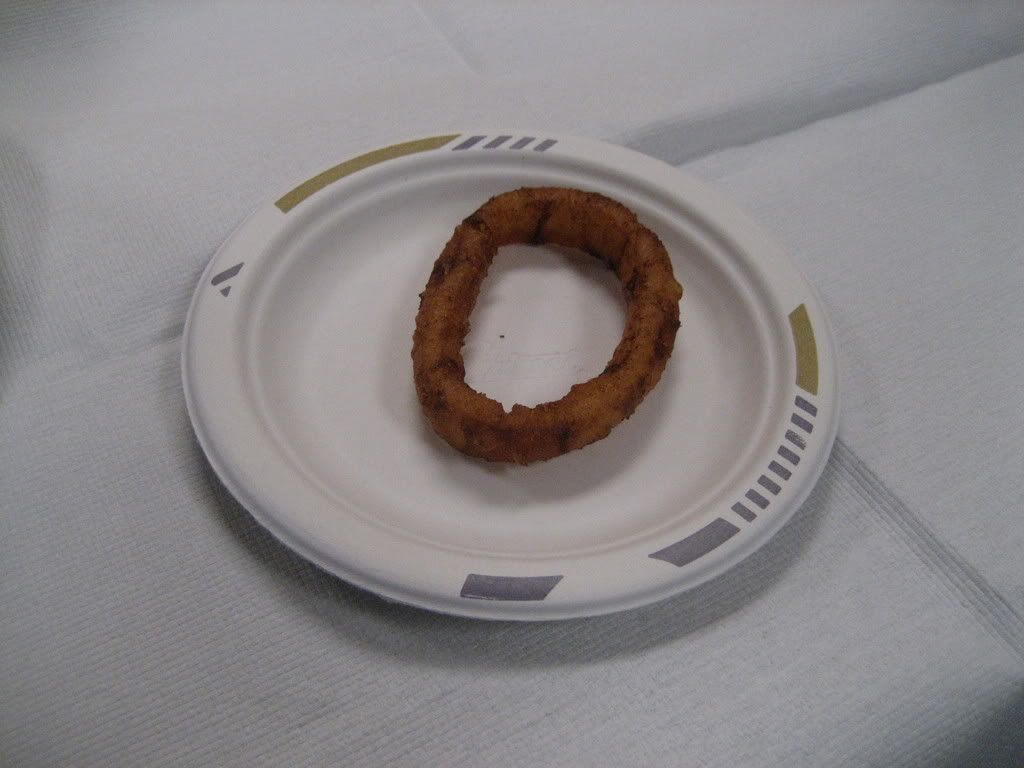 Bloomin Onion...We didnt try it...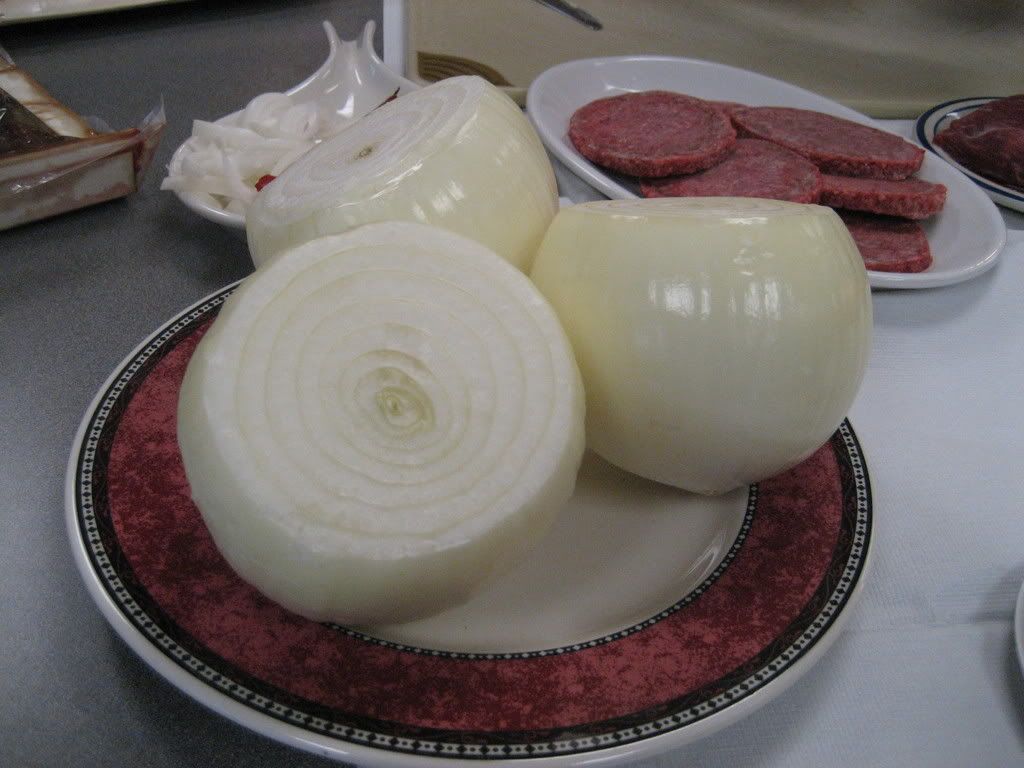 Brownie....They had a Tiger Brownie that I loved....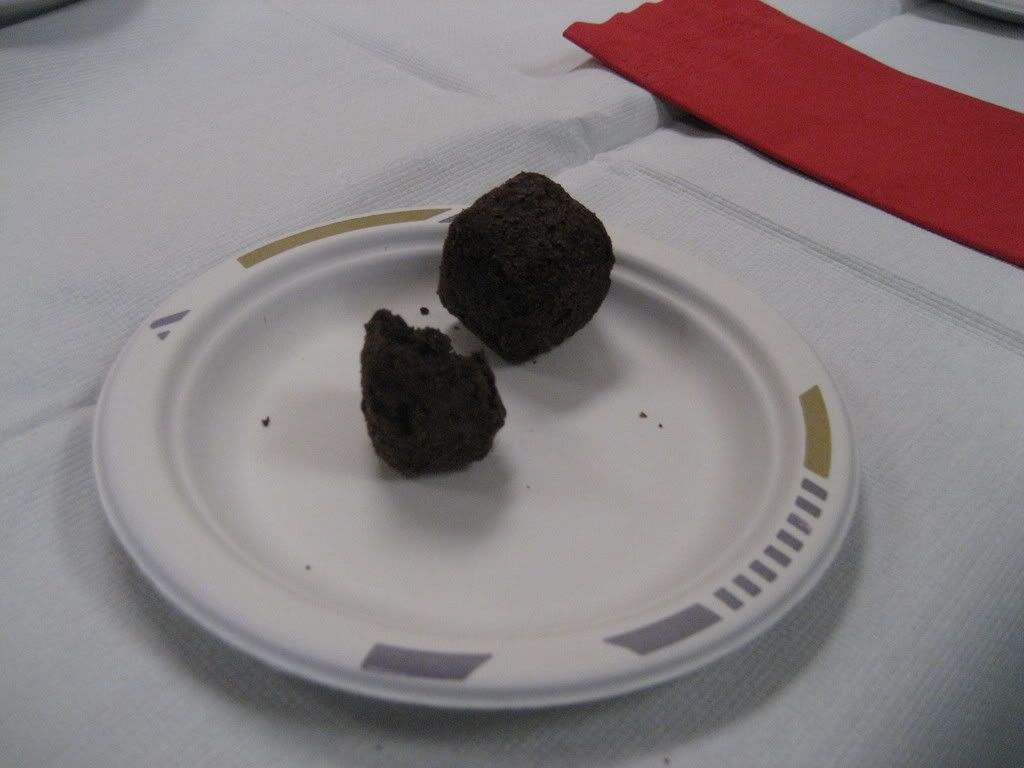 Desserts.....They were ok by I feel they could have been better....The monster cookie was the best...and with Ice cream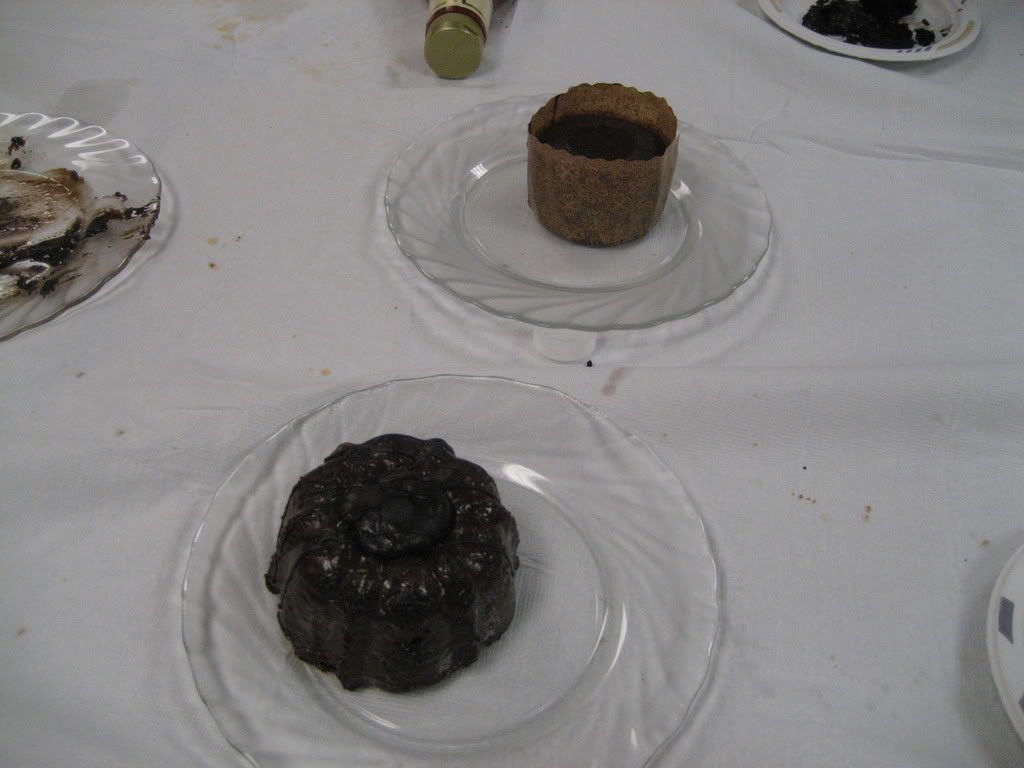 opps almost forgot the Chicken and beef Kabobs..these were very good and easy to make with a great food cost....the ones without the vegie's were better.....The Chicken Rocked....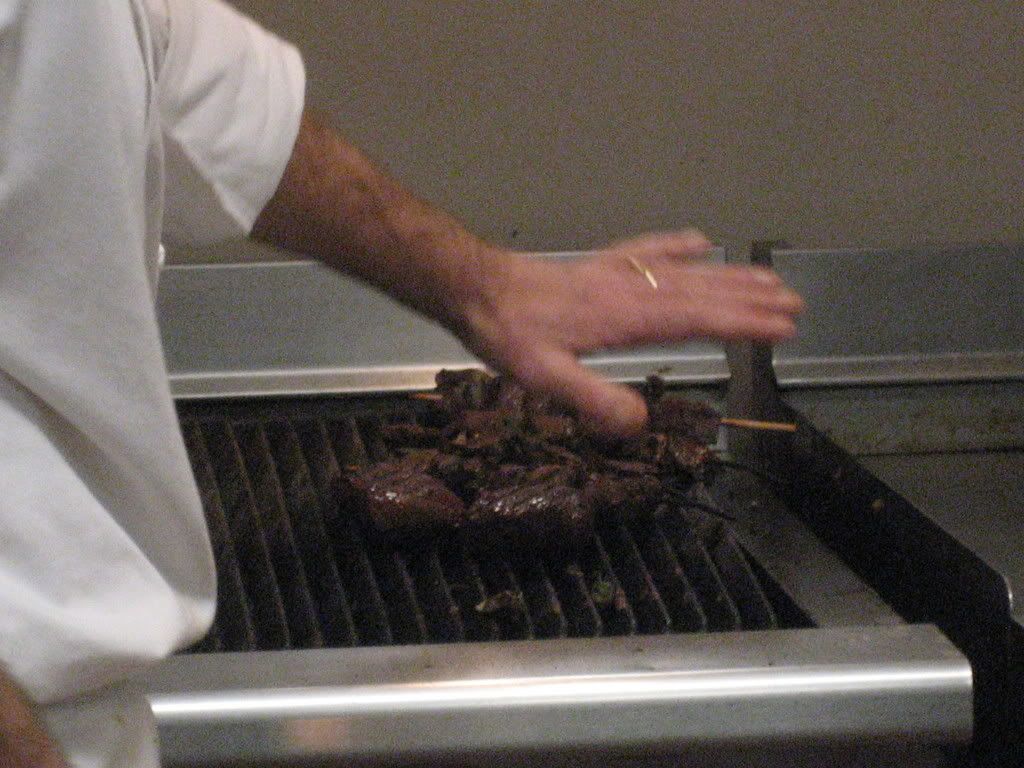 Sysco's own in house hottie designer.....She must be great at the corporate parties...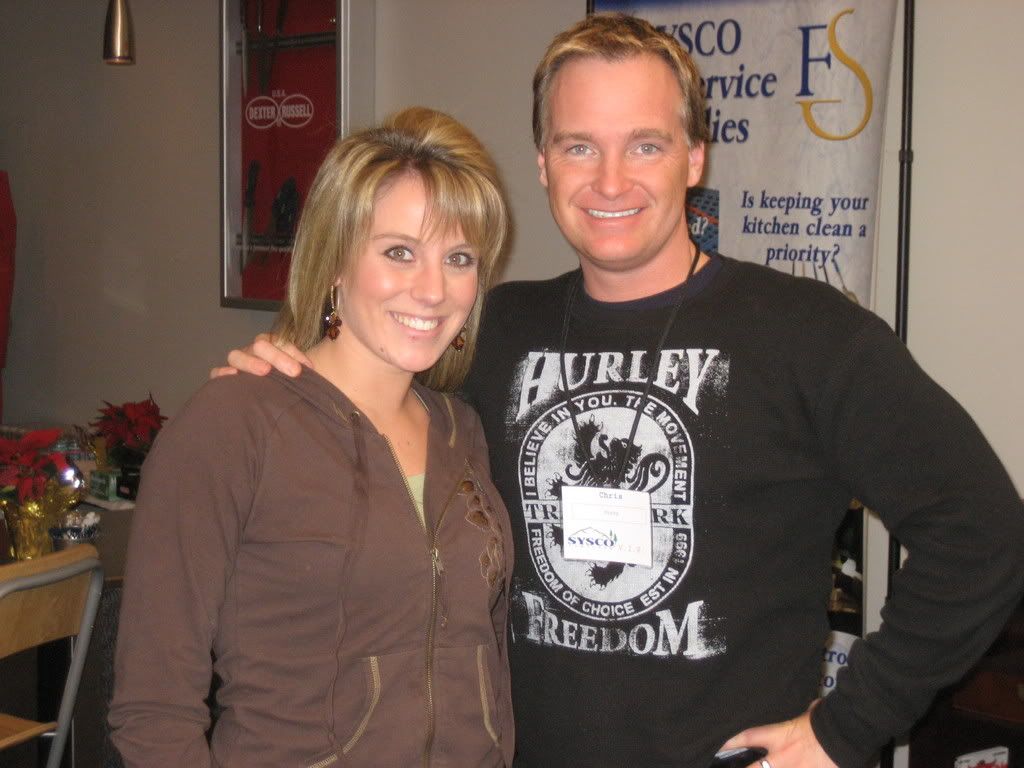 Back from Sysco and the painters have finished.......back to my warning Dont Sniff Glue as a Child!!!!!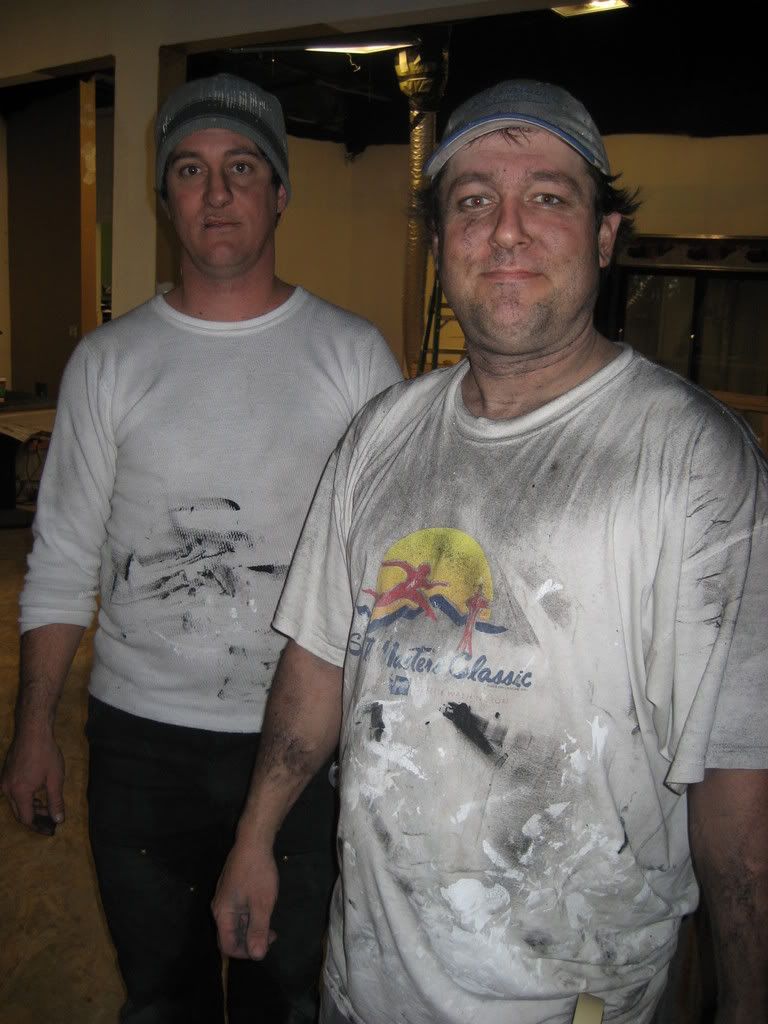 Ok today was a painting day....and I will be the first to admit that I am often wrong......I am looking for a neutral timeless color to work with the wallpaper and the chain.........So I picked up a color at Club Depot!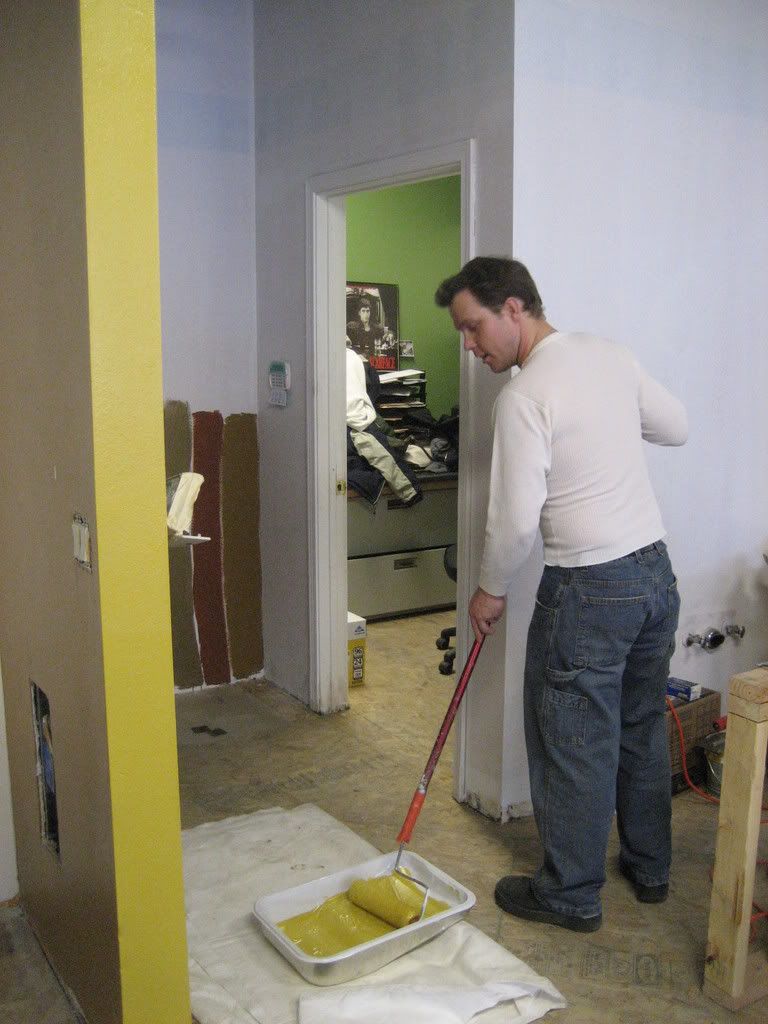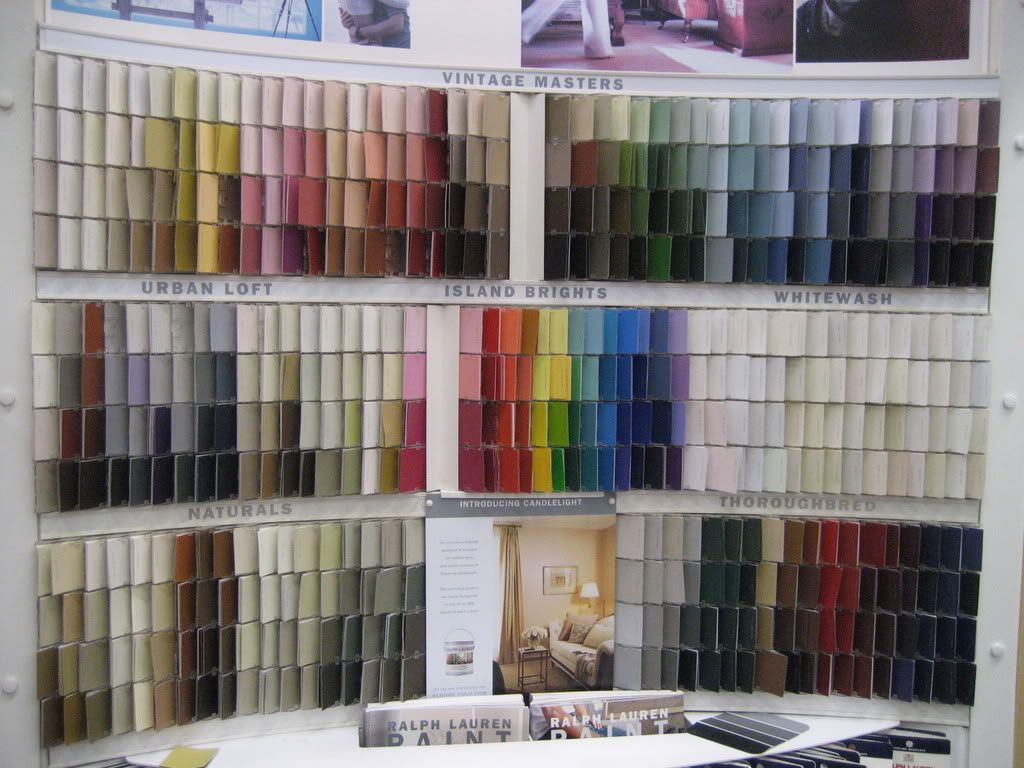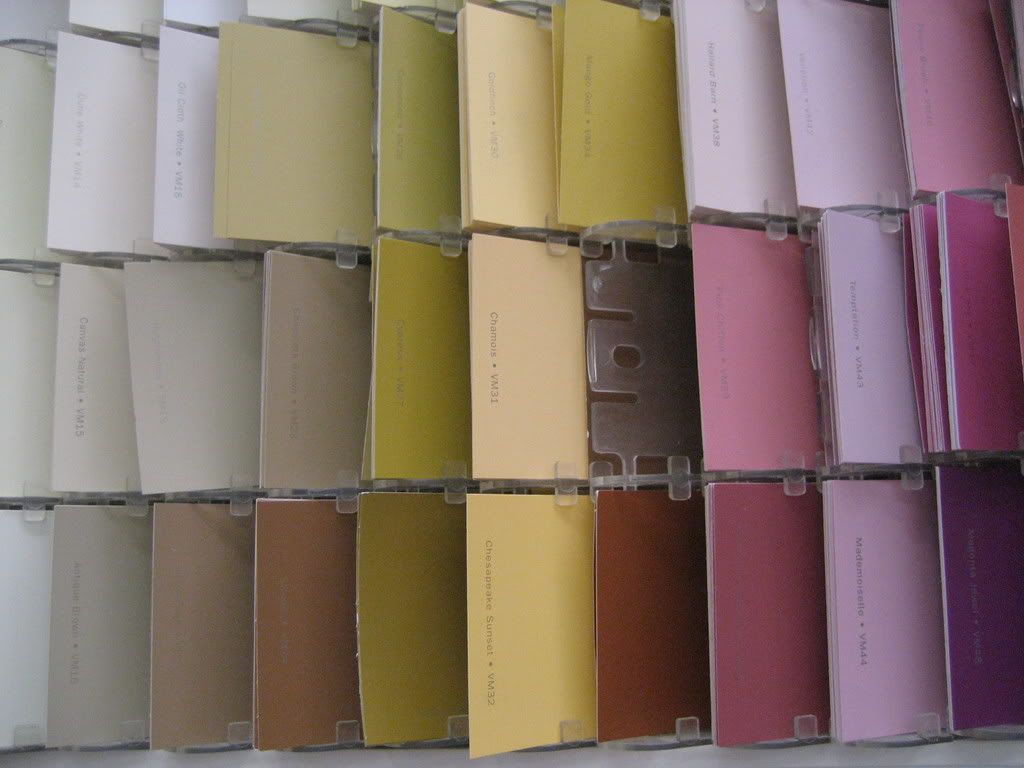 and I was looking at a little warmer color...we now have a french mustard wall!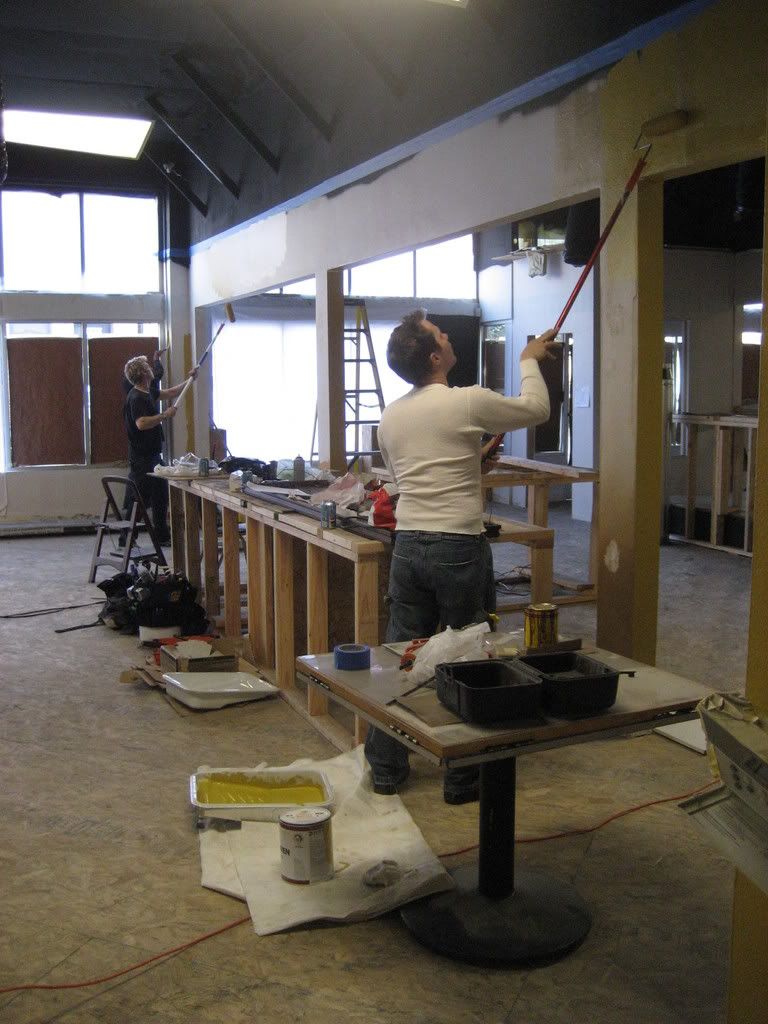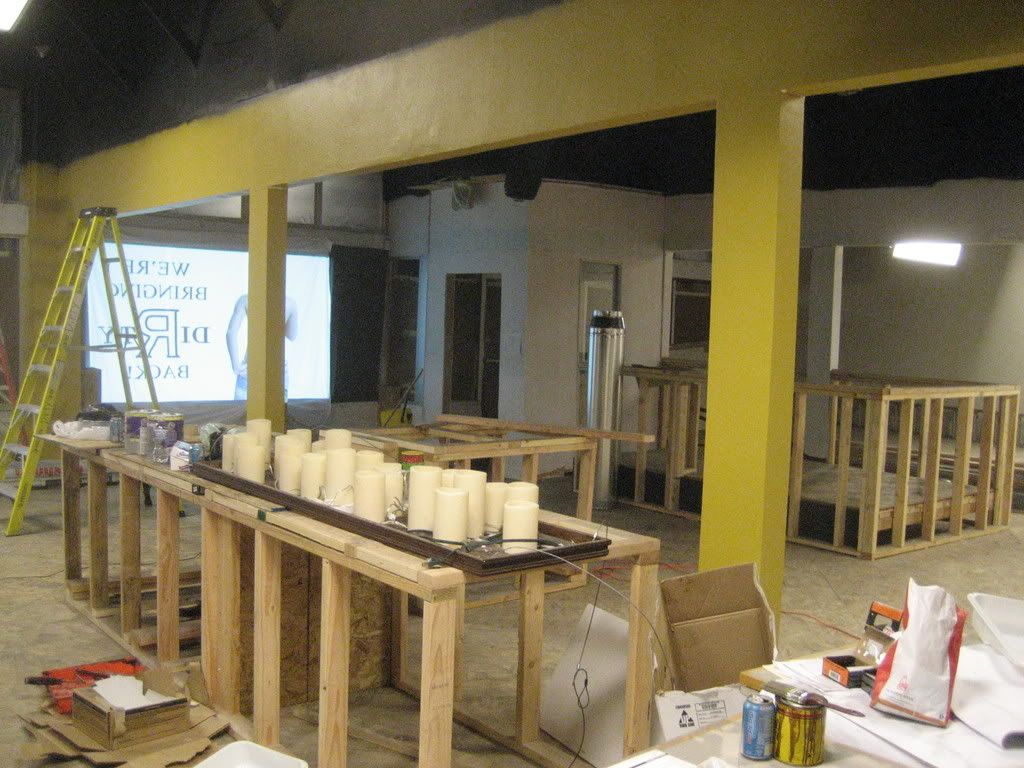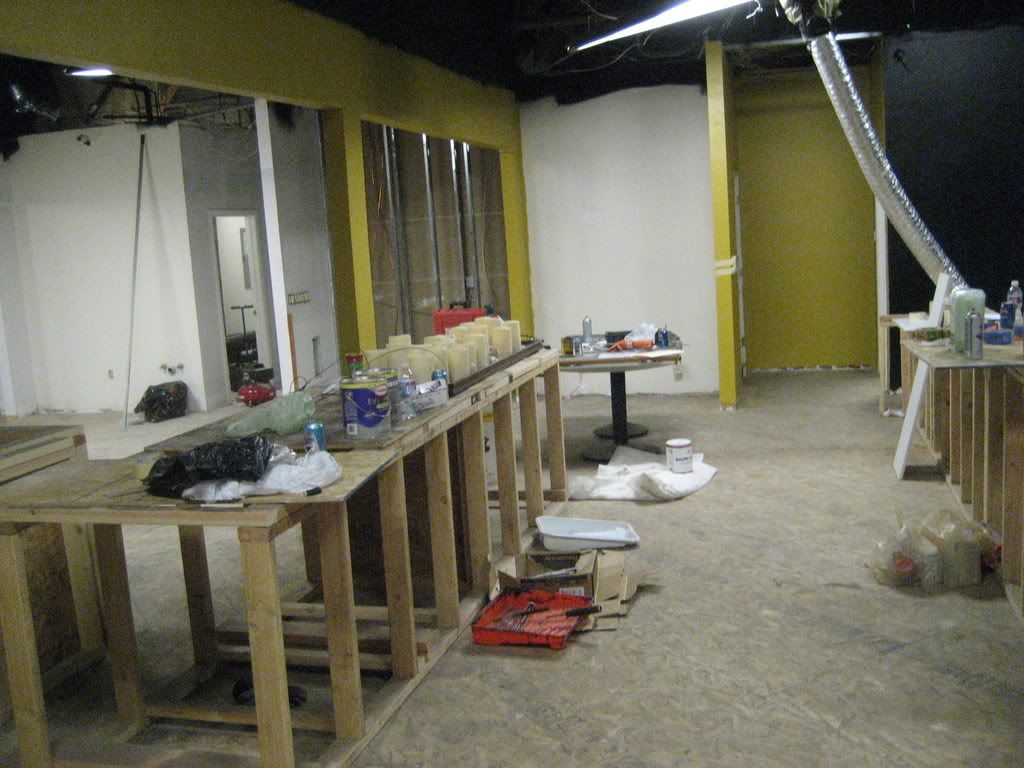 I also added the Black for the back bar chain section that will go up tomorrow..........We had the full on Dirty Dirty Painting crew....More paint on the floor than the walls and we have discovered that you the blue painters tape has magnetic powers and more paint ends up on it that on the walls..........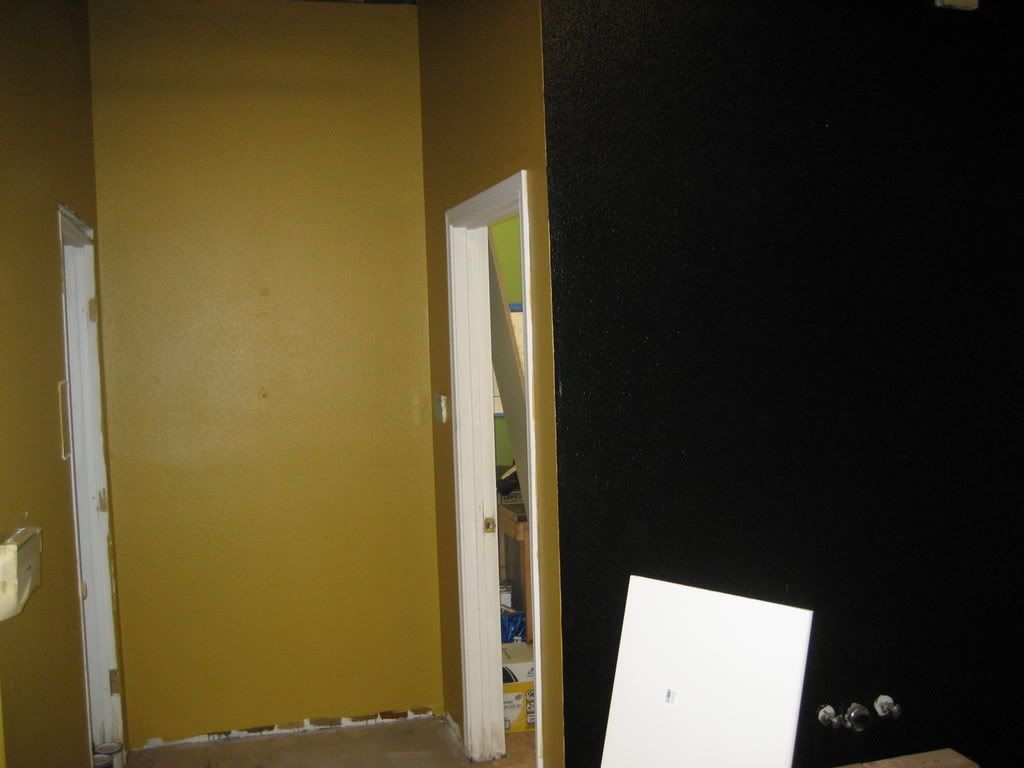 We are changing the color again tomorrow.........
Mean while the book sales are killin it on Amazon.com Yeah!!!!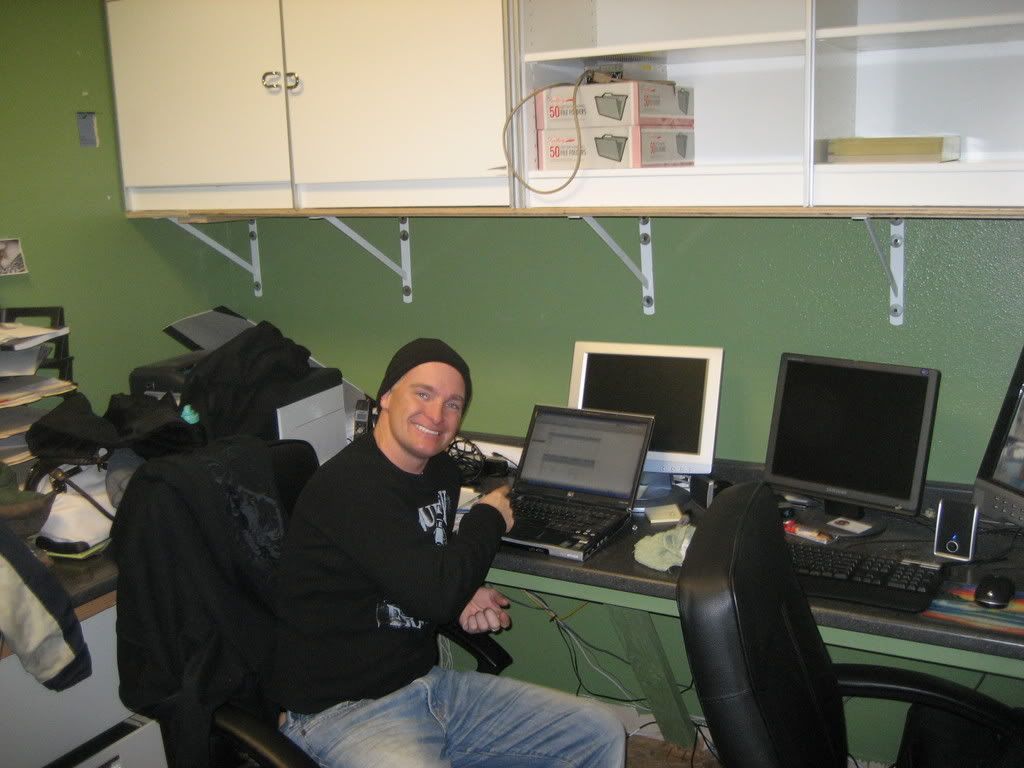 Today we have Dirty Jesse in the house......he may be the newest addition to the Dirty Family........tomorrow we will chat about him becoming Dirty! Dirty!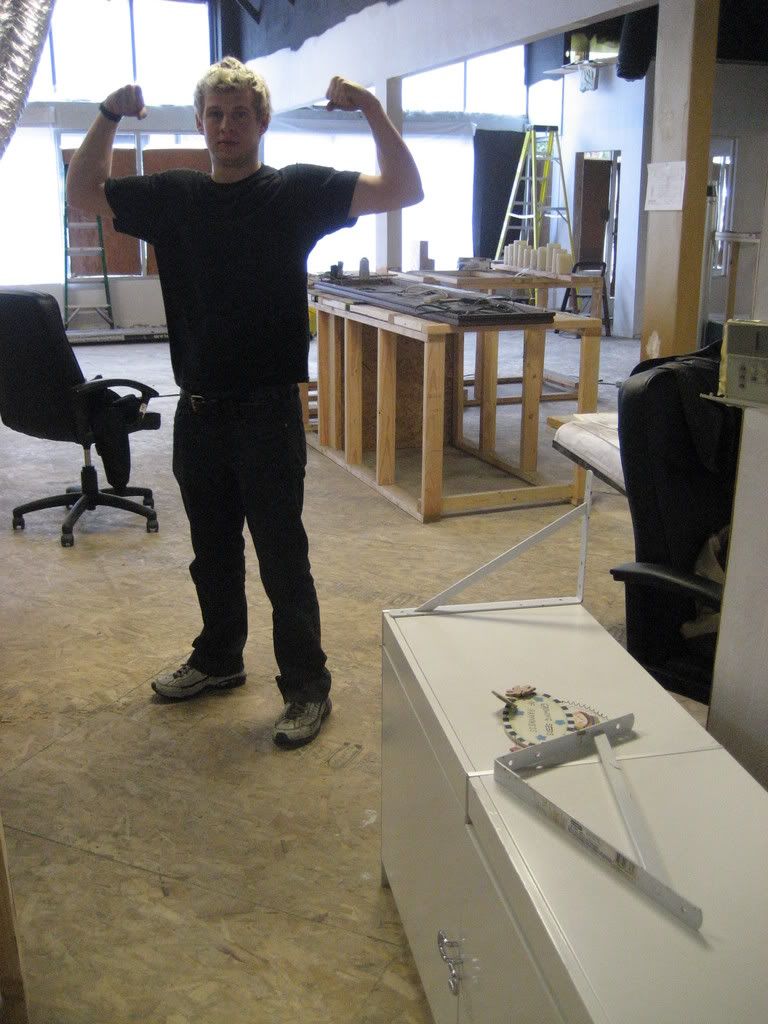 Here is Jesse still trying to figure out how dirty he is.......Remember ladys size matters...and from how he is holding his tape measure and how long that is I am wondering if he should be in the porn business not.....????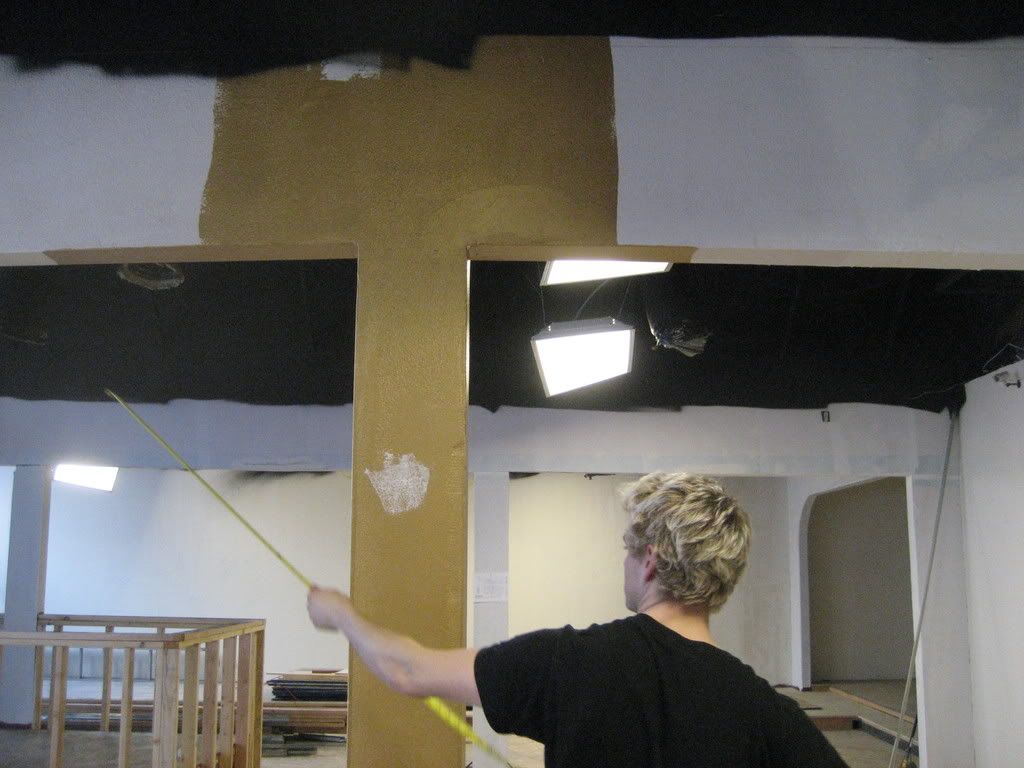 Dirty Chad is in the house today layin the flooring in the kitchen...I am shocked he made it in before noon......Im not sure he needs the blow dryer........we cant help his haircut but the floor is lookin good!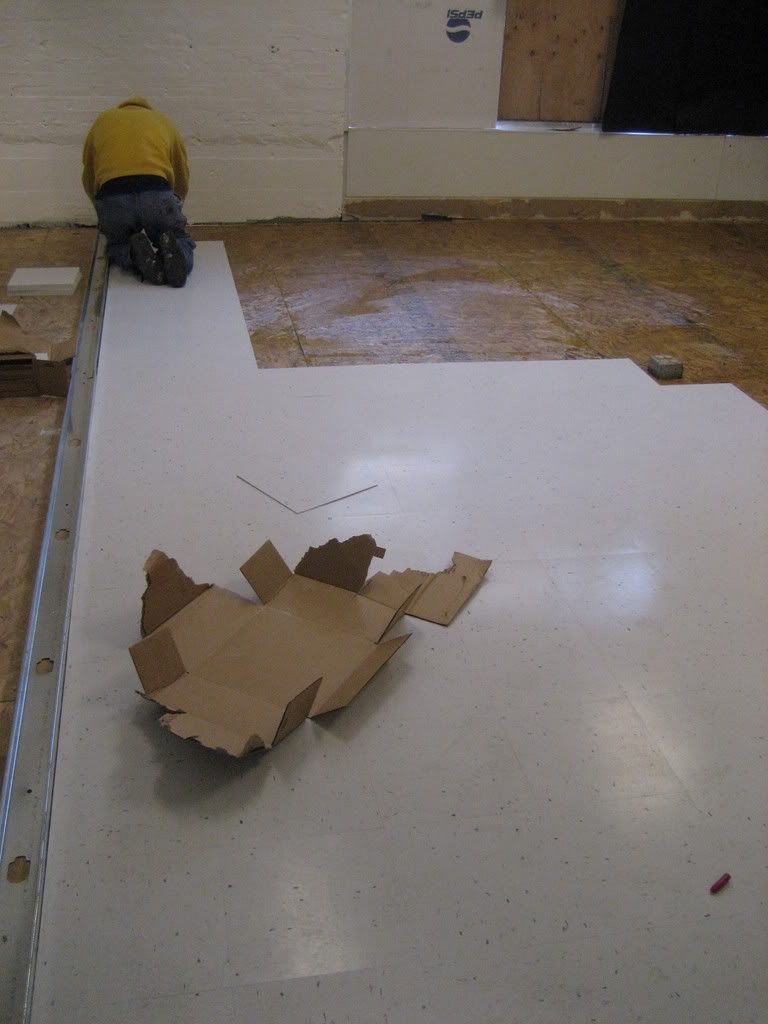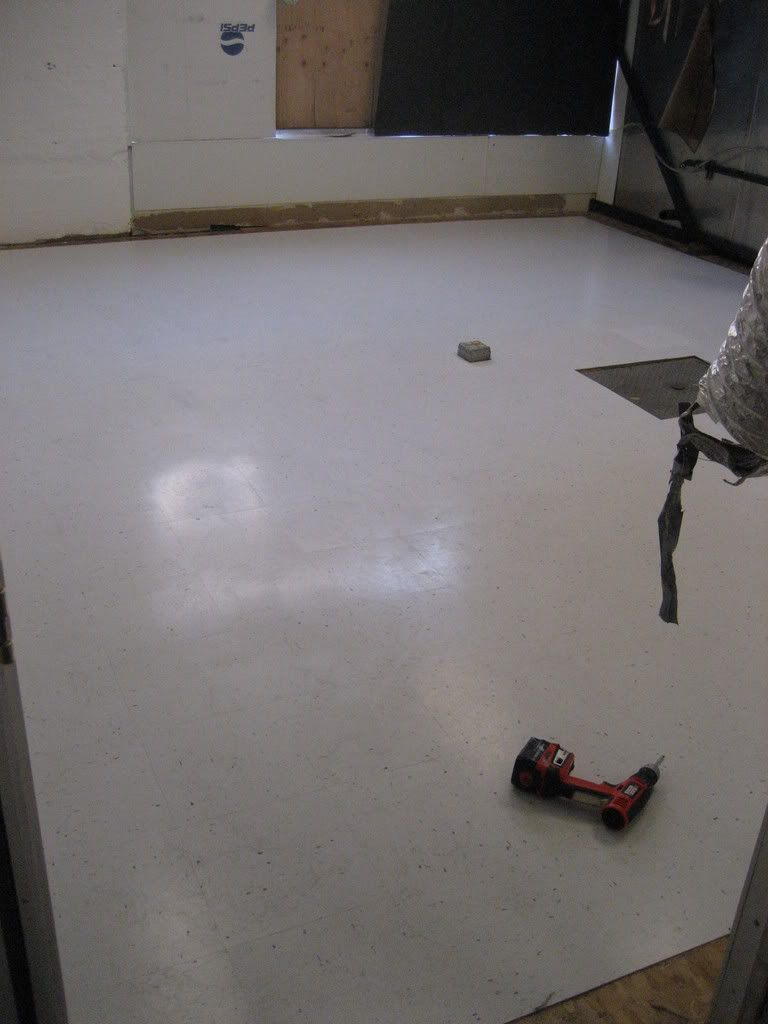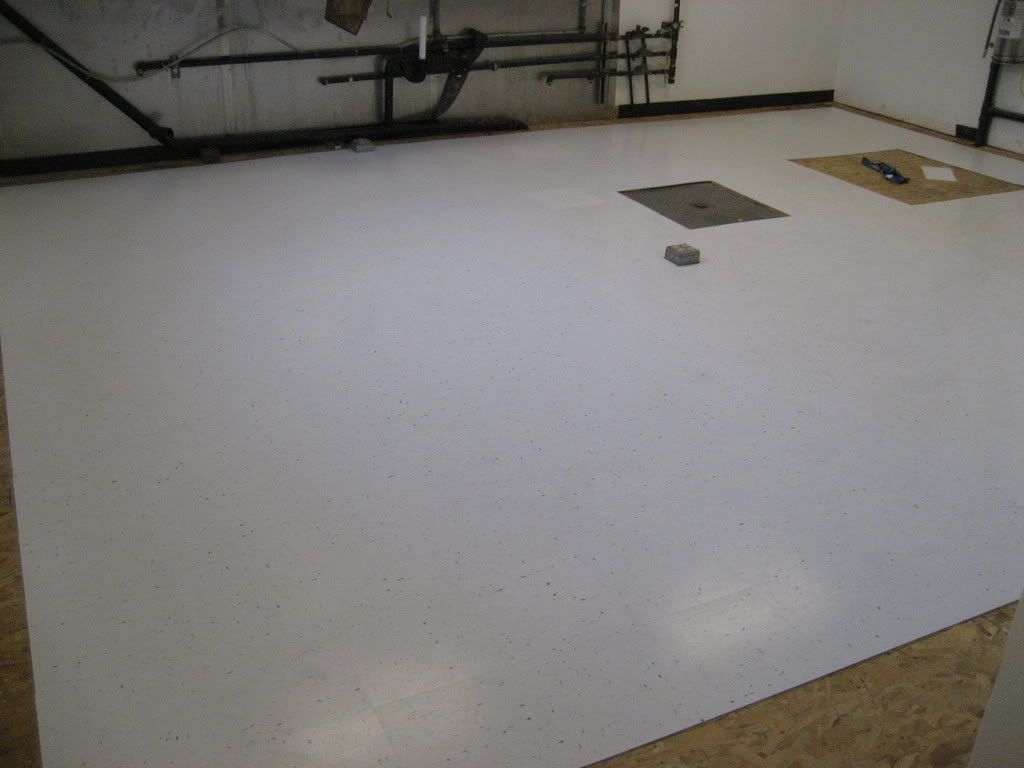 Dirty Cash is in the house..he is a great guy and swung by t help out...he is working on getting our business for the ATM machine and the credit card processing......We will see "It's all about the money!"
Dirty Danny fires up the advertising for this saturday night....every thursday friday and saturday.....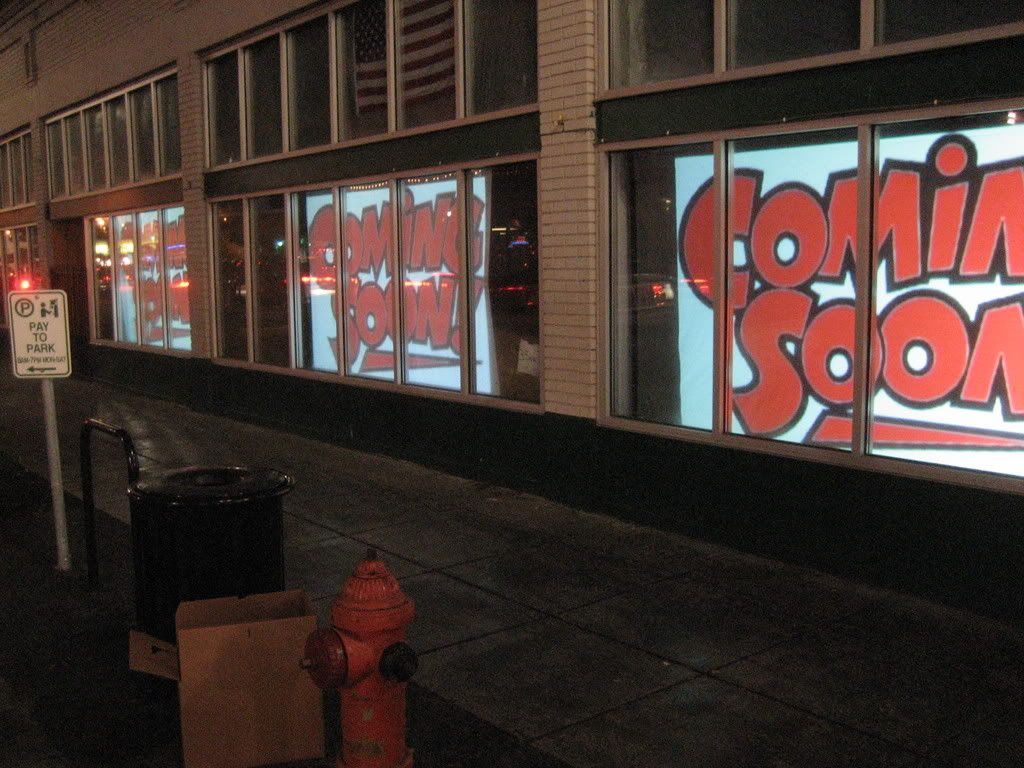 Today was a great day and we are way ahead of schedule I will usually never start painting this early but what the hell we are bored.....
Cheers
Chris
Chris
Author of "
The Little black Bar Book
"
"A Comprehensive Guide to Opening, Owning and Operating Your Own Bar or Nightclub."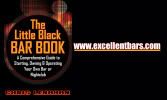 www.excellentbars.com
[email protected]
Nightclub Newbie
Posts: 65
Joined: Tue Oct 19, 2010 3:06 pm
Location: Worldwide
---